Trever Sparrow Brings a Transit Operator's Perspective to Technology at TripSpark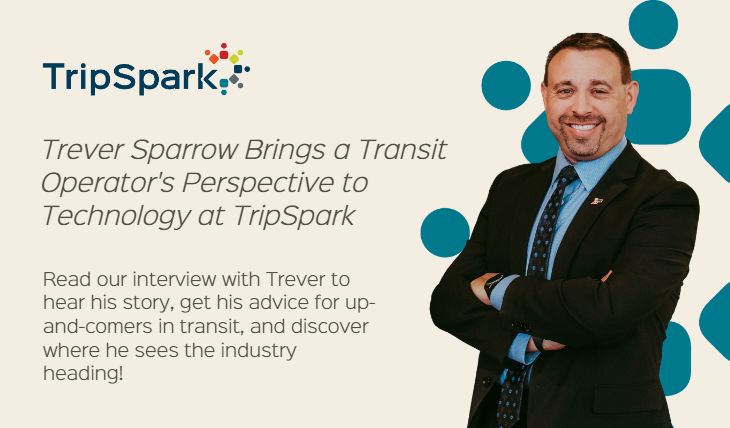 Trever Sparrow is a familiar name in the world of transit. He's been a manager for over a decade in cities like Red Deer and Medicine Hat, and most recently as GM at First Transit in Kelowna. Trever joined TripSpark as a Product Manager in 2023 to bring his expertise to leading technologies that improve operator results and enhance life for in-office teams, drivers, and riders. Read our interview with Trever below, to hear his story, get his advice for up-and-comers in transit, and discover where he sees the industry heading!
Trever, thank you so much for chatting with us today! Can you tell us about your career journey?
I left a previous career in emergency services and then came over to transit about 10 years ago. I've held various mid to senior leadership roles within the transit industry, overseeing operations, managing people, and dealing with various capital projects. So, everything from tech solutions coming in to alternate fuel options, electric buses, compressed natural gas, transit network redesign, bus rapid transit… all sorts of different projects that I was able to lead and work through. To help improve the systems to deliver more equitable and accessible service to the community.
Have you always been a transit user yourself?
Yes, since living in urban settings, I have as a part of different mobilities. I mountain bike, so I just bought an e-bike not too long ago. So yeah, the bike racks in the front of the buses and allowing bikes on the trains… no matter where I'm at…. Definitely. You know, when I travel with my wife I kind of drive her nuts sometimes. When we went to Paris a few years ago, I was the first one to find a bus. Like, "let's take the bus. Let's take the transit system." And she's like, "No, they have Uber, let's just take a car." But I've always said if you really want to experience culture in a city, feel the hum of the city… to feel, you know, the energy, transit is probably one of the greatest places to do that.
At this point in your career, why are you excited to join the TripSpark team?
I'm really excited to join TripSpark because I get to continue in this realm, but I get to work with transit agencies on a much larger scale to bring in solutions to help them grow and change and to support them in delivering that critical service to so many. I'm really excited to be able to do this on a much broader scale, across North America; to bring my skills and all I've learned in the last few years, to the table, to see what we can do to bring some unique solutions to the market.
So, tell us, what is your role at TripSpark?
My role is Product Manager for NovusDR, Notifications and Passenger Portal.
What projects are you most excited to work on?
You know, as I'm just getting involved, there's a lot of really cool, innovative stuff happening and so I'm still sinking my teeth into it, but I'm really excited to bring my expertise from the industry—to bring that lens into the organization—and to help develop the next level and next generation of technology. Some of the stuff we're doing in Novus DR, and the blending of services for demand response is going to be really innovative and a great piece for that service delivery for our transit users.
What do you think are the biggest challenges and opportunities in transit today?
The biggest challenge is certainly the rapid amount of change that's happening all across the industry. Everybody's emerging out of the pandemic period we were in. So, there are a lot of challenges with resources and staffing, and there are a lot of transit agencies that are really focused on trying to get customer confidence back in the system. There are a lot of safety issues going on in the industry right now with various social issues. But you know, any challenge can be overcome. There are always solutions. So that's one of the things I'm looking forward to: opportunities where I can see the technology assist transit agencies in making things more efficient, providing better data to make better-informed decisions, and supporting them as partners along that journey.
Let's get to know you outside work! What are your favorite hobbies?
Oh goodness, anything that involves spending lots of money it seems. Laughs. I like to golf, and I do a lot of skiing, downhill skiing, and cross-country skiing, though I like downhill better. Mountain biking. And then I spent a lot of time at the lake and traveling.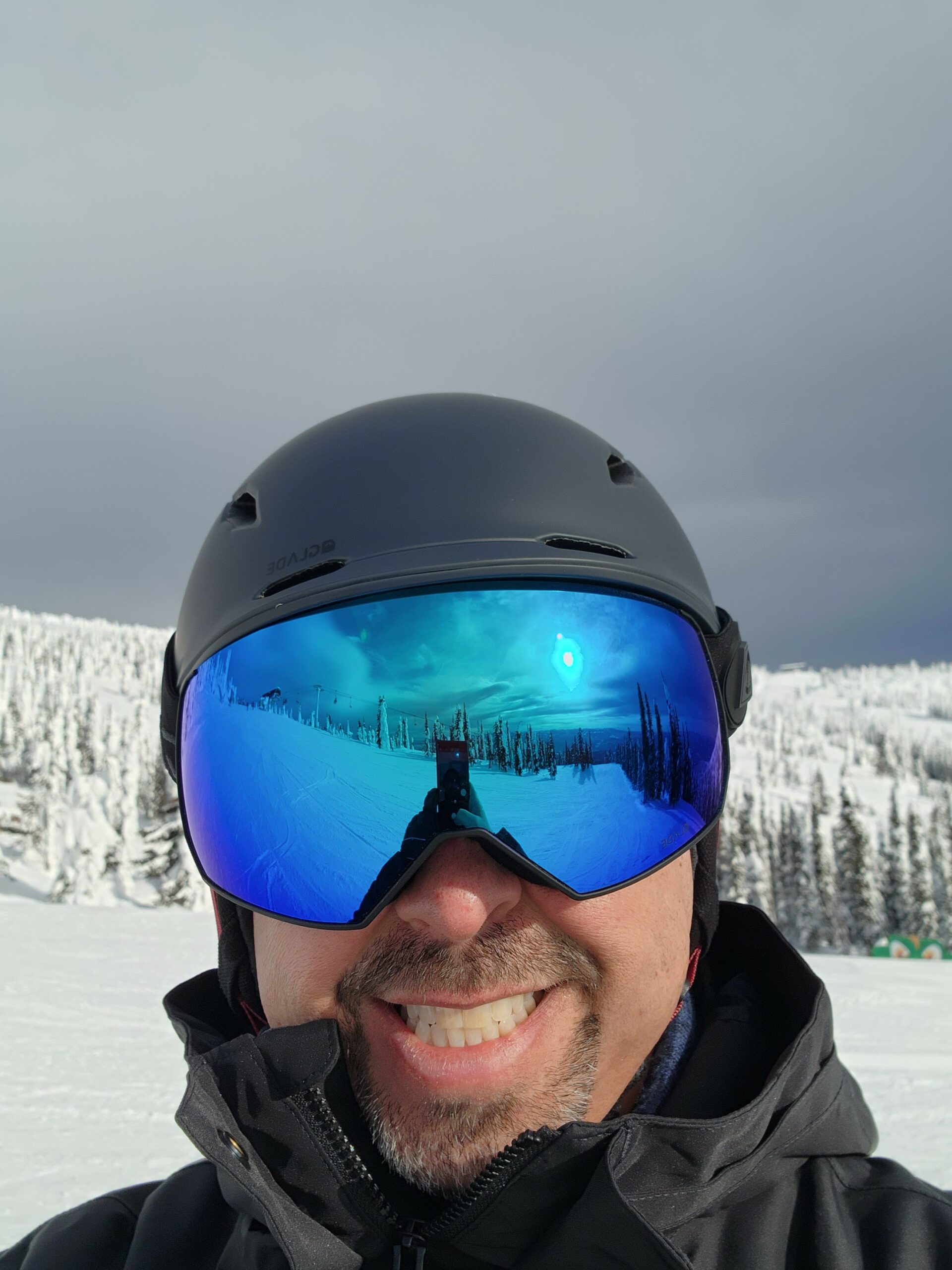 That's a lot of outdoor time! Where are you located?
For most of my life, I've lived in Alberta. I was born and raised in Alberta. But just recently we moved to Kelowna, BC, so with all the things I described as hobbies, Kelowna checks all the boxes. For example, within an hour of Kelowna, there are like 108 golf courses.
Wow, that's a huge number!
Yeah, and I've been told there's wine somewhere here. Laughs. You know, it's kind of a weird thing, but there are wineries and mountain biking and the trails… and the weather is fantastic. So yeah, we've just been out here a few months now, and we absolutely love it. It's great in the winter when it's really mild, but the summer's where it's at. It's beautiful, hot, and it's a great tourist area.
I'll have to go visit! So, what advice do you have for people just starting their careers in transit?
Do it! Jump in with both feet and just be open to learning. You know, share your ideas and be positive. That's one of the things I found is the industry is really open to innovation and new ideas and changes. There's a lot of that going on. The universe has certain plans afoot, but when I got into transit, I was like, "Oh, why didn't I find this 20 years sooner?" Everybody's collaborative and people are really welcoming and open to sharing. So just do it. Jump in, and it's a great industry with a ton of opportunities.
Let's explore that a bit further. Why should someone consider a career in transit? Maybe they're in school for the first time, or they're looking to change careers.
Yeah, you know, no one ever thinks that they're going to graduate high school and go be a bus driver or LRT operator, but it's one of the most challenging and rapidly changing environments. It's an industry where you can actually make a difference if that's what you want. If your purpose is to really make a difference. Whether you're a software developer, a transit operator or whatever the work you do, know that it's making a difference for somebody. There are so many options that people just don't think about. You know, there's planning, there's engineering, there are supporting vendors and technology companies, and industries such as building bus shelters. And it goes on and on and on. So, jump into it. Try it and don't be afraid to look around for different options because there are a ton of them out there.
Amazing. And, if you remember it, what's the best advice you were ever given?
Honestly, the best advice ever shared with me was by somebody very dear to me. He said, "Just because you haven't done it yet, doesn't mean you can't. Just be open to go for it and when the opportunity comes, say yes and say yes quickly." And that's worked so far!
Connect with Trever and TripSpark on LinkedIn for unique insights into the world of transit that can improve your operations!