TripSpark Launches MyRide Infotainment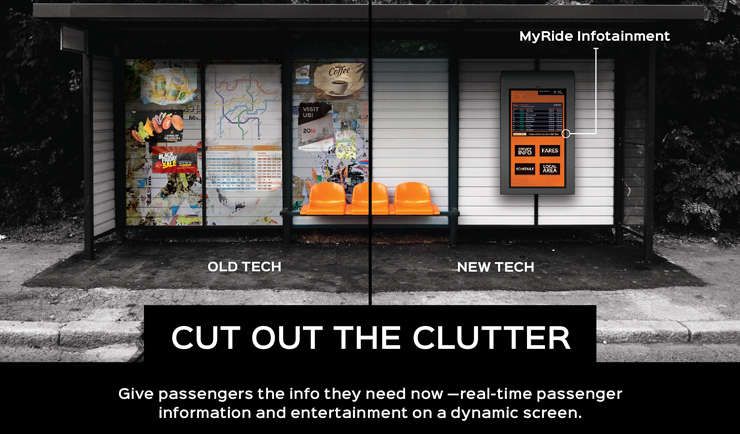 It's the beginning of the end for printed bus schedules.
New York's Metropolitan Transportation Authority made transit headlines in early August when they announced they were working to stop posting printed schedules at all bus stops in order to save $500,000 a year. Instead, they will direct all inquiries to their passenger information system.
MyRide Infotainment
TripSpark is ready to help your agency make the leap into the Digital Age like the MTA with the exciting new MyRide Infotainment digital signage solution, an extension of our MyRide passenger information system. MyRide Infotainment combines the CAD/AVL information from our fixed route system with entertainment content, advertising, service announcements, and more, to inform and immerse your ridership.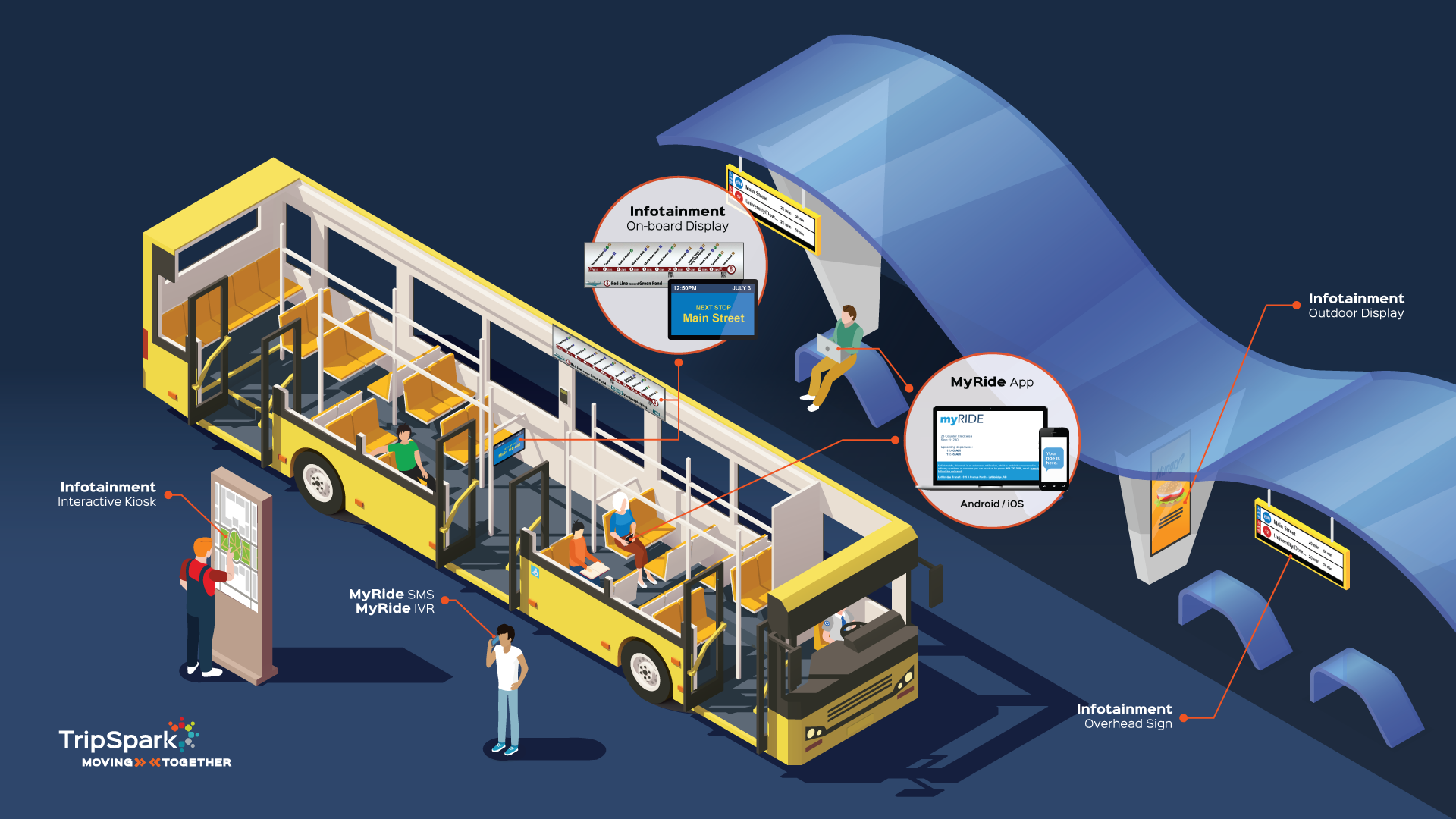 What They Want, When They Want It
MyRide Infotainment is all about helping riders make informed travel choices that save them time and make their journeys easier. It improves the passenger experience by providing them with engaging content, together with the real-time travel information they expect from a modern transit service throughout their journey. MyRide Infotainment can also increase safety, help riders with mental health considerations and is ADA compliant.
Our new digital signage solution successfully solves the passengers' need for real-time route, stop, schedule and arrival information with engaging content like weather, news, advertising, social media, video, security camera feeds, and more. Because of the customizable layout of our signs, and their ability to display dynamic content, infotainment and travel information can be displayed simultaneously, meaning you don't have to sacrifice one for the other.
More Than Just Saving Trees and Printing $$$
Infotainment not only allows agencies to save money but to earn revenue from selling digital advertising to local and national businesses to supplement farebox revenue, which in turn can be used for the 20% match needed for many grants.
MyRide Infotainment offers advertisers targeted content display, meaning content can be easily changed and triggered depending on the time of day, day of the week, location, or weather, providing timely and relevant information for riders.
Hardware for In-Vehicle and Transit Properties
Large or small, transit agencies can choose the hardware types and screen sizes that meet their needs. TripSpark's digital signage is made for transit's harsh conditions, unique real-estate availability and visibility requirements.
Long-Term Success With Customizable Support
The long-term success and usefulness of an agency's digital signage system depends on their ability to keep up with maintenance and content creation. Blank screens and last week's weather forecast isn't what your riders want to see, nor does it reflect well on you. TripSpark has partnered with Message Point Media to provide tailored support packages for content creation and system configuration/maintenance to keep your infotainment system up and running in peak condition. Depending on your staffing resources, you can choose to manage your own system, get continual support or outsource all tasks.
Remote updating and monitoring
MyRide Infotainment is designed for easy content creation, updates, and system monitoring. New advertising, infotainment or app content can be updated remotely by third parties or the transit agency and pushed out to all properties with a single click. System monitoring and configuration can also be tracked online for painless system upkeep.
Check Out Our Other Resources
Questions?
If you would like to book a demo of Streets, MyRide or MyRide Infotainment simply fill out the form here or chat with us.