Un-Covidizing Your Transit Software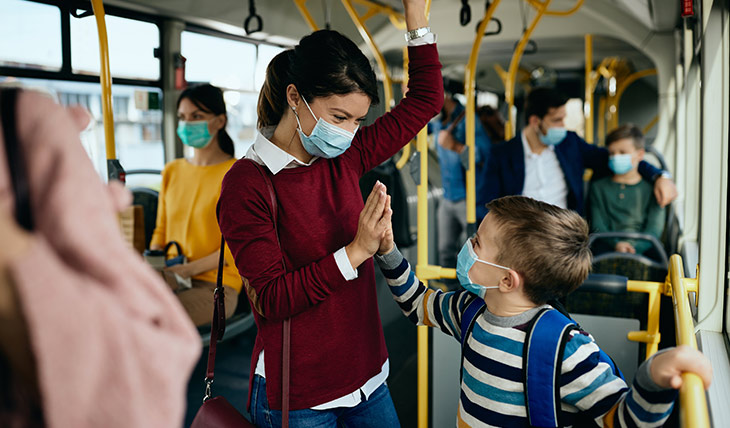 The COVID-19 pandemic initiated a set of social distancing restrictions, and stringent sanitation protocols, that immediately changed the face of public transit. With unbendable transportation restrictions in place, transit agencies had no choice but to make technological changes to accommodate those limitations.
Keeping passengers in the know
It was one thing to make sure that agencies and their vehicles were able to impose distancing measures safely and effectively, but it was another to manage rider expectations, by ensuring they were kept in the loop too. TripSpark's Streets MyRide News functionality was key for many transit agencies, in helping to keep their riders updated on daily changes affecting their region, due to COVID-19.
This functionality made it very easy for administrators to create passenger messages, to be made live immediately, or at a particular date and time in the future. Go City Bus – Indiana and others, took full advantage of this feature, to keep their riders informed of regular service changes.
All-in-all, the transit industry transformed their services, while riders altered their expectations, and together – they kept on moving forward.
A strange new world
Today, with things "opening up" everywhere across the US and elsewhere, some transportation hubs are experiencing significant spikes in ridership. And with President Biden urging more federal spending for public transportation, agencies are pouring money into transportation technology, paying off their amassed debt, and into winning back their passengers.
"We have a huge opportunity here to provide fast, safe, reliable, clean transportation in this country, and transit is part of the infrastructure" – President Joe Biden
As the result of the pandemic, transit agencies have seen a major shift in their customers' commuting behavior. They've discovered that it's not as simple as switching software settings back to pre-COVID configurations, and the masses will get on board. People need to feel safe. And even double "vaxxed" travelers are experiencing some residue of uncertainty about getting around, publicly. This has ignited innovative ways for transit agencies to address their ridership challenges.
Transit agencies have begun to experiment with new ways of thinking about routing, service frequency, and fleet sizes. And many are turning to on-demand Microtransit with its responsive routing and service flexibility, to be able to respond more quickly to fluctuations in demand. In fact, recent American Public Transportation Association (APTA) data shows that dynamic, on-demand public transit has proven to be a mobility lifeline for a significant number of riders, and there is every indication that this service offering will continue to grow.
Transit software for post-COVID people
With the COVID-19 pandemic almost in our rear-view mirrors, transportation providers are now embracing and improving upon the technological and service changes they were forced to make, just to adhere to health and safety requirements.
There have been, and will continue to be many lessons to draw from the pandemic, affecting the public transportation sector. The industry has taken a close look inward at how transit agencies have responded and improved over the last 18 months. And their research has resulted in the development of agency and ridership protocols to set agencies up to effectively navigate service, post-peak. This includes building back rider confidence and developing a new-norm system that provides reliable service, while ensuring worker and passenger safety. Additionally, lessons learned will help improve agency readiness for future outbreaks.
We've all been on an emotional and psychological rollercoaster since early 2020. But it's finally time for you and the industry, to look forward to the future of transit. We want you to know, that the TripSpark will always be here for you, keeping us Moving Together.