Every member of your school transportation team is focused on making student safety their main priority. From October 19-23, National School Bus Safety Week reminds us of this fact, so we should all take a moment to appreciate how well our industry has already been doing. This research shows that school buses are 8 times less likely to produce a fatality than driving in a car. This is due not only to the sturdier construction and safety equipment found in vehicles, but also because of the diligent work of your drivers, dispatchers, mechanics and schedulers to keep their young riders safe.
K-12 Transportation Software Solutions Play Their Part
Any technology that can help to reduce incidents is part of an overall risk strategy. While much attention is paid to the operational efficiencies inherent in digital software, K-12 transportation software works in a number of other areas to help mitigate much of the potential risk for student riders:
Geocoding of safest bus stop locations
Automatic vehicle location to ensure schedule and route adherence
Real time GPS location of buses and students
Monitoring of stop arm and sign usage
The California School Employees Association states that "the most dangerous part of the school bus ride for children is when they get on and off the bus." This is where we should be focusing our attention as technology and transportation providers.
How K-12 Transportation Software Automatically Creates Safer Trips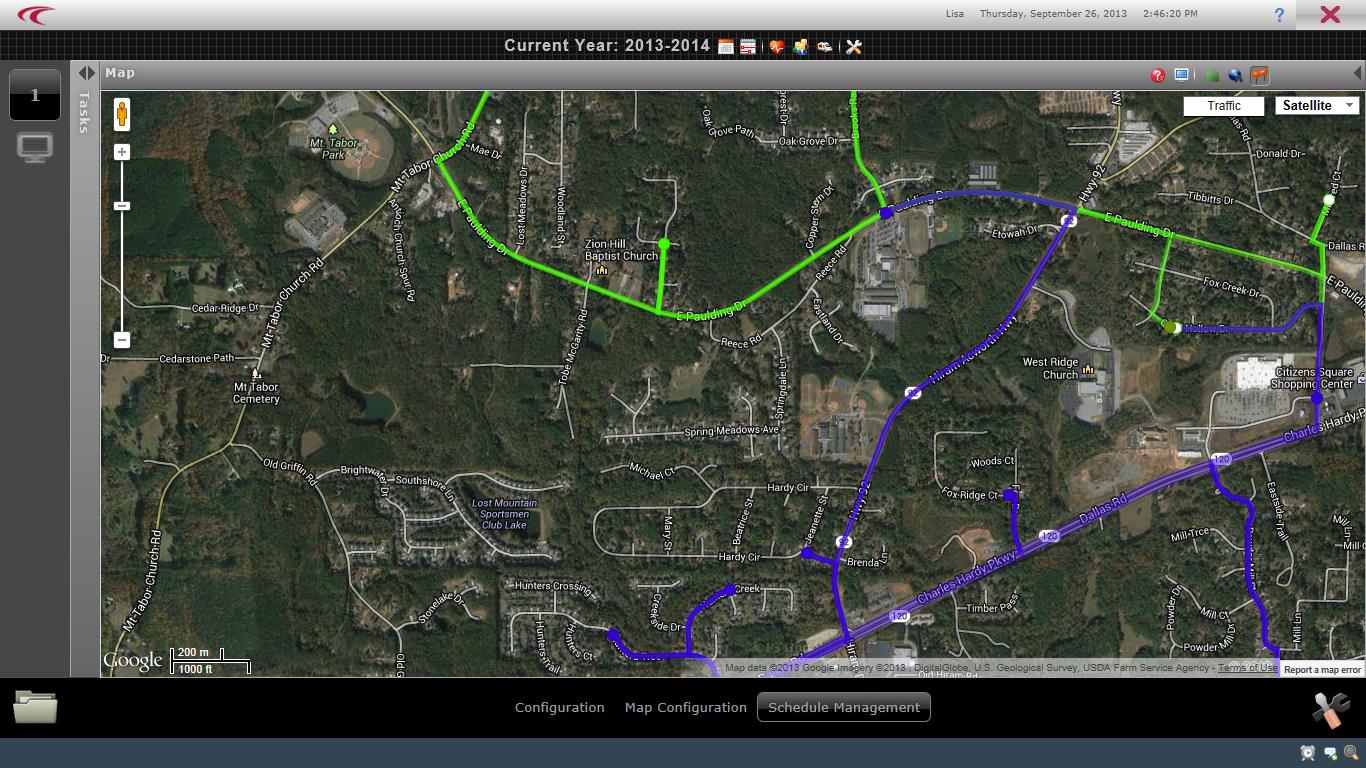 When you're building routes, the automated scheduling system calculates the best route based upon the safety parameters that matter most. For example, placing a stop where a student would have to cross 2-lanes of busy traffic to get to their home can automatically be rejected. No matter what the skill level of the person doing the scheduling, the system will maintain safety guidelines. With Automatic Vehicle Location data provided by in-vehicle technology, you can receive immediate alerts when a bus deviates from its planned schedule. You can immediately contact drivers to find out what's going on.
Leaving Less to Chance
The more insight you have into the buses on the road, in the yard and in the garage, the better you can manage your resources, time, budget and safety protocols. When you consider all you already do to maintain safe service, consider the benefits that an automated K-12 transportation software system can have on your entire operation. From top to bottom, automation allows you to make better predictions, leaving less to chance.
So while the stats show how safe our buses are right now, we should never stop until we reduce incidents down to zero. The Volusia County Student Transportation Services provides a great example of how they have used both award-winning operational practices and GPS student tracking services to create an extremely safe environment for their student riders. You can read their full story here.