10 Ways to Protect Yourself from Germs on Public Transit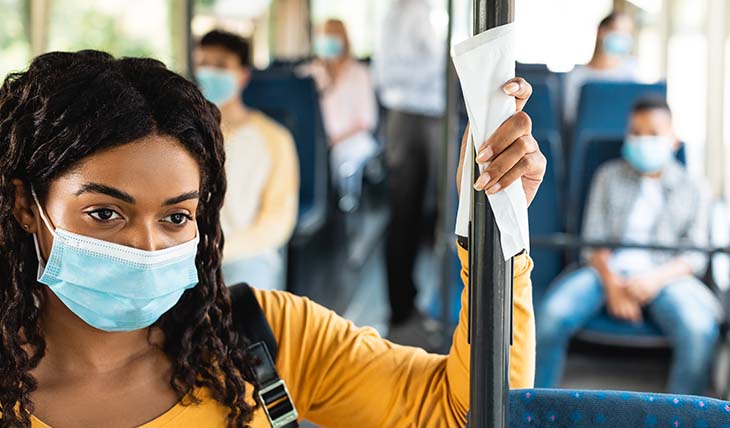 Many transit agencies have risen to the occasion to keep their vehicles clean and safe for their riders. Take the Toronto Transit Commission (TTC), for example. They recently launched a pilot project to reduce rider exposure to germs, by installing an anti-microbial copper coating on high-touch surfaces on all subways, streetcars, and buses to help future-proof public transit. This is an exciting breakthrough, and according to Richard Leary, CEO of the TTC, "the results of this trial could improve understanding of options for infection prevention for the transit industry and other industries that rely on shared public spaces."
While this is a huge step in the right direction towards curbing infection, there are many other ways that germaphobes can protect themselves. Here are our top 10.
1. Try Microtransit
If walking or biking aren't commuting options, riders should try convenient ridesharing or microtransit travel options. They both offer convenient, pooled, safe, and affordable transportation, with limited exposure to other travelers.
2. Choose Contactless Payment
Where possible, riders should choose transit that has a contactless payment option. With tap-and-go cards or pay-in-advance systems via smartphone apps, riders can make purchases instantly, and avoid contact with station agents, and drivers.
3. Stay Apart
Social distancing is still the best way to avoid transmission of germs (and the coronavirus). Although it may be challenging to avoid crowds on and around public transit, riders should practice a little patience, and be mindful of keeping space between themselves, and other passengers.
4. Use the Rear Exit
Bus drivers encounter commuters (and their germs) all day, and the most passenger congestion happens at the front of the vehicle. Whenever possible, riders should exit or enter the vehicle through the rear doors.
5. Wear a Mask
By now, most of us are conditioned to automatically put on a face covering, when in public. But it's also important that travelers avoid touching their eyes, nose, and mouth, to help lower the risk of germs, or the virus reaching them via droplets and aerosols. And whether fully vaccinated or not, masking is still a requirement for everyone who takes public transit.
6. Keep Sanitizer on Hand
After riding public transportation, using an alcohol-based hand sanitizer is a no-brainer, right? But did you know that using some hand sanitizer while on transit is the best way to reduce the risk of contamination. Without sanitizer on hand, riders should wash their hands with soap and water for at least 20 seconds as soon as possible.
7. Don't Touch
You've heard the saying "keep your hands to yourself", right? This practice is especially important for transit riders. Steering clear of surfaces where any number of germs can linger, is vital, but it's also hard to do – especially in a moving vehicle. The best solution is to cover arms and legs (think long sleeves and long pants), and wear gloves, to keep skin-to-surface contact to a minimum. According to Dr. Freeman from the Center for Disease Control (CDC), "if possible, don't touch anything, including the seat itself."
8. Don't Snack
Time is tight. However, eating-on-the-move these days is no longer the safest practice. For one thing, you must remove your mask to take a bite. Again, a face covering not only helps to protect you from pesky pathogens, but it also keeps germs from flying freely into the air and infecting other passengers.
9. Skip the Chit-Chat
As with the no eating rule, the same goes for small talk. Germs (and the virus) can easily be spread through talking, according to the CDC. While it's important to be considerate and polite to other riders, skipping conversation with fellow passengers is just another way to stay safe. Plus, it's a great chance to catch up on some reading!
10. Ride at Off-Peak Hours
Travelers should avoid riding on public transportation during peak hours, if possible. By changing up their traveling hours, riders can avoid times when public transit is busiest. The days of squishing oneself into a packed bus or subway car are over, so it's best to allot some extra travel time to wait for a less-packed vehicle.
While germs on the TTC (and other transit systems) may eventually be rendered a problem of the past, today's transit agencies need everyone do to their part to keep themselves, and each other, safe and healthy while travelling. These are 10 easy, common-sense ways that riders can get there.