Providing Riders the Tools to Manage Their Experience
Riders appreciate having more control over their transit experience. By offering riders a user-friendly web portal, they have immediate access to their trip details, personal profiles and can know exactly when their vehicle will arrive. With the advanced notification, you can avoid no shows and late cancelations. As well, the reduced work for your on-call staff allows you to put customer service resources towards other areas of your operation.
How it Works for Your Riders
With a simple login and password from any browser window (including mobile devices), your riders have the ability to review, confirm, cancel their own trips as well as view trips visually on a map. They can see where their vehicle is on a map to have precise estimates of when it will arrive. Our application makes it easy for riders to perform many different tasks. With a push of a button, riders can notify the agency when they're ready to be picked up, rather than having to call in. As well, the system can allow caregivers and other staff (with permission) to review, book or cancel trips on behalf of the passenger. From any web-enabled device, riders can:
Book, review, confirm and cancel trips
Generate a return trip or notify of a desired pickup with a click of a button
Review or edit their personal profiles
View all upcoming and previously booked trips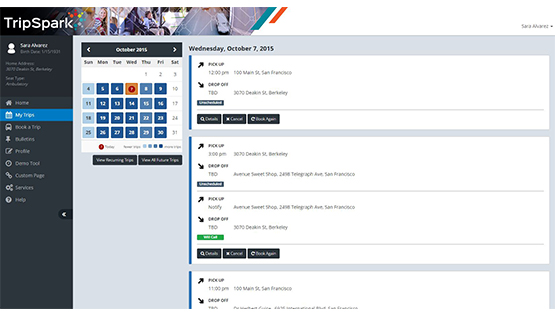 How it Works for Your Staff
With valuable trip information directly available to riders, they experience better service, without needing direct contact with your agency. Your staff experiences less stress and more time to attend to pressing matters such as improving customer service or to daily operations. Dispatchers can rely upon the accuracy of information because there are fewer points of data entry and possibility of error.
Reduced strain on call centers
Limited need for training
Limited need for IT intervention
Easy customization and configuration without contacting TripSpark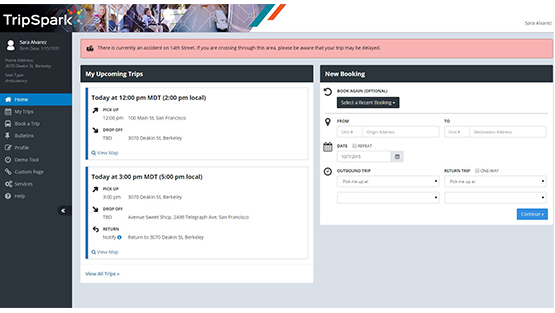 How it Works for Your Agency
Rather than hiring costly web designers and developers, a functioning site can be set up in no time. As well, it can be fully branded to your agency's color scheme and logo. Because the site is a web-based application, you won't require a great deal of IT expertise to maintain it. Ultimately, involving your riders in the trip booking process means they're getting better service and a highly personalized experience, which can result in major benefits:
Fewer no shows and driver wait times
Improved customer satisfaction by reducing on hold queue times
Accessible service: 24 hours a day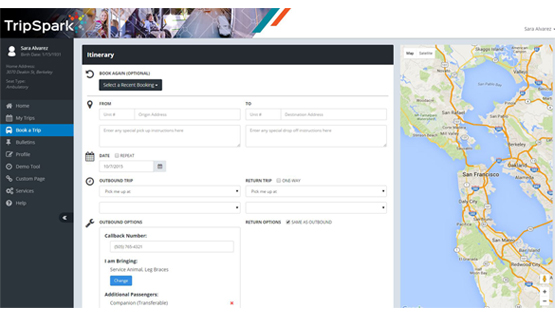 Abby Slovack, Lethbridge Transit
Lethbridge Transit chose TripSpark's Passenger Portal to give their riders the freedom they deserve; allowing them to book, cancel or manage their trips. Watch the video to learn more!
Paratransit Passenger Portal Resources