The Next Generation of Intelligent Transportation Systems
After more than 100 implementations, our software has been tested and built out of the distinctive needs of today's public transit agencies. We're proud to be able to offer a unique and powerful scheduling functionality built into the core of the product. Dispatchers have access to accurate information and can send alerts to drivers, while monitoring their network from any location at any time. Schedulers can build routes and schedules with more accurate data on bus capacity, geocoded stop locations and ridership numbers. Our fixed route ITS is the nerve center of your agency, and serves to connect your people with your communities.
Intuitive Scheduling and Routing
Find the optimal time and location for each bus stop. As well, easily accommodate an interline system. Our scheduling software is powerful enough to stand as its own product, without the complexity of a much larger system. As part of the core fixed route software solution you can control all aspects of schedule creation, including:
Service Level identification
Bus stop, route and pattern creation
Trip Building
Blocking
Run cutting
Rostering
Bidding
Peripheral management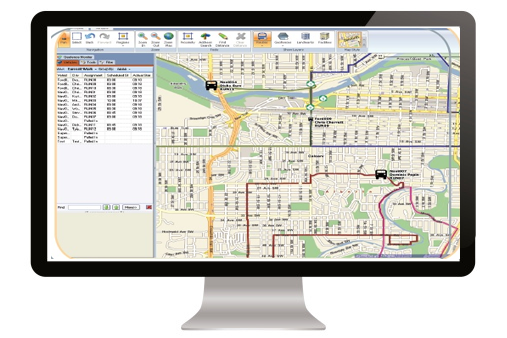 Send Schedules Directly to Google
TripSpark's GTFS-Realtime tool provides a direct feed of schedule data from your back office software to Google Maps. Your agency can push data as events occur in real time, to the Internet (Google TripPlanner), which affords riders a deeper level of information about their trips including:
Riders can view trip updates (delays, detours)
Provide bus position to ensure arrival time estimates
Get a total trip overview for better planning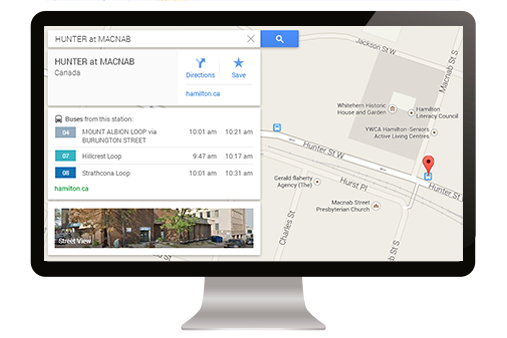 Emergency Detours and Route Monitor
Generate emergency detours quickly and have more control over routing options. Easily track ridership at newly created temporary stops. Enable detour without duplicating schedule data, then turn it on or off as needed. Route Monitor allows you to view bus headway distances and other schedule adherence information in a simple linear format. The same information is displayed as the AVL Map, just presented in a different format for easy consumption of information.
More control over routes
Less back office labor
Fully integrated with our core product
Easy to use and quick to train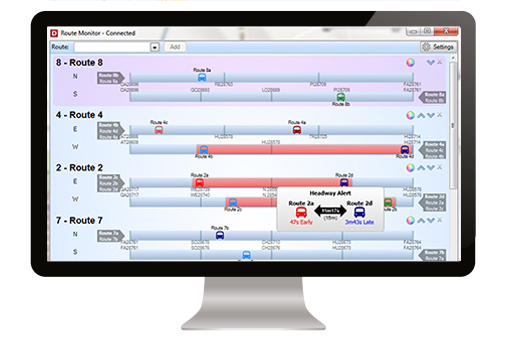 Dealing With City Traffic Congestion
With Transfer Management, drivers and dispatchers can make better informed decisions about departure times to accommodate requested transfers. Traffic Signal Priority allows you to improve on-time performance during busy rush hours by prolonging designated traffic lights. Both remarkable tools will impress your riders and improve their overall transit experience.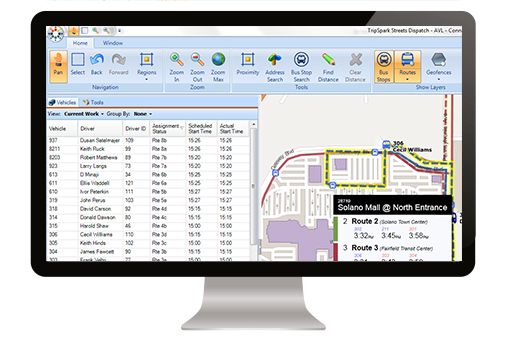 Fixed Route ITS Software
TripSpark's fixed route software is specifically designed to meet your unique business needs. All aspects of much larger ITS solutions, such as in-vehicle peripheral integrations, scheduling, CAD/AVL, and passenger information tools are included at a price that fits your budget.
It is flexible, easy to use and quick to deploy.
Improve efficiencies and move beyond paper based systems
Easy to implement, simple to use, and maintain – you don't need a large IT department to maintain or implement the software
We grow with your business – easily add components in the future such as announcements, on board signage, APCs, passenger information and in-vehicle peripheral integration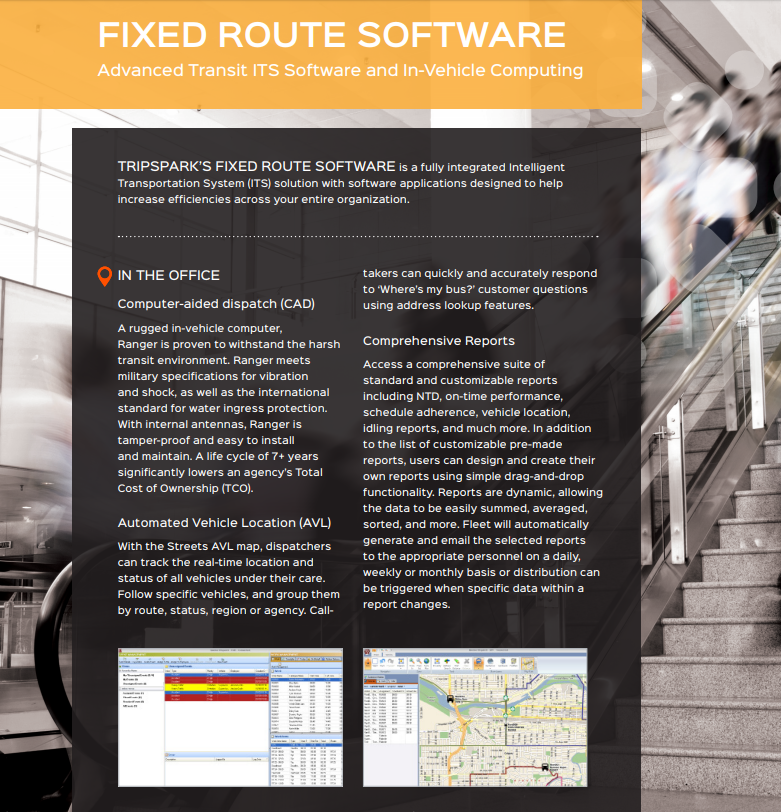 Fixed Route Scheduling and Routing Resources