The Ultimate Passenger Information System to Enhance Service
Today's riders expect real-time transit information at their fingertips so that they can better plan their day and make the best use of their time.
TripSpark's MyRide passenger information system gives riders a convenient way to get relevant and accurate transit information on their desktop or mobile device. Using MyRide, riders can access transit schedules and real-time GPS-based bus location information, track their bus on a map, and receive transit news and route-specific alerts.
Posting a Static Schedule is No Longer Enough
Most agencies post their schedules online, but static schedules don't provide riders with the real-time information they need.
MyRide makes transit a more desirable option by offering riders all the information they need, including:
Real-time bus departure information and notifications
General and route-specific news alerts
Notifications regarding detours and temporary bus stops
Integration with CAD/AVL Ensures Real Time Accuracy
Your fully integrated CAD/AVL system automatically updates all your system assets, including MyRide and LED wayside and transfer station signs. This means that riders have access to the same GPS-based real-time information as administrators.
Get Important News in the Hands of your Riders
MyRide's news and notifications features allow you to publish multimedia news stories and automatically distribute them to subscribers. You can reduce the number of "where's my bus" calls, by publishing news about service disruptions as soon as they happen. You can also publish news to inform riders about fare or route changes and promote contests or community events.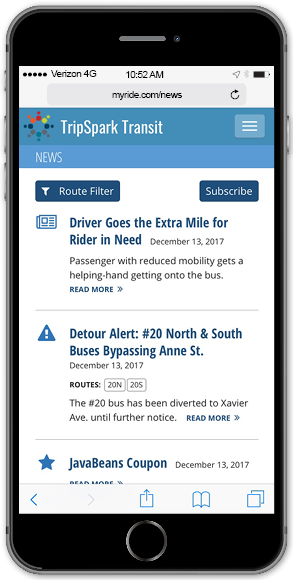 Give Riders Plenty of Choice
MyRide offers riders plenty of different ways to access information. Users can choose to:
Access MyRide via their web browser, or download the iOS or Android app.
View real-time GPS-based bus location information in a schedule or on an integrated map powered by Google.
Subscribe to receive SMS text, email or pop-up notifications for general and route-specific news.
Receive On-demand bus departure information via SMS text or IVR voice call.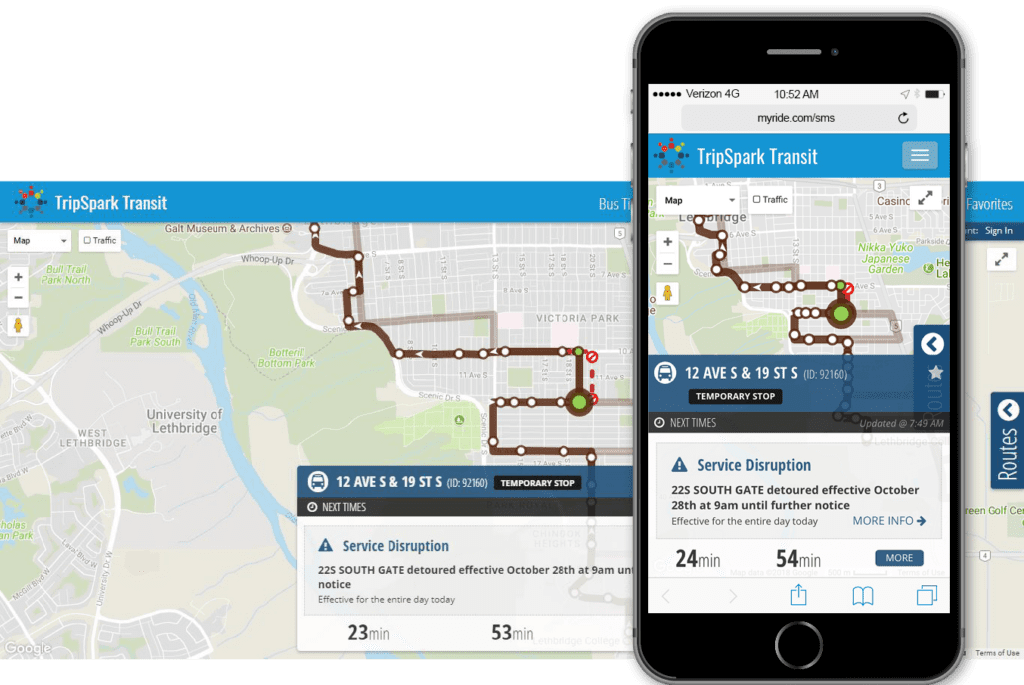 Customize MyRide for Your Agency
Support brand recognition and promote user adoption with a custom-branded user interface. You can customize MyRide to add your agency logo, adjust colors and add custom pages containing agency-specific information, like fare and pass options.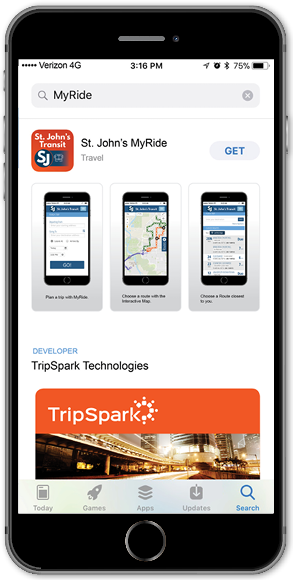 MyRide Infotainment Digital Signage
TripSpark also offers a digital signage solution, MyRide Infotainment, for both in-vehicle and off-vehicle real-time passenger information, advertising, and more.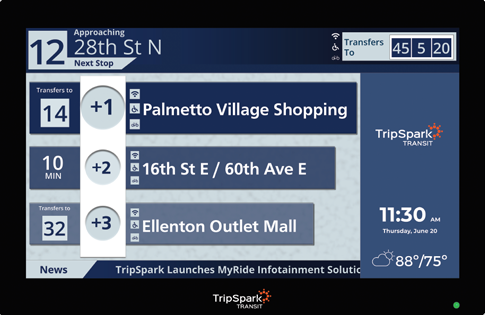 Abby Slovack, Lethbridge Transit
Lethbridge Transit chose TripSpark's passenger information web app to offer their riders. The results speak for themselves. Check out their story and watch the video.
Passenger Information for Public Transit Resources