Your Most Important Point of Contact
You need constant contact with your buses to monitor real time events that can affect schedules, like: road conditions, vehicle breakdowns, OS software crashes and rider issues. You need a solution that is reliable and works without having to worry if it will ever stop working. You need a way to communicate with drivers, while at the same time, synchronizing the integrated data from back office computers. With over 60,000 installations, the Ranger Ruggedized mobile computer is an industry-proven MDC of choice and will be the most important piece of technology on your buses.
Why is the Ruggedized Ranger Best in Class?
From a single console, every piece of on-board technology is connected to the fully integrated CAD/AVL system in the back office. Forget about unreliable Wi-Fi or Bluetooth connectivity, the Ranger connects wirelessly in its own, unique way. The Ranger has many functions and benefits, including:
Real time communication with dispatch
Color-coded blocker screens show schedule adherence
Provides all data used by the CAD/AVL system
Single point of login/off for drivers
Central control for all peripheral devices
Passenger count and fare collection data
Driver-centric
Transfer request capable
Telematics, GPS and more
The Ranger collects GPS-based vehicle tracking data, which enables you to see the exact location of every bus on a map. It also collects information on vehicle speed and engine diagnostics, so if a mechanical or electronic problem is detected, maintenance personnel can get advanced warning.
The Ranger is specifically manufactured to withstand the harsh conditions encountered in the transit environment. Ranger is unique in that it employs only a single cable connection (for quick set-up) and internal antennas (GPS, Wi-Fi, Cellular) for enhanced durability and ease of installation. When a driver logs into the system, their driver information, route and messages are automatically synchronized with their unit.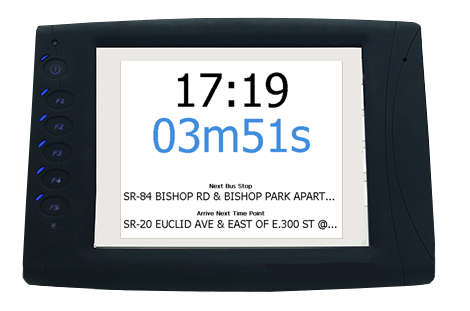 Dual Boot Capability
The Ranger hardware offers the flexibility to use your vehicles for both fixed route and on-demand service. Dual-boot functionality allows:
Vehicle operators to choose the appropriate application, depending on whether they are operating fixed route or on-demand service
A single MDT spares pool, minimizing on-hand inventory costs
Dispatchers to view and manage the entire fleet within a single screen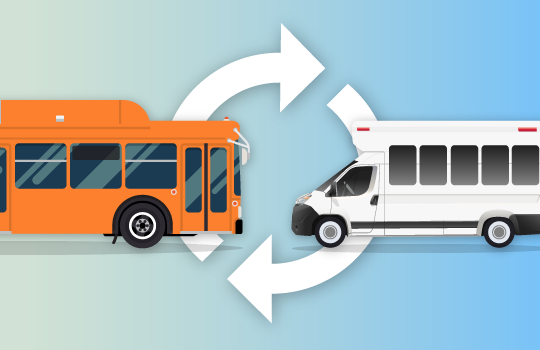 The Ruggedized Ranger Solution
If your agency needs something more robust than a tablet, Ranger rugged consoles are another option. They provide agencies with flexibility, connect with peripherals such as ticket printers with ease. As well, Rangers integrate seamlessly with back office software for an end-to-end solution to coordinate your agency's entire transportation offering.
Built to withstand harsh transit environment
Far more durable and reliable than tablets
Lower cost of ownership in the long run
In-Vehicle Technology for Fixed Route
Download our in-vehicle solution sheet to learn more about the various hardware and peripherals TripSpark offers for your transit operations.
Some of what you'll find:
Automated Audio and Visual Announcements (AVA)
Automated Passenger Counters (APC)
And much more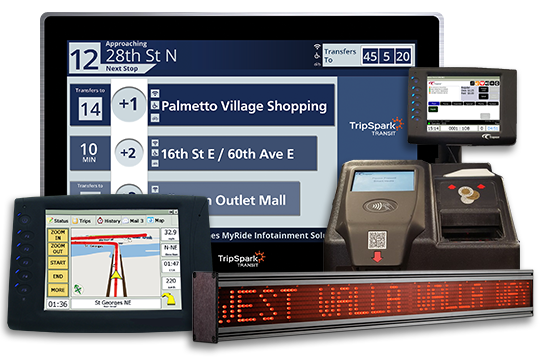 On the Bus With Ranger
Watch this video to see how Ranger integrates a wide variety of functionality into a single, powerful platform including: electronic dispatching, turn-by-turn navigation, driver behavior monitoring, wireless signature capture, electronic fare payment, and much more. The Ranger has a small footprint, but supports data collection and manages other in-vehicle technology peripherals, like:
Automatic passenger counter
Headsigns and stop annunciators
Fareboxes
Drivermate: Connecting Drivers to Dispatch on a Tablet
TripSpark's mobile application, the DriverMate Android Application is the essential paratransit in-vehicle technology necessary to complement your total solution. Discover how affordable it can be when compared to the overall functionality it provides. See it in action for yourself by checking out a demo.
Ability to be used on consumer brand hardware
Provides same functionality as Ranger
Easy to install and quick learning curve
An affordable solution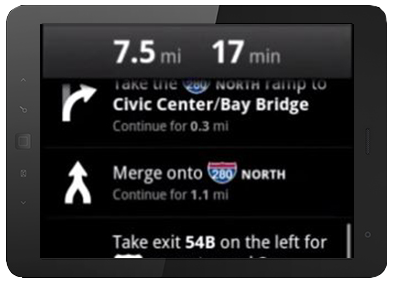 MyRide Infotainment Digital Signage
TripSpark also offers a digital signage solution, MyRide Infotainment, for both in-vehicle and off-vehicle real-time passenger information, advertising, and more.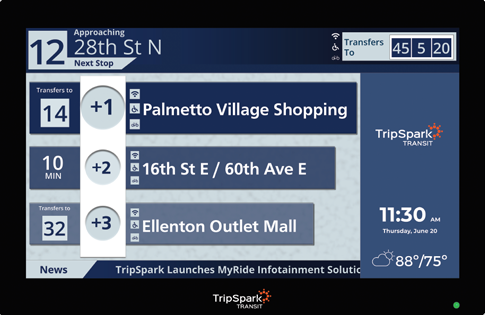 Abby Slovack, Lethbridge Transit
Lethbridge Transit chose TripSpark's in-vehicle hardware (Rangers) and software to improve their efficiency. Rangers provide real time information for drivers and customers. It gives drivers feedback on if they are running late or hot and can improve their own on-time performance.
Debbie Ruggles, Tulsa Transit
Hear from Debbie Ruggles, Interim General Manager, speak about how streamlining their back office and improving efficiency with TripSpark's in-vehicle technology, Drivermate.