3 Reasons You Need a Mobile Web App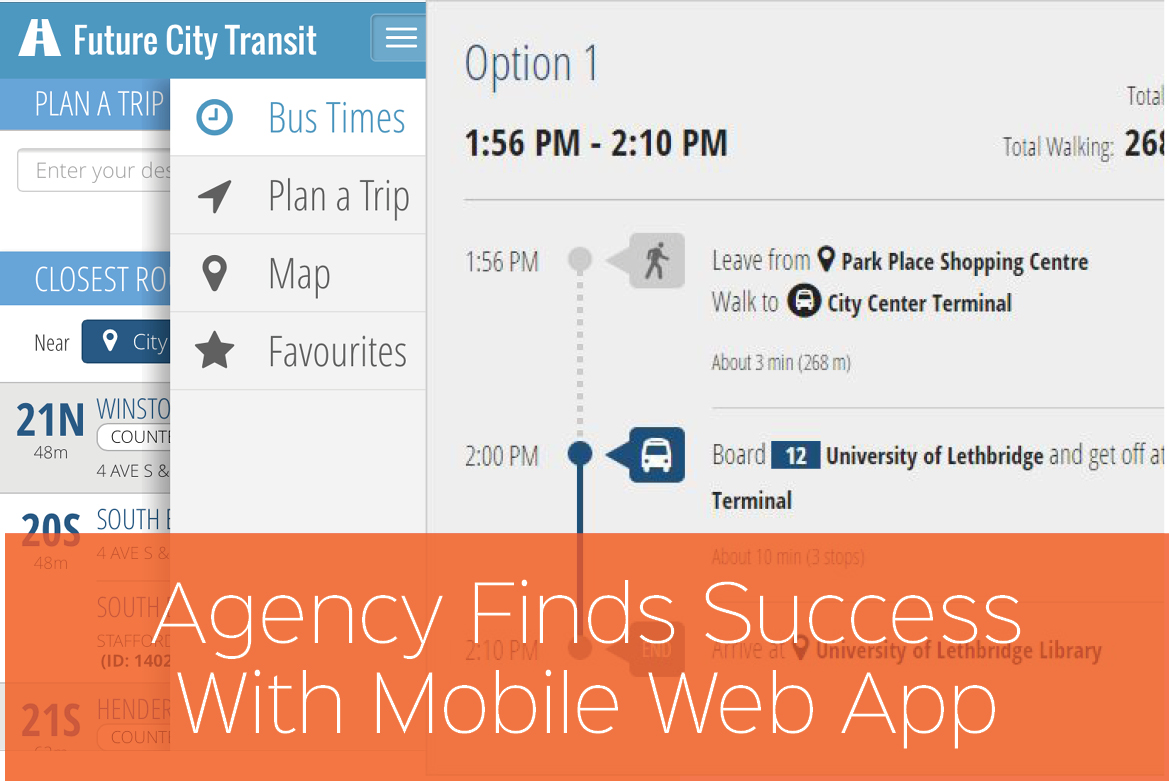 In my recent trip to visit with Lethbridge Transit, Alberta, I attended an information fair at a local college with some people from Lethbridge Transit where they were answering students' questions and promoting the new MyRide mobile app. Many of these students were away from home for the first time and quickly saw that MyRide would allow them to navigate their new environment with confidence. Students were amazed that they didn't need to know an address for their destination. By simply entering "Lethbridge College," the app can tell them how to get there using transit. Even the next day's schedule could be planned using the app from a smartphone. They didn't have to be familiar with or memorize stops or route numbers. Once a location or trip was determined, it could then be stored as a "favorite" to be called up later. The app carries so much information that students (even those who had never ridden a bus before) can now easily rely upon transit and technology to get them to where they needed to be, and on time.
Here are the top 3 reasons why both you and your riders need a mobile web app.
Improved Perception of Service
While your ITS fixed route software solution is capable of mitigating problems, optimizing routes, automatically scheduling and dispatching buses, there is the possibility of an unexpected delay. When your riders have a better idea of where their bus is, they actually feel more in control over their transit experience. Knowing when a bus will arrive allows them more time to relax, free from the stress of waiting and wondering. More importantly, riders can remain somewhere warm, dry and safe until their bus arrives. Bus arrival times and schedule updates need to reach riders where they are. A mobile web app can intuit their location as soon as they open the app and show them bus arrival times at nearby stops. This is more than improving perception. You're actually providing riders a service while they're waiting: the service of knowing.
Improve Riders Experience With Confident Trip Planning
A rider's trip actually begins before they board your bus. Planning a trip means planning every step along the way. Riders may set their alarms in the morning based on this information. They plan their travel around their school and work schedules. With a passenger information system, as part of a fixed route software system, your agency can optimize their riders time and help structure their day: simply by providing an effective tool to plan their trips. Community transportation is already a part of your riders' daily experience. You can provide them the tools to enhance that experience.
An ITS Fixed Route Software Solution That Exceeds Expectations
The third (and real) reason you need a mobile app is because your riders expect it. They expect technology to improve their transit experience by providing them relevant, timely and accurate information. Much like those new students at Lethbridge College I encountered, your riders will be completely wowed by the simplicity and full functionality of a mobile web app. And you'll be impressed by how this simple add-on can improve your service offering, while reducing and controlling costs.
We're extremely excited about our redesigned MyRide and how it integrates seamlessly into your existing fixed route software solution. This is why we created a helpful webinar where you can witness a demonstration of the full functions and amazing benefits of this convenient add on. You can watch the video here.