4 Ways Simulators Improve Driver MDT Training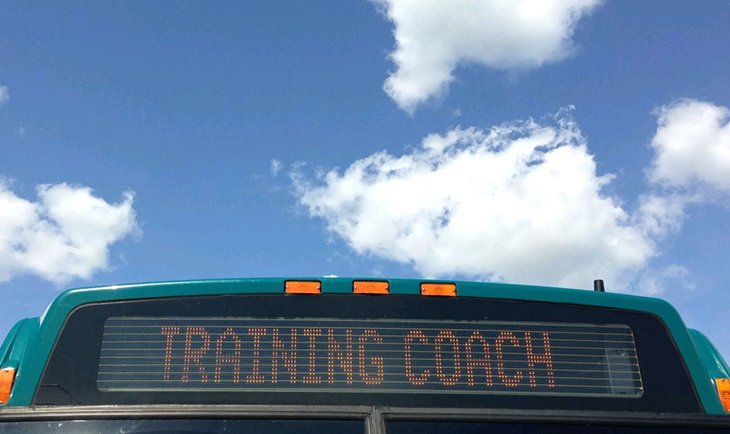 Ranger is a Mobile Data Terminal (MDT) that offers clear benefits for transit drivers, dispatchers and administrators alike. The device can make it easier for drivers to complete tasks, improve communication with dispatch and reduce distracting radio traffic. Ranger was designed with ease of use in mind, but as with any new in-vehicle technology, some training is necessary before drivers are comfortable with all features.
The airline industry often uses flight simulators to help train pilots because this method offers several benefits to both pilots and the airline. Training bus drivers using simulators offers many of the same benefits to drivers and agencies. With Streets Ranger Simulator, drivers are able to simulate movement and perform actions in relation to the loaded manifest. GPS, time and communication with the Streets back office server can all be simulated.
4 Reasons to Train Drivers Using Streets Ranger Simulator:
Keep trainers out of harm's way – the cockpit of a bus is only designed for one person. By doing the majority of training in an indoor classroom, Agencies can reduce the amount of in-vehicle training that is needed.

Train drivers without distraction – traffic issues, construction or inclement weather require a lot of your driver's attention. Allow them to fully focus on learning by training in a quiet, controlled classroom environment. Then, they can apply their knowledge in the real-world.

Avoid tying up vehicles for training purposes. Stop wasting fuel and ensure your full fleet is kept available; train drivers on stand-alone Rangers without needing a vehicle present.

Prepare drivers for all potential situations, including uncommon and emergency scenarios. Teach drivers how to recognize features and react to situations, including:
An Onboard Emergency – learn how to trigger and resolve the silent alarm, and how to recognize the covert indicator.
Trips – see what screen is shown when in motion versus when stopped (ie. blocker screen when in motion, trip manifest when stopped), and hear triggered announcements at each stop.
Counts – perform manual counting of Passengers by Fare Type or simply by Boards and Alights (if there is no APC).
RSA – see what appears when they go off-route or are running late, early or on-time.
Service interruptions – learn how to identify a service interruption and follow a detoured route (with Service Interruptions for Streets enabled).
Text messages – learn how to access and read messages, how to know if a message is a priority, and how to clear read messages from the system.
Take a Cue from the Airline Industry
Avoid tying up vehicles, keep trainers safe, reduce distractions and prepare your drivers for all potential scenarios. Take a cue from the airline industry and offer MDT training in a classroom setting with Streets Ranger Simulator; drivers will appreciate it, and so will you!