5 Good Reasons to Offer your Passengers Ridesharing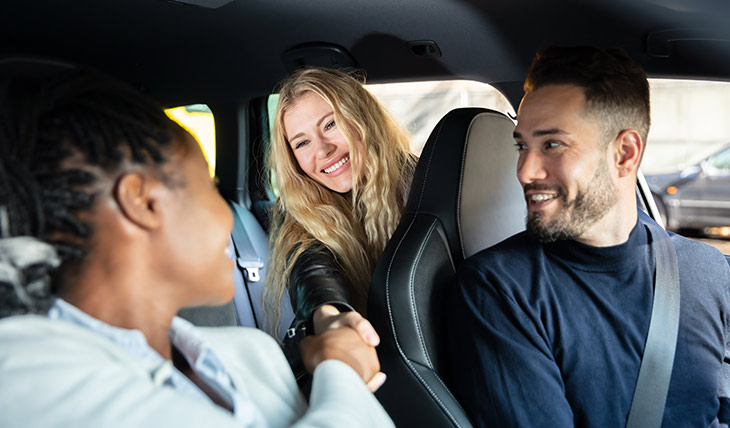 Smart transit agencies know that variety is the spice of life. And after an extended period of being literally shut in, and shut out from the world around us, travelers are ready to…well… travel! That includes sharing their commutes with other travelers.
Let your Participants Ride like Pros
Did you know… along with our powerful fixed route and on-demand/paratransit software, we also offer rideshare management software? TripSpark's RidePro offers easy-to-use web-based software that manages and delivers ridesharing, and other alternative commuting services. For your participants, that translates to convenient, pooled, safe, and affordable transportation.
If you're not yet offering ridesharing services to your customers, you should consider the multiple benefits. Here are our top 5:
1. Give Riders More Options: As a flexible complement to fixed route transit, ridesharing provides more travel options for riders, and increases customer satisfaction. Ridesharing also enables the mobility of people with disabilities, non-drivers, and many from lower-income households to access worksites, not easily accessible otherwise. Overall, ridesharing provides convenient, safe, and affordable transportation for all participants.
2. Better Match Making: The ability to automate and streamline the matching process makes working life a little more stress-free. RidePro allows riders to find fellow commuters across different modes of transportation like carpools, vanpools, bike buddies, public transportation, and more. By offering an official ridematching and trip-planning tool, you can deliver a consistent experience to commuters across all alternative modes, closely tied to your agency's branding.
3. Reduce Overall Costs: Because ridesharing programs allow your agency to complement fixed route services, especially for areas that are underserved by traditional public transportation, you can become more operationally diverse on the road, and efficient in the office!.
4. Make a Measurable Environmental Impact: There's no doubt that ridesharing reduces harmful greenhouse gas emissions. But how much exactly? With sophisticated carpooling and vanpooling software you can easily quantify and report, with accuracy, environmental impacts, and energy savings. This is a huge win for agencies when demonstrating measurable progress toward their environmental goals.
5. Report on Your Success: What's the point of setting operational and ROI goals if you can't accurately report on them? Vanpool reports are formatted to make NTD reporting efficient and accurate. And with the ability to track, and report user mode shifts from single occupant vehicles to transit, carpool, vanpool, and even walking pools, you can easily gain visibility on the impact of your efforts relating to goals, and grant opportunities.
Your Participants Benefit Too
Carpoolers and vanpoolers enjoy the many benefits of sharing their rides with fellow commuters too. From saving money to helping save the planet, rideshare passengers are winning at the transportation game. Here are just a few of the benefits of ridesharing for your participants:
They Save Money: Typical single-occupancy vehicle (SOV) commute costs range from $8,000-$10,000 per year. Carpooling and vanpooling participants collectively save millions of dollars in commuting, and parking costs annually.
They Help the Environment: Automobiles and light trucks are considered the largest contributors to air quality problems in the US. Ridesharing significantly reduces traffic congestion, and cuts greenhouse gas emissions. Eliminating one typical car commute saves the annual carbon sequestration of 5.6 acres of forests!
They Enjoy the Freedom: Ridesharing provides a time-efficient commute mode, while reducing the stresses associated with driving in traffic and/or over long distances. And ridesharing is a more convenient option for many participants, especially those with mobility issues.
From tackling traffic congestion, reducing greenhouse gas emissions, saving money to improving accessibility, ridesharing has proven a great compliment to fixed route service for transit agencies, and for their participants.
Ready to get your participants ridesharing? Contact TripSpark today!