5 Reasons to Attend Ignite 2018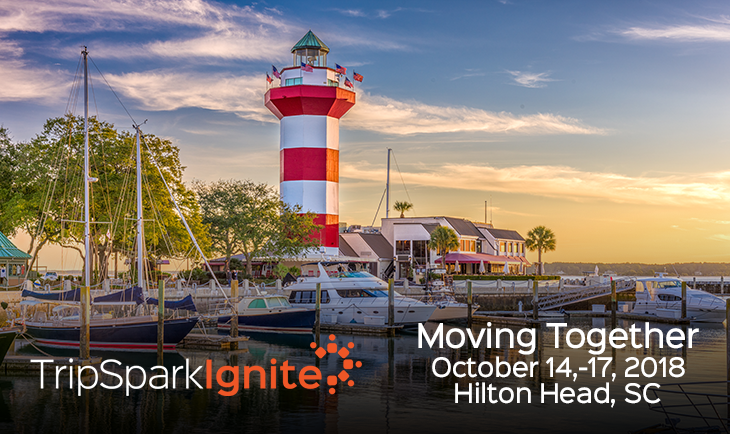 Get ready to 'Move Together' with TripSpark at Ignite 2018!
Ignite, TripSpark's annual user conference, is quickly approaching. This year's conference will take place at the Westin Hilton Head from October 15-17.
If you're a TripSpark customer, you should seriously think about coming to Ignite. Here's why:
At this year's conference, TripSpark customers will enjoy the ocean breeze in beautiful Hilton Head, South Carolina, while learning and networking with industry professionals. With hands-on training, meetups, engaging keynote speakers, and a ton of fun activities, you won't want to miss out on Ignite 2018. Read on to learn more, or click here to register now!
Inspiring Learning Tracks
Throughout the conference, you'll have the opportunity to talk to industry professionals and product specialists to develop a more robust understanding of how to make the most of your software. We offer individual learning tracks fixed route, paratransit, K-12 and rideshare software. In some cases, you'll be joining up with peers from other industries for general and joint sessions too. Check out the agenda to see what can't-miss sessions are on offer for your specific software and segment.
3 Days of Learning, Networking and Fun
What's the biggest difference between Ignite 2018 and previous conferences?  This year's conference is longer! That means more time to enjoy all that the event has to offer, including more hands-on sessions with product specialists, informal meetups, inspiring speakers, and fun activities. There's also extra free time built into the schedule so you can fit in a round of golf or take a dip in the pool!
An Awesome Location
The 2018 Ignite Conference will be hosted at the Westin Hilton Head, a beachfront spa resort. Hilton Head Island is known as one of the most well-preserved costal destinations in the world. Ignite attendees will enjoy pristine nature, various ecotourism activities and resort amenities including pools, golf and tennis. Fly into Savannah, Georgia, and enjoy the short but beautiful drive to Hilton Head Island.
Learn from your Peers
Network with industry professionals and talk to other businesses to see what they are doing to improve their own operations. We will be having peer-led sessions, as well as plenty of workshops and informal meetups that will inspire you and your colleagues to share ideas and grow together. Last year, we kicked-off the event with a beach party, and said farewell with a dinner cruise. Attendees can expect different, but equally enjoyable social events this year.
Share Ideas and Move Together with TripSpark!
The theme of Ignite 2018 is Moving Together. This message is also a part of our new brand identity, so you'll be seeing the tagline pop up every so often!
Moving Together is about working together in partnership, so that we all grow and succeed together. Ignite 2018 is the perfect opportunity to show you all how we are Moving Together with you.
Get ready for lots of collaboration, innovation, and celebration, plus some relaxation too! There will be many opportunities to discover innovative ideas that you can take away and apply to your business, so don't miss out! Take advantage of our early bird pricing and register today. We can't wait to Move Together with you at Ignite!