Celebrating Dump the Pump Day 2018!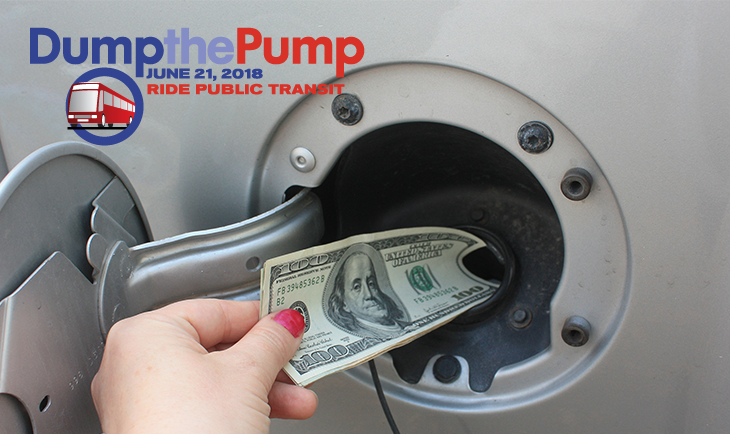 The 13th annual Dump the Pump Day is being celebrated on June 21st this year. This nationally recognized event is the perfect opportunity to get the word out about the benefits of public transit and carpooling. Here are just a few of the reasons riders should consider "dumping the pump" in favor of transit or ridesharing.
Relief from fluctuating gas prices
Less stressful commute
No parking expenses
Huge cost savings (average household savings of $10,160 per year by downsizing to one car)
How to Promote Dump the Pump Day
APTA has some great suggestions for promoting Dump the Pump in their event toolkit. While some of these ideas would need to have been actioned in advance, there is still plenty you can do if Dump the Pump Day caught you off guard. Here are just a few of their suggestions:
Hold an open house for community leaders and local media to see your facilities and equipment. Cap off the event with a ceremonial ride.
Have your agency CEO ride on the bus and/or train to thank regular riders and welcome new riders.
Add a fuel savings calculator to your website so visitors can see how much they would save by using public transportation. Link to the fuel calculator on the publictransportation.org website.
Link to the carbon savings calculator on the publictransportation.org website.
Post "Dump the Pump" content to social media. Use the factsheet from APTA for help developing content.
Did Dump the Pump Day catch you off-guard? It's not too late to celebrate the event! Simply send out social media messages to encourage participation by listing some of the benefits of taking transit and ridesharing versus driving solo.
How to Increase Ridership with Software
Besides promoting cost savings and general benefits of transit and ridesharing, your agency can also encourage people to take alternative modes by offering better service. Fixed route software solutions and Rideshare management software can make taking transit and carpooling more convenient and enjoyable. To discover how to make transit more appealing to your riders, read the What Riders Want blog. To learn about the top ways you can improve your ridesharing program, read the 4 Big Ways to Make Ridesharing Better blog.