6 Great Reasons to Get to Know Daniel Bower, Project Manager, Rideshare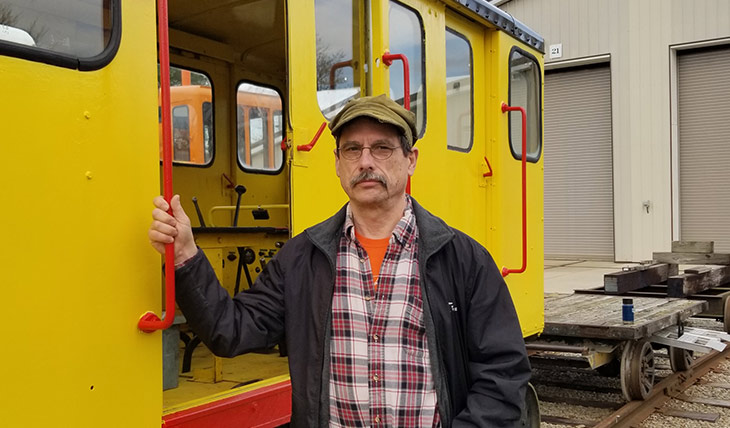 Meet Daniel (Dan) Bower, Project Manager with TripSpark's Rideshare Group. Given Dan's impressive history in the industry, it's hard to imagine anyone better suited to this dynamic role. Not only does Dan have an extensive educational background in transportation engineering, but he's also been living and loving transportation and technology since his days in high school.
In a fascinating chat with Dan, I discovered why he really is the transit man.
1. What do you do for fun?
I've been very interested in transportation and technology history since I was in high school. In fact, much of my spare time is dedicated to it. I've been a volunteer at the Pennsylvania Trolley Museum since 1974, I own and enjoy an antique car – a 1938 Packard. I'm also in the process of restoring a 1914 Arts and Crafts house. 
Great food is also a passion of mine and I find that cooking is a good way to unwind at the end of a busy day. I have a variety of culinary interests and presently, I'm perfecting my paella making abilities.
2. Tell me about the journey to your current role with TripSpark.
While in graduate school at Rensselaer Polytechnic (1982-1984), I managed the Transit Industry Microcomputer Exchange, a national computer user's group for transit agencies at the time. During that period, I also wrote software on a freelance basis and one of the systems I wrote was for passenger count tracking for CDTA in Albany, NY. After graduate school, I took a position as a system engineer with COMSIS Corporation, where I got my first exposure to paratransit software. In 1992 I transitioned to rideshare software with COMSIS. Ever since, I've been involved in larger and more extensive implementations of various aspects of rideshare technology.
As time went on, the company went through many changes and acquisitions, becoming part of Trapeze Group in 2002. I've continued to work with various rideshare software solutions and this has extended to serving our customers across the USA, Canada, and New Zealand.
3. How has your role changed over your career?
Over the years my role has evolved. At one time I was juggling three roles – handling administration for the rideshare department, managing rideshare software design and programming, and leading rideshare customer care and providing sales support. Today, along with others on the rideshare team, I'm more focused on feature design and implementation, as well as project implementation. I continue to support sales and customer care, as over the years I've come to know a lot of people in the industry and I've gained a solid background in rideshare business processes. I am always happy to share my knowledge.
4. What's changed in your business during the pandemic?
For the rideshare group, surprisingly little. That's the great thing about utilizing technology. We had already transitioned to working from home as a cost reduction measure, and we had a good backlog as the pandemic started. At that time, we were busy working through Webex (now Zoom) sessions and Slack communications. Of course, there has been no travel to client sites or for sales presentations for a long while, and I think everyone is missing the benefits of those face-to-face interactions. However, we've consistently had lots to do in the rideshare group and I don't foresee things changing anytime soon.
Today, the rideshare group is thriving as we keep our noses to the grindstone, getting our work done correctly and on time, and being flexible and accommodating with our clients. Not much has changed over this strange time in our lives and as always, if we do a great job, the clients ask us to do more work and they tell their neighbors about us!
5. What motivates you?
I truly love what I do. And I'm most concerned about putting forth the best products and services possible – going that extra mile for our clients to give them the best value possible. In all honesty, a client's glowing approval is my greatest reward.
6. What makes TripSpark unique?
TripSpark (and Trapeze overall) are visionaries and we are set up for the long haul. We don't create short-cut solutions that are quick to develop but difficult to maintain. We also invest in our people. TripSpark makes sure that its employees are well trained and totally supported. This has contributed to the reputation we've built as experts who provide solid, long-term value to our clients.
Check out the rideshare software that Dan and his team passionately work on everyday, at  TripSpark Rideshare software.