Dump the Pump 2015 and Fixed Route Software Combine to Increase Ridership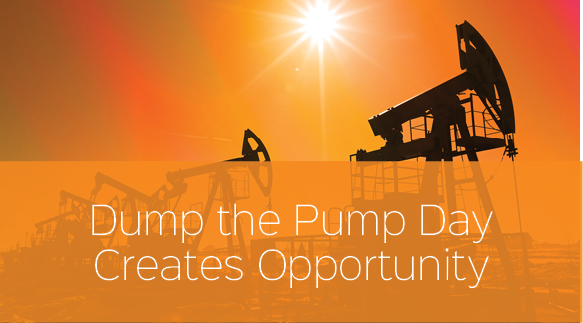 The 10th annual National Dump the Pump Day is being celebrated on June 18th this year. Let's get the word out about the benefits of public transit over traveling by car. This is the perfect time to build awareness in your public transit system by celebrating alongside this nationally recognized day. Your community already knows that public transit is an essential city service. But this week, take the initiative to send the message home about the many benefits that transit can have for those who choose transit as their preferred choice for transportation.
Relief from fluctuating gas prices
Reduced stress in daily commute
No parking expenses
Huge personal savings ($9,700 a year by reducing household by one car)
Using Social Media to Increase Interest
One of our clients in Irvine, California (Spectrumotion) has had a great engagement idea to encourage use in their rideshare service. By spreading the word through inexpensive social media channels, like their Facebook Page, Spectrumotion offered a series of $1,000 cash awards to participants in their contest. Commuter programs, much like all public and community transportation services are benefited from rider engagement. This is why Spectrumotion has had so much success when it comes to increasing the reach of their service offering. What are you doing to spread the passion for transit to your ridership and community?
Fixed Route Software for Improving Ridership
Besides building community engagement with your transit service, your agency can also impress riders with better service. Automated dispatching, passenger information systems and mobile technology are becoming the features that modern-day riders demand to enhance their transportation experience. Fixed route software solutions and fun engagement campaigns can deliver the one-two punch that will reach riders. The more your agency develops a one-on-one relationship directly with ridership, the more you can expect ridership numbers to increase.
Did Dump the Pump Day Catch You Off-guard?
It's still not too late to make it an event for your riders by sending out social media updates and messages encouraging participation. Consider a social media campaign for next year. For this year, simply remind your riders that they're making the better choice when it comes to alternatives to car transportation. Contact us to learn more about the many fixed route software solutions that can help you increase rider satisfaction and help you to manage your transit operation more efficiently.