TripSpark's Ignite Destination Guide to New Orleans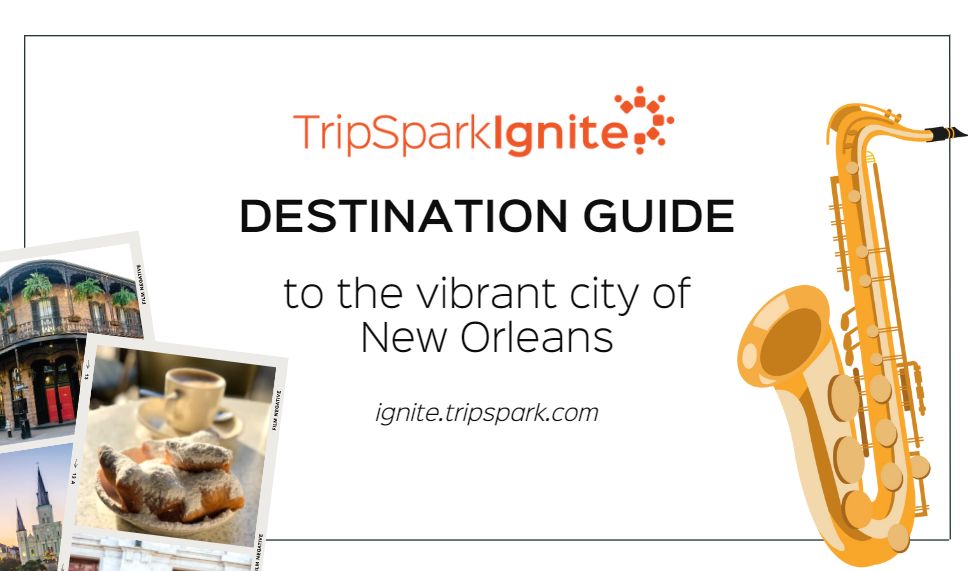 TripSpark's Ignite 2023 user conference takes place this April 2nd-6th at the NOPSI Hotel in the exciting city of New Orleans! Discover all the Big Easy has to offer with this destination guide.
Destination

New Orleans

Common Nicknames

NOLA, the Big Easy

State

Louisiana

Time Zone

Central Daylight Time (in April)

Weather

Average April high of 79°F (26°C) and low of 62°F (16°C). There's a small chance of rain, with 4 days on average in April.

Local Transit Agency

New Orleans Regional Transit Authority (NORTA)
What to do in New Orleans for Ignite attendees
#1 Explore local transit
The New Orleans Regional Transit Authority (NORTA) has an incredible history. From its heritage streetcars to the buses that drove people to refuge during Hurricane Katrina, transit is a deeply important part of the city.
Not only can you use NORTA to get around town during Ignite—you can also enjoy the fun of its historic streetcars! Amazingly, those streetcars, built by Perley Thomas, were restored by local workers after Hurricane Katrina, even though 85% of the overall NORTA fleet was rendered inoperative. Aside from a 15-month interruption because of the hurricane, the St. Charles Avenue streetcar line has operated since 1835, making it the world's oldest continually running streetcar line. It remains the highest-traffic route in all of New Orleans for both tourists and locals. In fact, you can walk two blocks from NOPSI Hotel to Stop #5268, "St. Charles at Union." Note the line also goes by the name Route 12.
Incredibly, 18 years after that devastating hurricane, NORTA is the largest transit agency in Louisiana, operating 30 bus routes, 2 ferry routes, 4 historic streetcar routes, and a paratransit service.
#2 Enjoy the NOPSI Hotel
You'll be staying right on-site at TripSpark's Ignite conference in the NOPSI Hotel. It's a glamorous, Jazz-Age establishment on the edge of the famous French Quarter. NOPSI is on the National Registry of Historic Places as it was built in the 1920s and retains its glamourous architecture and luxury experience for today's travelers. Amenities include a fitness center, rooftop pool, 2 restaurants, and Henry's Gin Bar.
If you haven't already booked your accommodations for Ignite, remember to book using our special room rate—all the details are on the Ignite page.
#3 Stroll the French Quarter
There's a magic to New Orleans only the Vieux Carré quite captures.
The French Quarter's borders are Esplanade Avenue, Canal, Decatur and Rampart Streets. Centuries of history and mixing cultures result in today's unique architecture, delicious eateries, and the colorful personalities of locals. The city's best nightlife and historic locations like Pirates Alley, St. Louis Cathedral, and Bourbon Street are all found in this district, just steps away from your home base at NOPSI Hotel.
#4 Listen to live music
In addition to plenty of live entertainment at Ignite, the streets of New Orleans are full of music.
NOLA is the birthplace of jazz and Louis Armstrong, among countless other musicians from genres galore. Today, as you wander the French Quarter's Royal Street, Jackson Square, and Frenchman Street, you'll jive to funk, blues, jazz, gospel, and big brass.
Establishments like the Blue Nile are known for offering some of the best live music in the south. Check back closer to Ignite to see what shows are coming to Blue Nile in April.
#5 Get outdoors
You might want to extend your time in New Orleans to take advantage of all the nature on offer! For an unparalleled Louisiana experience, kayak along Bayou Saint John on your own or in a group, or even head outside the city for a swamp tour. Golf where the pros do at TPC Louisiana (or if you're a serious golfer, explore neworleans.com's 3-day golf itinerary). You can also bike through the Big Easy on a rental and enjoy a relaxing afternoon in City Park.
#6 Visit the markets
New Orleans' open-air markets have been around for centuries. French Market has offered "commerce, community, and culture" through many periods of destruction and rebuilding since 1791. As of 2023, it's open daily from 10-5pm.
Palace Market, just a few steps from the French Quarter, highlights locally made art at their nightly booths. "Our open air market hosts a rotating collection of over 80 local illustrators, painters, jewelers, sculptors, and so much more."
#7 Gawk at ghosts
New Orleans is considered one of the most haunted cities on earth. It's home to a rich tapestry of tales, which is why a historian-led ghost tour is a one-of-a-kind way to get to know the city. Travel+Leisure recommends the New Orleans Ghost Adventures Tour company, which has a variety of themes to choose from, and adjusts the route depending on current events in town.
Some of the city's most visited sites are actually its unique, above-ground cemeteries, known locally as Cities as the Dead, which you can visit on your own or with a tour company to see the resting places of famous figures like voodoo queen Marie Laveau and Civil War generals.
#8 Sip on spirits
A different kind of spirit than the ghosts we just mentioned, we promise you won't go without drinks at Ignite's opening and closing celebrations. That said, if you're a true connoisseur, you can also visit Broad Street Cider for a selection of both ciders and meads produced by husband-and-wife duo Diane and Jon. Roulaison Rum Distillery takes its name from the French-Creole word for the sugar-cane harvest and offers locally produced, small-batch rum.
#9 Eat
From gumbo to king cakes and jambalaya to beignets, New Orleans offers a culinary culture all its own.
Breakfast, lunch and snacks will be served during Ignite by NOPSI Hotel's kitchen but you can get out in the city for dinner!
For a famous and upscale experience, try the "haute Creole cuisine" of Commander's Palace. For a bar or a "Dixieland jazz brunch," if you have an extended trip, Arnaud's is a good bet.
Love to try the newest places in town? Check out the Nola Eater "Heatmap." Ultimately, it's hard to go wrong in New Orleans. When in doubt, just ask a local where they get their po-boys.
Meet you in New Orleans?
If you haven't yet booked your Ignite ticket—what are you waiting for? Spots are over 70% full, and the magic of New Orleans is calling. See the full Ignite 2023 agenda for all the transit industry and technology-focused sessions coming your way over 4 transformative days this April 2nd-6th.