Mobile Data Terminals vs Tablets: Why Ruggedized MDTs Are Best for Public Transit Agencies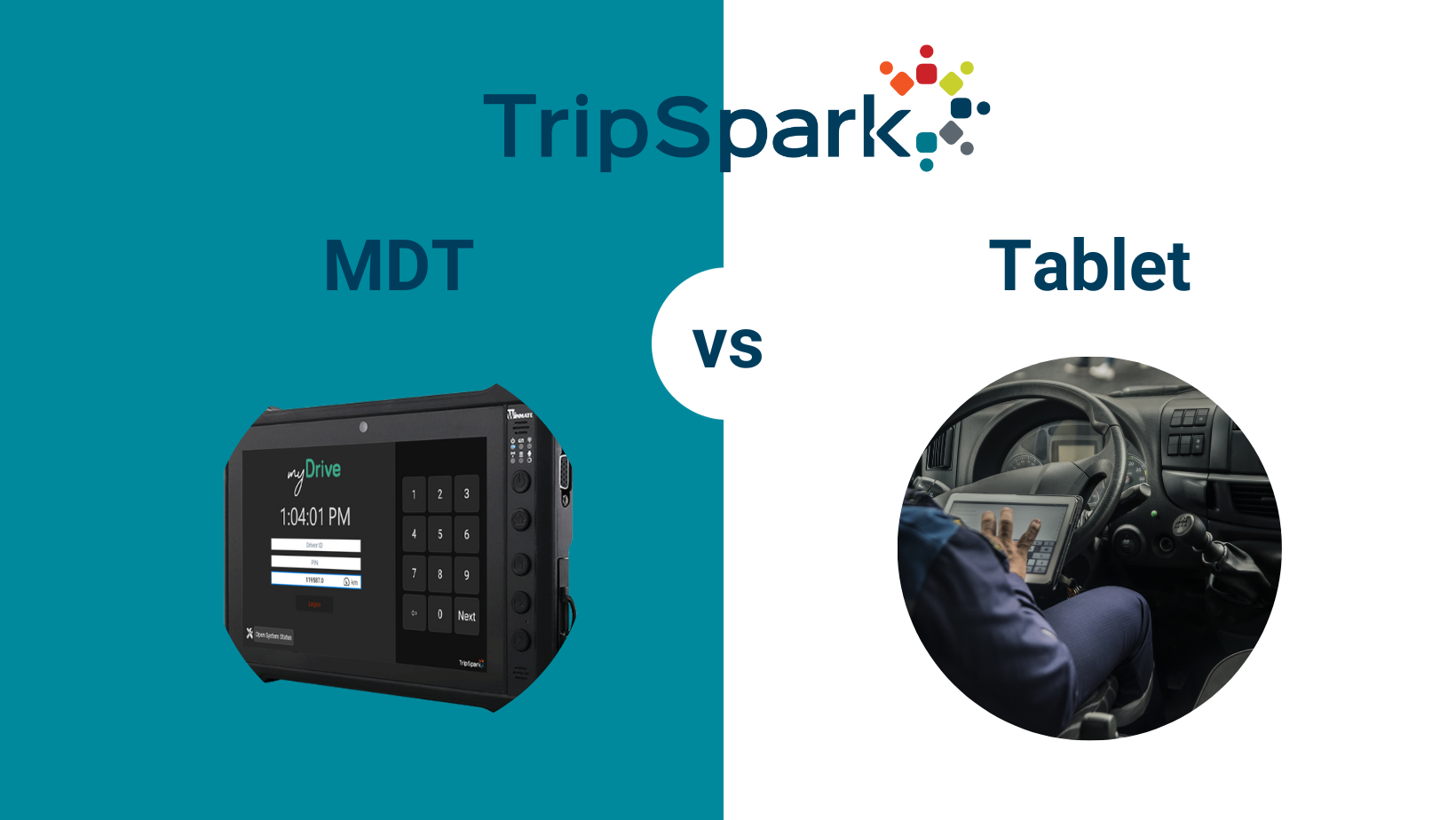 Life on the road can be challenging for your agency's vehicle operators. Drivers need to complete a trip safely and on time for passengers while navigating disruptions, such as bad weather, accidents, and heavy traffic.
In-vehicle mobile data terminals (MDTs) were introduced to improve how dispatch and drivers communicate during a trip, in addition to collecting valuable data about routes and passengers. Understanding how routes are performing helps agencies to make better data-driven business decisions that results in happier customers.
MDTs may also include automated system checks, safety alerts, and a silent emergency mode. Together with the mission-critical information for successfully completing trips, MDTs help drivers stay safe so they can focus on delivering customers a seamless experience.
Knowing this, why are transit agencies still choosing commercial tablets over MDTs? Let's take a closer look at how commercial tablets compare to ruggedized mobile data terminals.
The Drawbacks of Commercial Tablets
Commercial tablets are not built for the demands of an in-vehicle transit environment. Tablets are exposed daily to cold or heat, moisture, dust, sand, shocks, and vibrations. Imagine what the tablet your kids watch YouTube videos on would look like after daily exposure to this harsh environment .
Certainly, commercial tablets are widely available and the upfront cost is less than an MDT. However, limited durability means you're going to be replacing those tablets sooner rather than later when the software fails or the tablet hardware simply stops working.
Not only will there be a cost to replace the tablets, but a cost for staff downtime when drivers can't effectively complete trips. According to the IDC and Panasonic survey of IT decision-makers, The Case for Deploying Rugged Devices in Your Organization (the "IDC Report"), 44% of organizations using tablets lost significant productivity because of a damaged tablet.
During an economic downturn, where all costs are scrutinized and budgets are even tighter, choosing commercial tablets may cost you more than investing in mobile data terminals.
Why Ruggedized MDTs are the Best Choice
As technology evolves, next-generation MDTs are more powerful, sleeker, and lightweight. With larger, daylight-readable touch screens, the user experience is similar to the commercial tablets drivers use at home. Yet, by harnessing Internet of Things technology, MDTs provide on the road functionality and connectivity that makes their jobs easier and safer.
When the going gets rough, MDTs keep you moving
MDTs are specifically engineered to withstand the transit environment with a tough exterior to protect internal components. To be truly considered ruggedized, MDTs are tested using an IP Ratings system based on military and international standards that checks the device for resilience against anything that could damage the hardware. Since MDTs are purpose-built for transit, they break down less often than tablets, and have a much longer lifespan.
Peak driver performance all day, every day
Commercial tablets are not designed to be mission-critical devices. When a driver logs on to an MDT, the unit automatically syncs with the driver's profile so they have reliable access to real-time information about trips, two-way communication with dispatch, notification of service disruptions, and much more. With this key information at their fingertips, drivers can improve on-time performance and serve customers better.
Greater mobile connectivity
Mobile connectivity is increasingly essential for drivers to manage workflows and complete tasks efficiently on the road. MDTs are not only trusted for their durability and performance, but also their integration with CAD/AVL systems, I/O devices, and peripherals. Drivers also don't have to worry about losing a wi-fi or Bluetooth connection thanks to the MDT's hard-wired connections and sturdy internal antennas. Whereas tablets require additional hardware for integrations and are notoriously unreliable for wireless connectivity.
Reduced total cost of ownership
Choosing a ruggedized MDT can reduce the total cost of ownership because of its durability and longer lifespan compared to tablets. While the upfront cost may be higher, investing in ruggedized MDTs offers you significant long-term savings. The IDC Report notes that over the average lifecycle of a rugged device, a company can expect to save close to $2,745 by choosing a ruggedized tablet. When your agency has to do more with less and make every dollar count, MDTs are more economical than tablets.
Next-Generation MDTs Keep Your Customers Moving
Ruggedized mobile data terminals provide superior long-term value to transit agencies because they are purpose-built for the harsh transit environment. The initial high cost of purchasing MDTs is offset by the increased productivity of drivers, the vital business data collected, and a longer lifespan that reduces the total cost of ownership compared to commercial tablets.
When you want your drivers to receive mission-critical information on the road, MDTs keep your customers moving. A tablet won't be up to the task and may cost you more over time. That's why powerful and durable next-generation MDTs are the best choice for transit agencies.