How Does Your Agency Rank on Passenger Experience?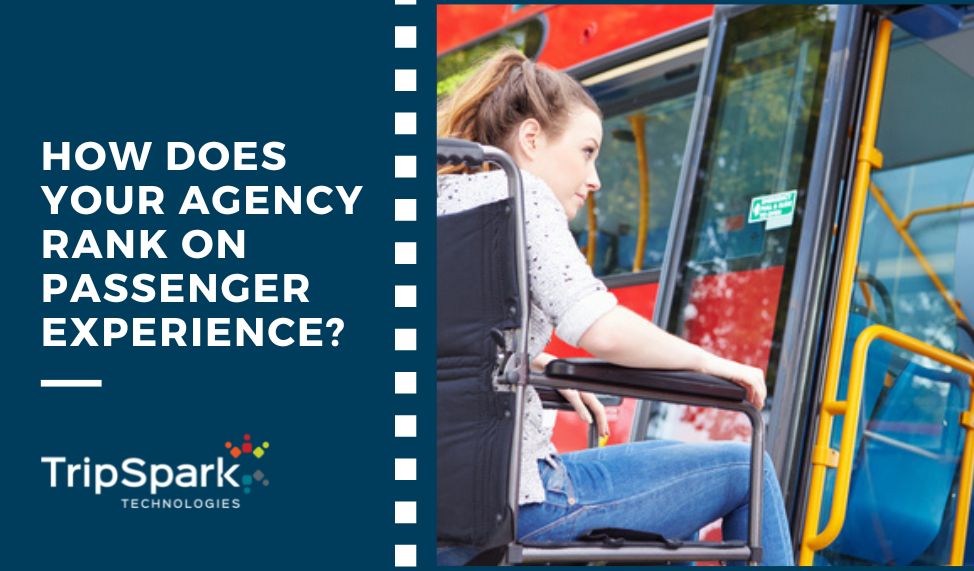 You know better than anyone how transit riders feel about their passenger experience. You serve them every day!
TripSpark recently hosted the webinar, Are You Missing Any Passenger Experience Puzzle Pieces? If you couldn't make it live, watch the recording, or read past the video below for the synopsis—it was a value-packed event.
Highlights at-a-glance
We analyzed why passenger expectations have changed over the past few years and how to meet them while you're busy with staff and resource needs.
Laketran (serving Ohio's Lake County) shared how their focus on the passenger experience reduced no-shows and increased rider, staff, driver, and partner satisfaction.
TripSpark's Senior Product Manager, Brett Werkheiser, revealed our Mobility on Demand initiative for an equitable, multi-modal, end-to-end passenger journey.
YOU and agencies like yours asked vital questions to dig deep into topics like how improving the passenger experience benefits your bottom line.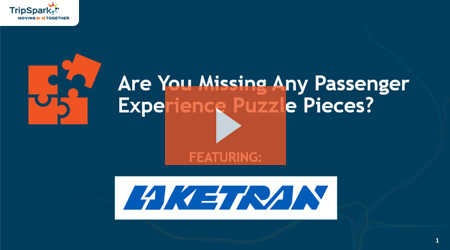 Why are passenger expectations changing in 2023 and beyond?
Today's transit riders expect mobility options and flexibility of choice across transit, from fixed route to on-demand.
We started by framing the discussion around the term "on-demand" because we know there are multiple definitions and synonyms floating around the transit space. It's our view at TripSpark that true, on-demand technology is optimized for paratransit, which makes it even more useful for microtransit like first mile/last mile, flex transit, and deviated fixed route.
We broke down the 3 key factors affecting passenger expectations in 2023 and beyond:
Spotlight on front-end, passenger-facing systems across mobility options.
Well-funded, private competition is winning on convenience, reliability, flexibility of choice, ease of use, and customer service.
Passengers expect the same benefits from transit agencies – at a lower cost.
So, what are the elevated expectations of modern transit riders?
"Customer" Service Experience: Passengers want to feel like an individual versus one of many riders. The passenger experience should be personalized.
Ease of Use: Transit should be inclusive of riders of all ages with various accessibility needs. This includes booking platforms as well as vehicles.
Convenience and reliability: This includes shorter advanced booking windows, visibility into schedules and arrivals for greater accuracy and shorter wait times.
Flexibility of choice: Riders want to go where they want, when they want, with as many mobility options to choose from as possible.
Private options may not be affordable, but customers that can choose to go private may do so because they dominate in the 4 categories above. So, if we can compete in these 4 areas, remain more affordable than private providers, and offer added benefits like environmental sustainability…. We're poised for incredible results at our public transit agencies in the next few years.
Reframing how we look at passenger experience
You might be thinking, "We're already doing so much, and now you want us to add in a passenger experience that competes with private?"
We know it can feel like a balancing act at times, YET…
We want to offer you a reframe. In reality, this isn't about adding something to our plates – it's about shifting our focus to the 20% that will produce 80% of the results.
By focusing on enhancing the passenger experience, you'll see improvements in other focus areas like your efficiency, your staff experience, and your ridership.
Modern passenger experience in action at Laketran
During their segment, Laketran's CEO Ben Capelle, and Director of Operations, Matt Maier, demonstrated the value of focusing on passenger experience.
One of the simple yet transformative improvements Laketran made was implementing TripSpark's Passenger Portal. Laketran:
Dramatically reduced no-shows within the first year, from nearly 11,000 pre-implementation in 2018 to less than 8500 in 2019. The number continued to decline in 2022 to only 5639 (even with ridership numbers back up post-Covid).
Took pressure off their customer service center.
Increased passenger, staff, driver, and partner agency satisfaction. "Never take this away from us!"
Watch the full webinar, including the Q&A section, to gain a full understanding of how Laketran achieved these results and discover how you can too.
Sneak peek of TripSpark's Mobility on Demand initiative
So much more is going to be revealed in the next few months about TripSpark's Mobility on Demand initiative, but you'll be the first to hear the exciting news and examples in action when you watch the webinar!
Here's a sneak peek:
You've probably heard the terms "Mobility on Demand" or "Mobility as a Service." At TripSpark, we believe that true, universal mobility is inclusive of all rider types. Paratransit riders must be prioritized and given the same flexibility of choice as every other passenger. Any rider should be able to go where they want when they want: that is Mobility on Demand.
That's why we built our existing Rides on Demand app, which currently supports microtransit services, on our on-demand paratransit software, Novus. In 2023, we're surfacing the paratransit capabilities of Novus to the app! In the next phase, we'll integrate fixed route capabilities for end-to-end, multi-modal trip planning and a comprehensive Mobility on Demand ecosystem for both your agency and your riders.
Elevate Your Passenger Experience
Thank you so much for attending or watching the recording of Are You Missing Any Passenger Experience Puzzle Pieces? You're absolutely going to be able to compete with private companies while offering more equitable transit using the techniques explored on the call—just like special guest Laketran. We can't wait to hear your success story too!