The Next Generation of Mobile Data Terminals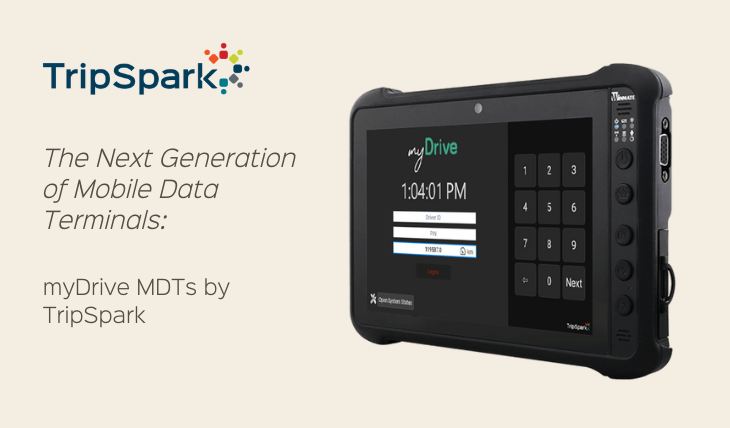 You know better than anyone how Mobile Data Terminals (MDTs) make or break your day-to-day transit operations. Your drivers need electronic manifests for maximum convenience, effective communication with dispatchers, and hassle-free rider pickups. From an in-office point of view, you also need accurate data collection and real-time event information to keep everything running on schedule.
The Problem with "Procuring" MDTs
The traditional way of choosing MDTs was "procurement." Commercially available tablets have long been attractive—at first—because of the lower upfront cost and easy availability. Yet agencies see time and time again that their useful life ends quickly, they become battered from life in vehicles, and all of this results in massively reduced reliability after the initial purchase. The result, on top of frustration and a fast replacement timeline, is higher total costs.
The MDT Solution
MDTs are an investment, not a "procurement."
TripSpark has long prioritized purpose-built, transit-grade MDTs. We know from seeing over 60,000 of our industry-leading Ranger MDTs implemented across North America that investing in the right, ruggedized MDT will last you for years and years. The initial investment pays off repeatedly in the long run, saving you thousands of dollars in maintenance, repairs and unplanned switching between hardware vendors.
After so many years proving this approach time and time again with our Rangers—the MDTs of choice for agencies across North America—TripSpark is now thrilled to announce our next generation of MDTs: myDrive.
Introducing TripSpark's myDrive MDTs
The myDrive MDT is TripSpark's next-generation in-vehicle hardware solution, perfectly complementing the functionality of our Streets fixed route solution. The myDrive platform will empower your drivers with an attractive and modern screen experience, communicating the mission-critical information they need to deliver safe, efficient, and reliable services to your riders.
TripSpark will release more and more details about our new myDrive MDTs in the coming months, but here's a sneak peek at some of what they have to offer:
1. Purpose-Built for Public Transit
myDrive MDTs are ruggedized and able to withstand the freezing Yukon cold through the sweltering Texas heat with a storage temperature range of -30°C to 70°C (-22°F to 158°F). They'll make it through rough weather and daily handling because they're IP65 certified, dustproof, and waterproof. myDrive MDTs also benefit from faster processors, a sleeker and lighter build (just 2.2 pounds), and 800 NIT bright daylight-readable displays to ensure constant driver visibility. The high-resolution screen is user-friendly for today's drivers who are accustomed to conductive touch screens, common on any smartphone.
2. Flexible Integrations
It's convenient to use myDrive MDTs within your existing system because of dependable, hard-wired connections between myDrive units and onboard equipment like head signs, APCs and fareboxes. This is a major contrast with commercial tablets that require a specialized interface device to connect to vehicle systems using unreliable Wi-Fi and Bluetooth connections.
3. Minimize Driver Distractions
Easily prevent drivers from using the myDrive MDT while driving by displaying a blocker screen if the vehicle is in motion (at greater than 10km/h). If the driver is not on an active trip, you can show a blocker screen with just the current local time.
4. Driver Safety
All transit staff deserve a safe work environment, so myDrive MDTs make their contribution—they have a silent emergency mode that empowers drivers to quickly and discreetly alert dispatch in the event of an emergency.
5. Multi-Lingual Annunciator
Your passengers want and deserve accessible transit. myDrive MDTs offer a standalone peripheral box for providing audio announcements in multiple languages like English, French and Spanish in your vehicles. It's just one more way that purpose-built MDTs make life easier for you and your passengers.
Interested in TripSpark's next-generation myDrive MDTs? Get in touch with us to learn more: email sales@tripspark.com. There are many more details coming soon about myDrive, so stay tuned!