Transportation for Young Adults on the Spectrum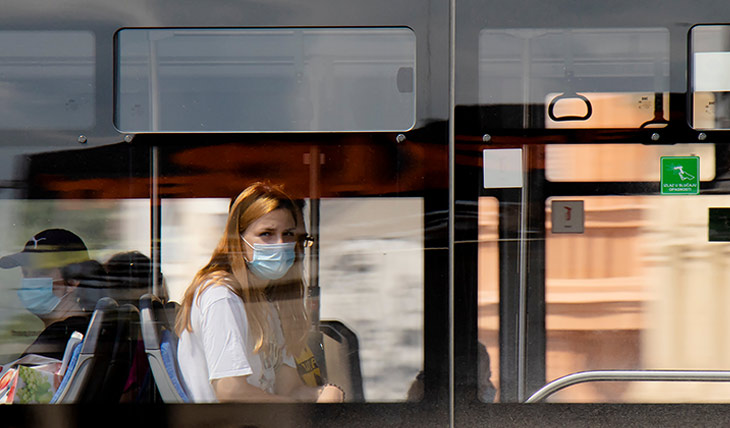 As young adults take the necessary steps to become self-sufficient and break away from their parents' daily care (and homes), they develop valuable life skills. Things like buying groceries, doing laundry, cooking, making appointments, etc., help to prepare them for independent living – and the (the big bad) world!
This figurative journey to adulthood also involves literal journeys from place to place. Whether these trips involve driving a car, walking, riding a bike, or taking public transportation, traveling is a skillset that can help create a more independent adult life.
Transportation for those with autism
In the best of times, living with a disability can make navigating the transportation system difficult. But in these times of social distancing, the mandate on facial coverings and restricted access to everything, travel can be almost a nightmare for some individuals. However, for many people with autism, access to public transportation is essential. Although mastering the daily schedules, routes, and the inevitable delays can be daunting, many autistic people depend on public transit to commute to work, school, and social gatherings.
Autism advocacy and research group, Autism Speaks, is dedicated to increasing understanding and acceptance of people with autism. Through a series of recent interviews with young adults on the spectrum, Autism Speaks has gathered insight on the transit experiences and very real challenges faced by these individuals. Here are a few excerpts from their important stories:
In their own words
Name & Hometown: Chade K., Colorado Springs, CO
Challenge: Anxiety over bus crowding
In Chade's words:
"Commuting during a pandemic is something I never expected. The entire world has changed and adapting to public transportation was overwhelming. Truly, there is no perfect way to maintain your distance on a city bus. Also, the routes became longer since drivers were not available to work. My first attempt to ride the bus since the pandemic was unsuccessful. While I stood staring at the open doors and masked driver, anxiety filled my mind"…
"Some people do not wear masks or adhere to social distancing. As a person with autism, it is difficult to communicate and explain to someone "Please do not get so close to me." One way to overcome this issue is a notecard that says "Please back up. I have autism and cannot talk to you right now"…
"It sounds cliche, but it works. This means I avoid confrontation and still stay safe while traveling. As a person on the spectrum, I have always practiced social distancing. I kept people at arm's length because I do not like to be touched or be in close proximity to others. The thing is now neurotypical people have to adapt to a massive social change and this takes time".
Name & Hometown: Terrance F. (aka "T Man"), Charlotte, North Carolina
Challenge: Adapting to changes in transit schedules
In T. Man's words:
"My name is Terrence, but my friends call me 'T-Man'. I've been working as a data entry clerk at JP Morgan/Chase in Charlotte for the past nine years. My commute to work has changed during the pandemic because the Charlotte Transit buses were running on the Saturday schedule, with some of the higher frequency routes like Routes 1, 7-11 and 27, running a little bit more than usual. For me, taking public transportation is safer than driving a car, so I have to deal with delays and schedule changes just as drivers have to deal with traffic jams"…
"My advice for people on the autism spectrum would be to plan your trips ahead of time. Always give yourself some extra time so you aren't stressing over time… If you're in a rush and want to use taxi service, use Lyft or Uber wisely"…
"My advice to anyone traveling on public transit during these times is to play it safe! Use a face mask and avoid communication with passengers as best you can."
Problems solved
The transit challenges faced by Chade and Terrance aren't particularly unique to individuals living on the spectrum, especially now with safety being at the core of every ride taken. Chade's anxiety about overcrowding and adherence to social distancing are relatable to all travelers. And Terrance's scheduling and time management challenges are important to keep some semblance of normalcy when the public transportation environment is anything but normal these days. Thankfully, technology like TripSpark's fixed route and paratransit solutions allow transit agencies to improve scheduling, optimize passenger safety, and lower rider anxiety.