TripSpark Visits Texas A&M University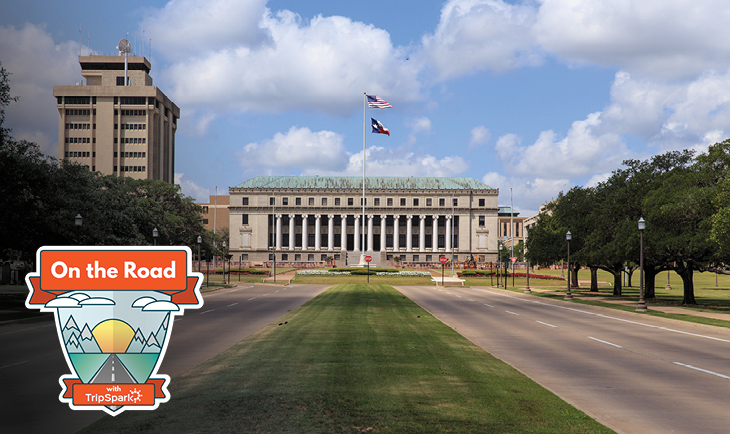 Back in February, I took a trip to College Station to film customer videos with Justin Tippy and Randy Davidson, two senior transit administrators at Texas A&M University. One of the oldest and largest Universities in America, Texas A&M has a rich campus culture rooted in history and tradition. I thoroughly enjoyed meeting the Transportation Services team and learning how technology has helped them better serve their campus and community. The town and campus were pretty awesome too! This blog is an account of my visit to Texas A&M University. To learn how technology helps Texas A&M address campus-specific transit needs, watch the Texas A&M University campus video. To learn how technology helps the school address general transit challenges faced by many agencies, watch the Texas A&M University transit video.
Texas A&M University Culture
Upon arriving at the Transportation Services office at Texas A&M University, I was immediately immersed in "Aggie" culture. Texas A&M has earned the reputation as one of the friendliest campuses in America, and it's easy to see why! Melissa, the team's marketing manager, greeted me with a hearty "howdy!" and the rest of the team was equally welcoming.
According to Texas A&M tradition, an "Aggie" is a student or alumni of the school, and "howdy" is the official campus greeting. During my visit, I learned that Aggie culture extends beyond the borders of the campus and into the local community. With a city population of approximately 112,000 and a campus population of approximately 63,000 students, the school has a major influence on the entire community. Walking along George Bush Drive, a major thoroughfare that borders the campus, I admired the pastel-colored homes with large balconies and Texas A&M flags proudly on display. Locals smiled as I passed them in the street, and I even got one or two "howdy's." They weren't being friendly because they knew I was a visitor, being friendly is just the Aggie way!
Without an effective transit system, the "Aggieland" experience just wouldn't be the same. On-time performance and passenger information are both key to keeping riders happy. Because Texas A&M Transportation Services uses data from Streets fixed route software to keep buses on schedule, riders know roughly when to expect their bus. In the campus video, Randy Davidson, Senior IT Professional, explains that the addition of a passenger information system using GPS data from Ranger MDTs has greatly affected the way they use the transit system.
Football is a big deal at Texas A&M University, so it's important that the school's transit system is well-equipped to get riders to and from games in a timely manner. If riders miss the game because of slow, ineffective transit, they will not be happy campers! Thanks to real-time information from Rangers, dispatchers are able to track buses, make real-time scheduling and routing adjustments, and ultimately move riders quicker so that they make the game!
Student Riders, Student Drivers
The majority of Texas A&M Transportation Services employees are student workers, including dispatchers and drivers.
While filming bus stop shots for the transit and campus videos, I noticed a student that continued waiting at a bus stop after several buses had stopped to let on passengers. Why was she waiting for so long? Because in addition to being a TAMU student, she was a student-driver waiting for her shift to start. The bus stopped and the new driver got onboard, dropped her bag into the bus' cockpit, logged into the onboard Ranger, and was soon on her way. It was at this moment that I really realized the importance of easy to use transit technology for student workers.
Students may have less driving experience than the average bus driver so it's imperative that they not be distracted by difficult to use technology. It's also important that the back-end software be easy to use, as dispatchers need to be able to quickly split shifts to accommodate student driver's schedules.
Farewell Aggieland!
I had a great time in "Aggieland" checking out the Texas A&M University campus and meeting Justin, Randy, Melissa, and other administrators and student workers. A big "gig em" (thumbs up) to Texas A&M University, the Transportation Services team, and the town of College Station.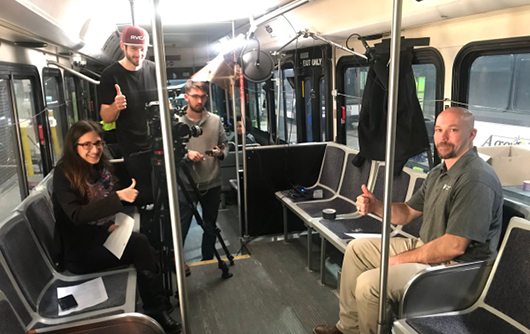 a