Vanpool Rebrand Boosts Local Engagement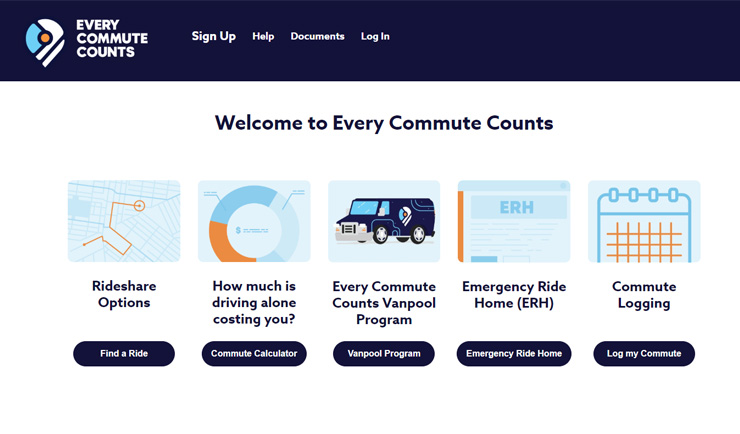 What do you do when your rideshare program shares the title of a 1965 Beatles' hit, Ticket to Ride, and confused locals aren't getting on board? Like the Fab Four, you re-brand – but with less sitars.
At the end of May, The Kentuckiana Regional Planning & Development Agency (KIPDA) re-launched their rideshare and vanpool program with a new name, Every Commute Counts, and a new website EveryCommunteCounts.org. This rebranding effort was the result of a year of behind-the-scenes market research and program development.
In support of National Dump the Pump Day (June 20, 2019) we sat down with Program Manager Stacey Burton and Marketing and Outreach Coordinator Elizabeth Bowling-Schiller to talk about how ridesharing is fighting to stay relevant and innovate.
About KIPDA
KIPDA started their first vanpool in 2002. Today they operate 65 active vanpools on a daily basis. They have used TripSpark's RidePro software to manage ridematching and vanpool reporting since 2005, switching from the desktop version to the responsive online version in 2016.
The Battle for Commuters
Burton and Bowling-Schiller reported that the height of community participation was back in 2012, when gas prices were $3 to $4 a gallon. There were 83 vanpools operating, but since then they have noticed a slow but steady decline. "We've checked in with other agencies across the US, and it's a similar story. Gas prices drive more people to rideshare than any other factor; but since people are now more concerned about the environment, we are hoping this drives participation back up," said Burton.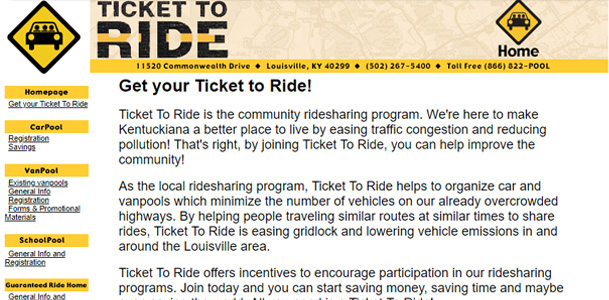 KIPDA also wants to attract the next generation of commuters – Millennials and Gen Z.
The agency hired a new marketing firm, who began to dig into the issues with gusto – doing research and surveys. What emerged was that Every Commute Counts was known locally for their vanpool program, but not for the host of other services they offered.
"We needed to go back to our roots, back to eliminating the single occupancy vehicle," Bowling-Schiller said. "Looking at the big picture, we needed to encourage behavior change and try to educate everyone around finding alternate ways to get to work."
The Big Rebrand
The first step in the rebrand was to give Every Commute Counts a personality: resourceful, inspiring, neighborly, personable, and connected.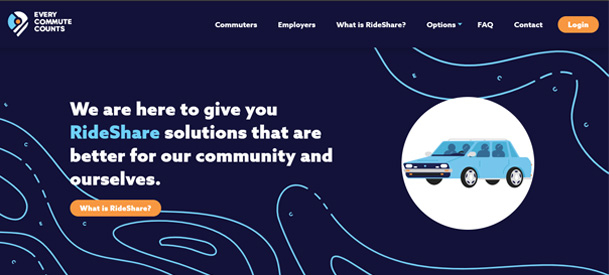 The second step was to develop a seamless online experience by customizing the RidePro platform to match their new homepage, with brand-consistent icons, fonts, colors, and logos. "You don't want customers to know they are entering a different site because it makes it look like a different company. Consistency gives you credibility, and you don't want them to think you've sold their information," said Bowling-Schiller.
Thanks to the new websites, they have already noticed an uptick in email inquiries.
This summer, the agency will be starting the community engagement phase and extending their advertising by giving out stickers at festivals and neighborhood events, running a contest targeting Millennials and Gen Z, and doing an out-of-home campaign with the local transit agency.
Responsive Websites
A responsive website is a webpage that resizes and reorganizes itself to the size and type of device a person is using; the website will look different on a laptop versus a tablet or mobile phone.
"Today's consumers are more technologically savvy, and they want to be able to do more online, from a variety of platforms. Our updated RidePro website, through TripSpark, allows them to do that. It's really working out well for our users," said Burton.
Any Advice for Agencies in a Similar Position?
We asked Burton and Bowling-Schiller if they had any advice for ridesharing agencies in a similar position. Their advice was to get to know other programs across the US and what innovative things they are trying.
"Those that are the fastest growing, they are stepping out of that typical government box and doing a lot of crazy things that are really catching on. Rideshare is really innovative. You can't change behavior until you try stuff out," Bowling-Schiller said.
"And don't be afraid to ask questions – from your marketing firm and the great team at TripSpark," added Burton. "We're really excited about the rebrand, we couldn't have made it happen without TripSpark's help. Over the years they've continued to add modules and new features, and by doing innovative things they have forced us to innovate as well. If not, our program would still be on desktop and we would be playing it safe."