6 Reasons People Stop Taking Transit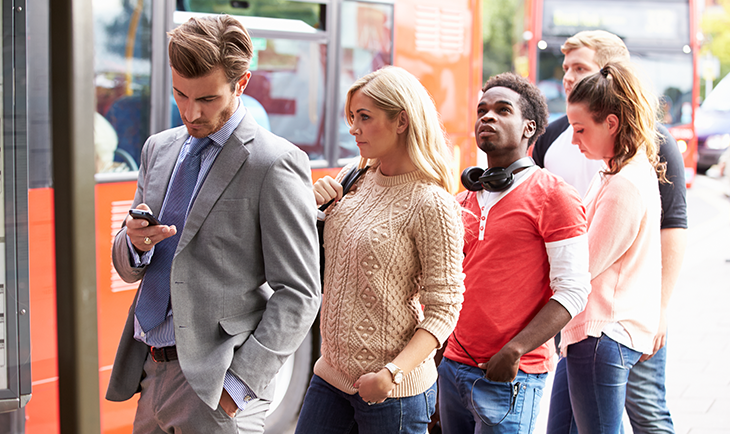 How can transit districts increase their ridership? Simple. By giving riders more of what they want, and less of what they don't.
So what do people want – and not want? In this blog post, we covered the top transit improvements people really want to see. Now, we're taking a look at the other side of the coin.
To identify the most common reasons people stop taking transit, researchers at the University of California Berkley conducted a survey of transit riders and former riders. Here are some of the top transit irritants as found in the study, and actions that agencies can take to reduce their impact.
Transit experiences people do not want to have:
1. Delays while on board due to backed up transit vehicles or problems on the transit route downstream.
The number one transit experience that people do not want to have is being on a bus that is delayed. However, riders are more willing to accept delays when they know their cause, especially if the cause is beyond the agency's control.
To keep riders informed, dispatchers can remotely make announcements that will appear on internal signs and be heard on the speakers of the affected buses. For example, dispatchers could announce that "Route 1 is delayed due an accident near Main St. and Hastings Ave. Emergency personnel are on the scene."
2. A long wait at a transfer stop.
According to the survey, riders also find long waits at transfer points to be really irritating. It makes sense that this is a big issue for transit riders – who wants to wait for a long time out in the elements?
When passengers miss their connection, they could be stuck waiting at the transfer point for a long time. An ITS solution helps agencies maintain on-time performance, reducing the likelihood of missed connections. With an ITS solution that offers transfer protection, if a vehicle does happen to be running a bit late, a request to hold can be sent to the receiving driver.
3. A missed departure due to wrong real-time information. 
Why bother giving people "real-time" information if it's if it's only accurate some of the time?
Having a GPS device onboard to collect bus location information does not guarantee that the information will be accurate. Commercial tablet-based GPS solutions use unreliable wireless links to connect to onboard peripherals. This can mean data outages and/or delayed data transmission. So when riders try to view "real-time" information using Google maps or their agency's passenger information system, they may actually be receiving old, unhelpful data.
With hard-wired in-vehicle technology, vehicle interfaces and connections to onboard equipment are made entirely over dependable connections. This means that riders can depend on the accuracy of the real-time information and better plan their day. 
4. Being unable to board or being denied boarding due to crowding.
Crowding can be a problem when it causes buses to reach capacity and refuse boarding. It can also be a significant problem for riders that require a seat or need space for mobility aids.  
Using ITS data, agencies can intelligently devise ways to alter service to reduce crowding. In addition to adjusting service based on data, agencies can dispatch extra service to relieve crowding. Also, by allowing riders to see bus capacity via a passenger information system, agencies can give riders the choice to wait for a less crowded bus.
5. Experiencing a long wait at their origin stop.
The bus stop is not a place anyone wants to be for an extended period of time. Long wait times can result when riders don't know when to expect the bus.
A lack of knowledge regarding bus arrival times can be addressed with an advanced passenger information system that includes Notifications. By sending riders Notifications containing real-time arrival updates, riders can know when their bus is going to arrive without needing to monitor their web-enabled device. This allows riders to stay indoors and do whatever they like instead of wasting time waiting at the bus stop or looking at their phone.
6. Running to a stop as the bus is pulling away.
There are many reasons that a bus may leave the stop ahead of schedule, all of which can be mitigated with technology.
Drivers accidentally pull away early if they don't realize they're running 'hot'. An onboard mobile data terminal (MDT) can help drivers maintain schedule adherence by displaying notifications if they are running ahead or behind.
Drivers may choose to pull away early to gain a few extra minutes. To prevent drivers from making their own schedule adjustments, agencies can monitor early departures and use this objective data for coaching opportunities.
Where drivers are pulling away early to 'bank up some extra time' in anticipation of delays later in the route, reliable ITS data allows agencies to make informed route adjustments to improve on-time performance.
The Importance of Real-Time Data and Passenger Information
ITS data can help agencies improve on-time performance and mitigate many of the negative experiences by transit riders. However, the reality is that delays cannot be completely eliminated. To reduce the impact of delays, the Berkley researchers recommended providing riders with reliable real-time data, including information about service disruptions. With transfer protection, improved routing, on-board announcements and passenger information systems, agencies can potentially reduce ridership loss due to common frustrations.