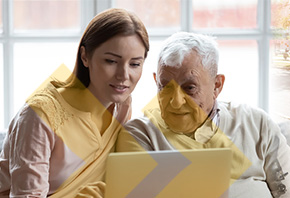 Clients have positive feedback! They say they appreciate seeing their vehicle on a map and receiving a message 20 minutes before their scheduled departure with a precise Estimated Time of Arrival. They also enjoy the overall experience of having more input in their day-to-day lives.
Transit Operations Coordinator
*As part of a city government, this transit agency has asked for their name to remain anonymous in accordance with their municipal Code of Conduct.
Serving a medium-sized city in Southern Ontario, Canada

Located about an hour outside Toronto

Offers fixed route, microtransit, and paratransit services for eligibility-based passengers

Serves over 150 eligibility-based riders each day with 15 specialized buses
What is Passenger Portal?
TripSpark's Passenger Portal empowers paratransit riders (or the people who care for them) to manage every aspect of their end-to-end journeys. Using a computer, tablet, or mobile phone, they can use this user-friendly platform to request a ride, update their schedule, and even track the approaching vehicle on a map—all without having to call in. Your riders experience greater convenience, personalization, and independence while your agency optimizes your vehicle, driver, and call center resources.
Why did the agency decide to implement Passenger Portal?
This Ontario transit agency already used TripSpark's MyRide app for fixed route passengers to have real-time vehicle location and trip planning information at their fingertips. With their positive MyRide experience in mind, it was an easy decision to implement TripSpark's Passenger Portal to ensure service equality for their specialized transit service.
They chose Passenger Portal to provide riders:
a user-friendly web platform available by computer, tablet, and mobile phone, for more independence and convenience when booking eligibility-based trips

custom branding with the agency's name, color scheme, and logo

access to review and update their personal profiles

detailed information for upcoming and past trips

option to independently change or cancel trips

at-a-glance service announcements

shortened or eliminated waits due to real-time vehicle tracking and timely reminders

reduced queue times for riders who still book by phone because of lower overall call volume
From an agency perspective, they chose Passenger Portal to:
free time for booking agents by reducing calls to focus on quality customer service, optimized scheduling, and improved operator communications via radio

make the booking process available 24/7

improve ridership and satisfaction levels

limit boarding delays by automating notifications

reduce late cancellations and no-shows with automated confirmations and notifications

and, in turn, free vehicle and driver availability to complete more rides and improve the bottom line
You can also offer fare pre-payment via Passenger Portal, which reduces boarding delays, improves driver and rider interactions at the door, and results in more on-time departures. Plus, riders have reliable access to their payment history!
The average time this Ontario agency's riders spend on Passenger Portal in a given session is 4.5 minutes. That time includes a combination of handy ways to use Passenger Portal, such as:
checking their upcoming trips

updating their profile and reminder settings
Critically, while booking their trip, the passenger can review the details with a visual map of their journey—something that's unavailable to them when booking by phone—which cuts down on errors.
Now let's look at the time saved for the agency's call center staff. The average call time when a passenger calls solely to book a trip is still 3.9 minutes— importantly, for passengers, this includes time on hold because the call staff also has to respond to the radio or look for a trip booking solution.
When you look at the fact there were 1,670 bookings via Passenger Portal over that first 3-month period and multiply that by the 3.9 minutes that would otherwise have been spent on the phone for each, you see that's nearly 110 hours in actual time saved for the call center! That's over 37 hours saved a month.
An average 100 users per month relied on Passenger Portal to book their specialized transit trips during the first 3 months of implementation, with even better adoption expected as time goes on. Additionally, the agency is investigating our Delegates booking functionality to empower seniors' homes and care centers to book trips on behalf of their residents via Passenger Portal.
Positive passenger and staff feedback
Positive reviews for Passenger Portal came rolling in from riders as soon as the first few months post-implementation.
"Clients have positive feedback! They say they appreciate seeing their vehicle on a map and receiving a message 20 minutes before their scheduled departure with a precise Estimated Time of Arrival. They also enjoy the overall experience of having more input in their day-to-day lives."

– Transit Operations Coordinator