TransitMiner is TripSpark's powerful, cloud-based business intelligence platform trusted by 90+ transit agencies and 3700+ users across North America.
Your priority is to improve the quality and efficiency of paratransit service to your community. Yet you find yourself manually fixing reports, facing no-shows and last-minute cancellations, and struggling to improve schedules when it's not clear why drivers are falling off track.
You can only make decisions as good as your data—so when it's incorrect or non-existent, no wonder it's hard to do your job!
The good news is that you're only one choice away from unearthing a goldmine of data unique to your operations.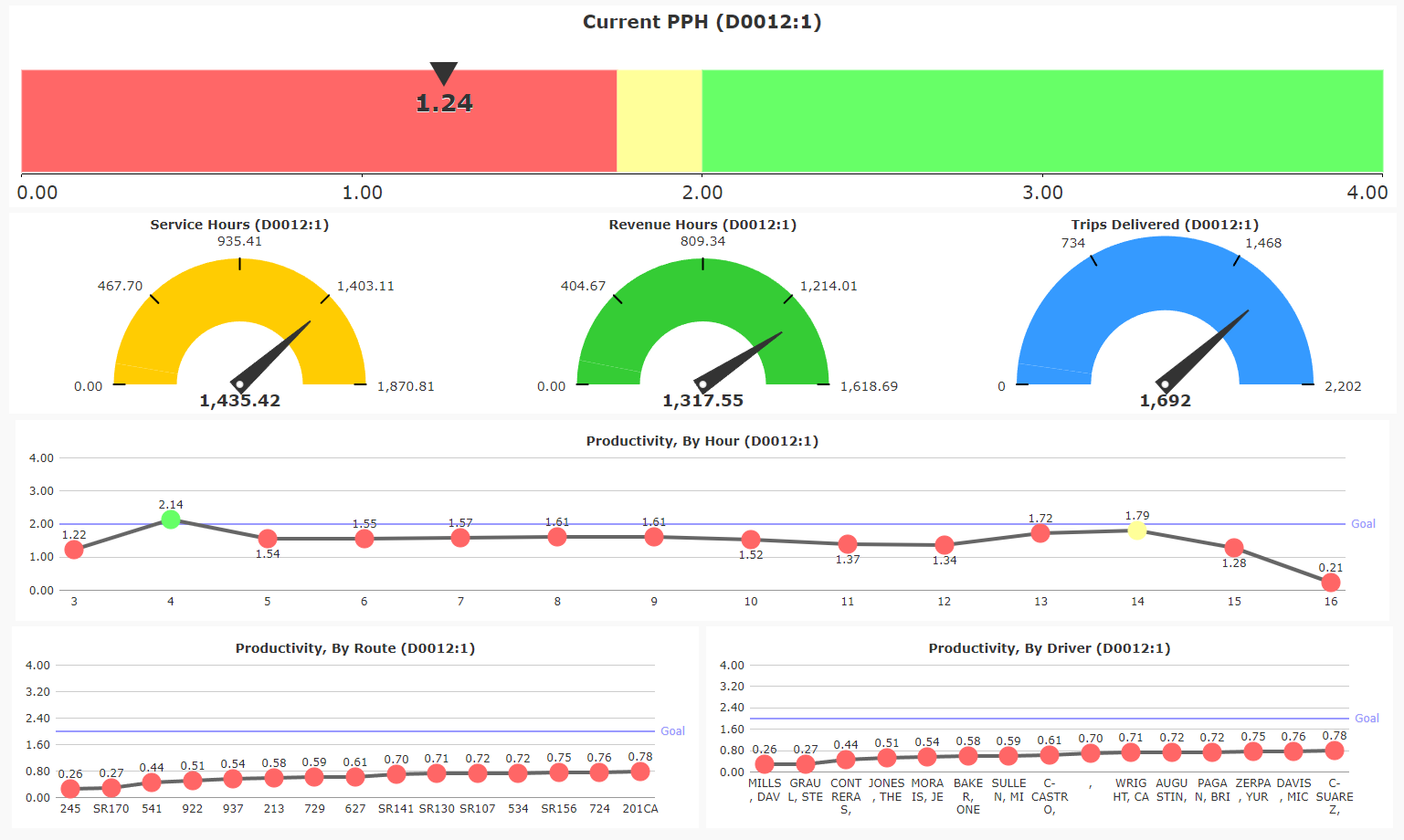 Holistic insights for the best decisions
TransitMiner provides a complete picture of your operation's historical, real-time, and anticipated performance with an extensive suite of reporting and analytics tools.
Real-time data for immediate results
See real-time insights from your CAD/AVL data on graphs and customizable dashboards. Take action immediately to improve on-time performance and eliminate predicted issues before they even start.
Better data in less time
Forget the Power BI and Excel formulas—TransitMiner gives you the information you need to get your job-done quickly! Eliminate the hassle and risks to data accuracy of multiple files for your CAD/AVL data.
Maximize funding and grant applications
Demonstrate the impact of your agency to get better funding and grants. Easily (and accurately) highlight your agency's performance-related stats for operations, drivers, and back-office staff.
Intuitive, easy-to-understand interface
Make it easy for all staff to make data-driven decisions. TransitMiner distills your vast CAD/AVL data into visual dashboards you can display on a central screen in the office so everyone has insight at a glance.
Save money on consultants
Optimizing your operations is all about data. Save on heavy consulting fees and easily optimize operations on your own using TransitMiner's ready-to-use insights.
Fast deployment
Get started with TransitMiner's cloud-based systems right away, without the need for any IT infrastructure and support on your side.
Peace-of-mind data security
TransitMiner has servers located in the US and Canada, so rest assured that your data stays in your home country. All data sent to TransitMiner is protected by encryption.
TransitMiner: Business Intelligence Software for Paratransit Resources