APTA Ridership Report Uncovers New Demands from US Public Transit Riders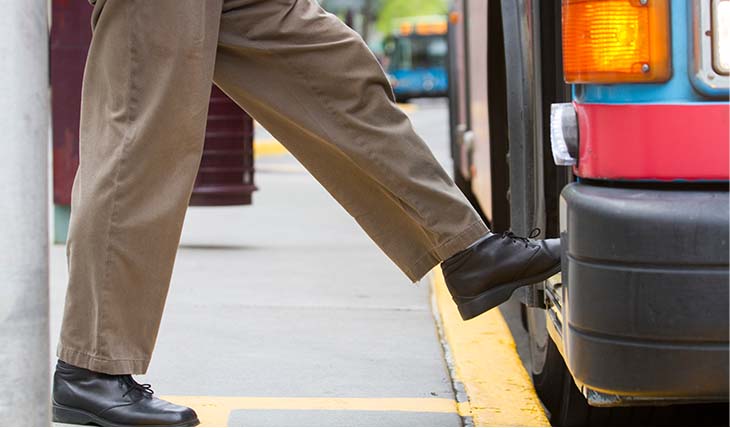 Public transit has been, and always will be, a mainstay of American mobility. Whether commuting to work or school, running errands, or needing to get to appointments, public transit is essential to keeping Americans moving freely, and together. And while transit riders are eager to get moving again, they're now demanding that transit agencies increase health and safety measures, before they start sharing rides again.
The data says it all
Recent data from the American Public Transit Association (APTA), shows that ridership dropped by 79% in 2020, as compared to 2019. Shocking right? Well…not really, as globally, we've all grown accustomed to the post-pandemic world we're living in, including it's aftermath.
Before COVID, agency executives monitored their ridership data as closely as CEOs watching their companies' stock prices. Dollars are at stake, in addition to pride. Ridership has traditionally helped determine the amount of federal funding allocated to each system, and the national transit industry scrutinized passenger numbers too, celebrating a national rise, and bemoaning a downturn in ridership. 
"We've always used ridership as our main metric… we're constantly drawing comparisons with each other and bragging when our numbers are bigger."

– M.J. Maynard, CEO of RTC Southern Nevada in Las Vegas.
It's good to be on the rising side of ridership
The good news is that these numbers are slowing creeping towards recovery. However, today's transit riders are now vastly different from the riders who took transit before COVID-19. In short, today's riders need, want, and demand different things from public transit.
The results from a poll of 1,200 working US adults (ages 18 and older), who currently use transit and/or regularly used transit before the pandemic, helps us to better understand new behaviors and expectations for post-pandemic ridership. Here are some highlights from before, and after the pandemic.
Before the pandemic:
74% of riders used public transit a least 2 days a week
46% of riders used public transportation more than ride hailing, personal vehicles, or bikes and scooters
17% of riders chose on-demand or carpooling transit
Post-pandemic:
72% said they'll use public transit again, once their area is completely open (no restrictions)
36% of riders now use public transit over ride hailing, personal vehicles, or bikes and scooters
25% of riders are using on-demand or carpooling transit
Demands for change
Restoring confidence in using public vehicles is a top concern for agencies and their riders, with passengers making several demands of their local transit agencies. According to the report, the number one improvement respondents want to see is the implementation of new apps or technology to enhance rider experience (74%). 62% of Americans also want transit agencies to immediately prioritize investments in improving public vehicles' on-time performance. 71% of riders are concerned about catching an illness on transit, and 73% want more protocols to prevent overcrowding.
Riders want sustainability and high-tech too
Other ridership findings from the report include:
Riders want sustainable transportation: Within the next year, more than half of transit riders think their local transit agencies should implement more sustainable practices (52%) and invest in electric vehicles (EVs) (45%). Most believe EVs will improve public transit (70%), and more than half say the top benefit will be reduced carbon emissions (56%).
Self-driving vehicles are gaining acceptance: An amazing 71% of riders say they would use an autonomous bus or shuttle if their local agency launched one tomorrow, and three in five say that self-driving technology will improve public transit (60%). Riders say the biggest benefits of autonomous transit will be improving timeliness of vehicles (49%) and enhancing the experience with connected tech features (31%).
Conclusion
It's a good time to be in the transit industry, if you're on board with adopting innovations to improve rider accessibility, safety, and convenience.  And the APTA report supports the notion that riders, whether commuting to work or school, running daily errands, or making appointments, need public transit, to get to where they need to go. While the pandemic challenged our right to move freely, it also pushed the transit industry to improve our systems and infrastructure. Today's riders need, want and demand safety, convenience, and above all, a healthy environment to be able to enjoy their public transportation.
Source: https://www.apta.com/wp-content/uploads/2021-Q2-Ridership-APTA.pdf