Best Transit Blog Posts of 2022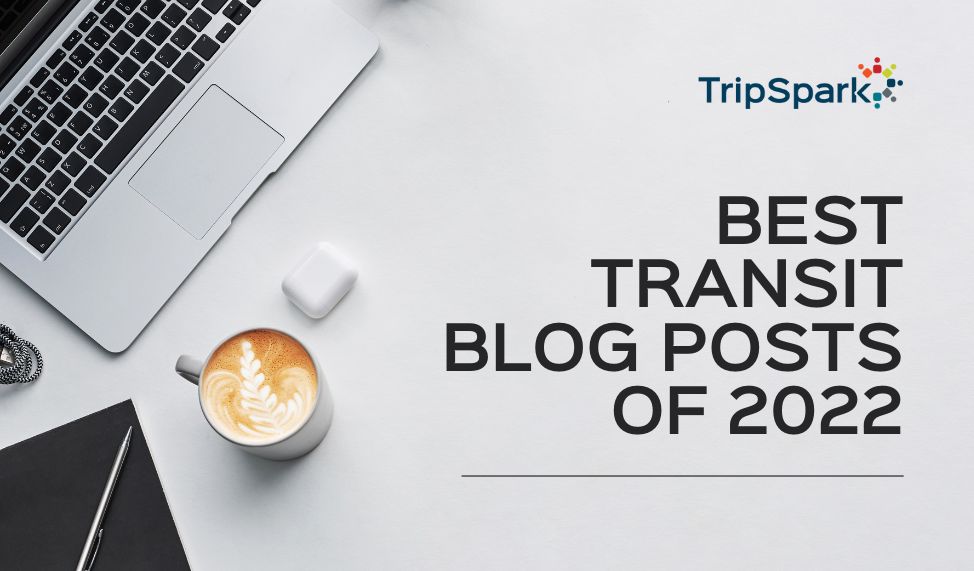 You're on the front lines, building the future of transit. Take a look below at what topics you and agencies like yours were most excited to read about in 2022 with this retrospective on the top blog posts of the year!
6 Important Transit Trends for 2021-2022, Post-COVID-19
Your top priority from the start of 2022 was the future of transit post-Covid-19. In this blog post, we highlighted the top 6 trends emerging in the post-pandemic landscape and urge you to keep them in mind for 2023.
Marketing Your Transit Agency: A Step-By-Step, Getting Started Guide
Making your transit agency a desirable option, especially with private competition, is more important than ever. This guide takes you through key methods to build attractive marketing that grows your ridership. Many of the steps are easier than you'd think.
What is Microtransit?
What exactly is "microtransit?" (First mile/last mile? Diverted Fixed Route? Something else?) And why is it so powerful for maximizing your resources and providing a world-class passenger experience? All the highlights are revealed in this blog post, and we invite you to watch our webinar on improving the on-demand passenger experience as well!
What is Mobility on Demand?
At TripSpark, we're firm believers that Mobility on Demand is the way of the future. (In fact, we're thrilled to bring you advancements in Mobility on Demand in 2023 – stay tuned for the reveal!) Explore this blog post to discover the importance of this emerging concept and why passengers are already asking for the quality of service only MoD brings.
Save Money and Get Better OTP with Bus Interlining
Written by TripSpark Transit's Director of Product Management, Tanya Brusse, this blog post (and video) on how bus interlining saves you money and improves on-time performance is powerful. Here's an excerpt: "Eliminating the need for one bus could translate to operational savings in excess of $800,000 per year!" Sounds like an irresistible read!
What is ITS Fixed Route Software?
We hear you – transit technology and development can stray into being loaded with jargon. In 2022, you loved this blog post where we broke down terms clearly, focusing on Intelligent Transportation Systems (ITS). It's important to understand for any Fixed Route provider.
The History of Carpooling
We're all passionate about transit and love a deep dive into its history. For example, where did the idea of carpooling come from? We take even the word for granted today but knowing its origins empowers us to provide rideshare programs that best serve modern passengers.
Going the Extra Mile – Transit Professionals Create Mobile Homeless Shelter from Scrapped Bus
One of our favorite blog posts of all time is a story about how transit professionals like you go the extra mile to serve people, time after time. Get inspired by how one individual organized the creation of Toronto's first Shelter Bus and the impact it's had on the community.
What will the big stories be in 2023?
Now that you're caught up on 2022's biggest stories, what are you excited about in 2023? Let us know on LinkedIn where we post our blog content and so much more. Plus, watch our first webinar of the year, Are you Missing Any Passenger Experience Puzzle Pieces?