CTAA Wrap-up: What Agencies Want From Their Community Transportation Software Vendors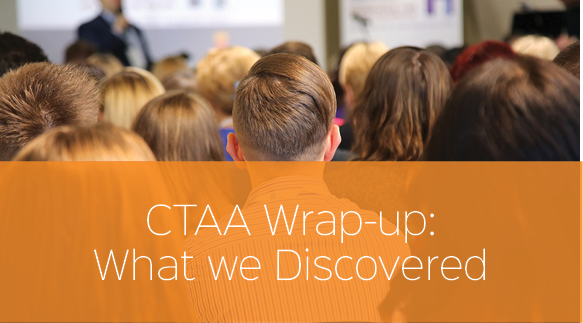 The past, present and future of community transportation were hotly discussed at this year's CTAA expo in Tampa. One thing that seems clear: People are passionate about transit. If you doubt it, check out the picture below of some of the people we met who expressed their feelings by donning our T-shirts.
The next thing that is abundantly clear is that the way in which transit agencies have received and used funding is having a huge impact. The situation isn't as dire as it may at first appear. The main takeaway that we got from transit industry experts was that change is possible through the hard work and initiative of everyone in the industry, working together: from agencies, transit users, government funders and those of us community transportation software vendors acting as transit allies.
Why Education is Key for the Future
As community transportation vendors, we try to do more than simply develop products to make an agency's job easier. After talking to other vendors, clients and visitors to the CTAA, we realize how important it is to have a holistic approach to dealing with national transit issues. In other words, technology alone isn't going to cure the industry's issues. However, by encouraging better usage of resources at the operational level as well through intelligent planning and design policy development, we hope to partner with agencies to develop long-term, strategic thinking.
Our Education Begins With Our Clients
We also had the opportunity to meet with many of our clients after the CTAA at our paratransit software training sessions. These sessions are designed to educate our users in new features to their software and also to discuss upcoming new products. However, we also benefit from the education we get from our clients. Part of what leads our development team is the feedback we receive directly from our users, so we can build community transportation software solutions that the industry actually needs. We discovered that there is a great deal of interest in mobile solutions for the future, in particular in-vehicle mobile data devices.
We also learned how important it is for our clients to have better access to funding information in order to actually pay for the technology and infrastructure that is needed. Having access to education is essential for our entire industry to make long term plans. What are your questions? How are you educating yourself with the answers?
Why We're Planning for Next Year's CTAA Now
The CTAA is an amazing collection of industry experts, so the questions and answers were flying this year. This is why you should be preparing for next year's CTAA, today. If you were unable to attend this year, or may not be able to attend next year, you can still take part in the discussion and information gathering. Simply reach out to us at info@tripspark.com and we will gladly respond to questions that you may have wanted answered at the CTAA.
How Community Transportation Software Plays a Part
Not all resolutions to transit problems have to do with funding. There are many ways in which community transportation software solutions can help to improve the overall operation of a transit agency. We already knew this, but it was reinforced by the great number of people who visited out booth asking about our in-vehicle, mobile data terminals and tablet application solutions and our Notifications in- and out-bound communication system in particular. One thing was clear: Improving service is a huge concern of every agency we talked with.
The CTAA demonstrates how it takes a village to support and maintain our nation's transit system. We're glad to be part of this village, and provide tools and business expertise to be able to go beyond simply offering community transportation software.