Hope Network Proves the ROI of Paratransit Software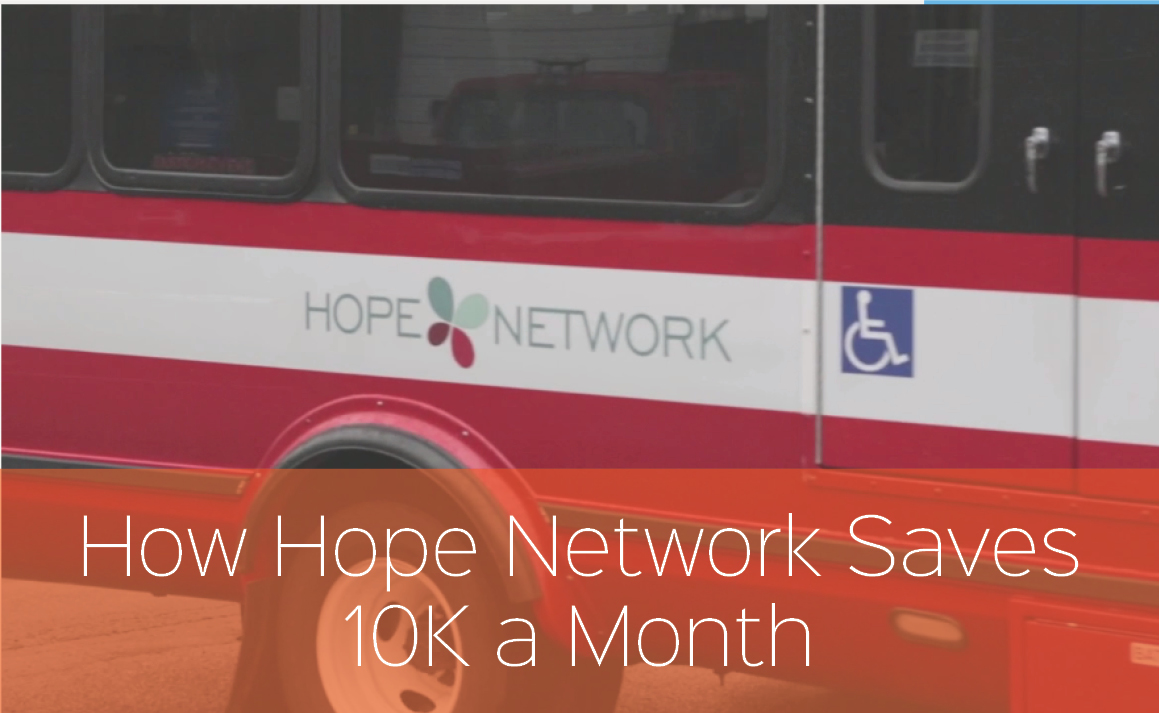 Is the cost of paratransit software worth what it can provide? I often write about the general benefits of an automated, digital system. However, in this blog post, I get to share a detailed, firsthand account of exactly how a transportation provider is finding ways to cut costs, reduce labor and increase service. Mike Hall, Director of Service Development and Special Projects at Hope Network gave me a lot to think about when I recently visited his site in Grand Rapids, Michigan. Mike is as personable and polite as he is passionate and dedicated to his community. "Our mission is to help people achieve their highest level of independence," says Mike. He is firmly committed to the idea that enabling people to connect to job opportunities, medical appointments and social events is the key to improving their overall quality of life.
How Paratransit Software Helps to Do More
"What technology has done for us is increase system capacity and reduce operational costs," says Mike. He says that after implementing a digital system, a huge shift was felt in the office, particularly when it came to taking reservations. In the early days, a single staff member was able to manually handle around 100 reservations in a day. But Hope Network was poised for growth. They had to make a decision regarding operating expenses by choosing between decreasing service and hiring more staff. Neither of these options was particularly preferred.
Instead, they elected to implement a paratransit software solution, including scheduling and in-vehicle MDC technologies. Mike boasts that his team is able to do get a lot more work done these days. "Right now we have roughly 400 trips per reservationist. We've been able to increase roughly 400%." They're able to serve an even greater population as well.
Data Collection Leads to Major Savings
A minor amount of savings in in one small area of an operation can have a major impact when scaled up. Mike uses the data he collects to identify areas that could potentially be wasting time or money. After collecting and analyzing the data, Mike discovered his vehicle were idling excessively as they sat in the parking lot. By addressing this simple but costly issue, they currently save an estimated $12,000 each month. "We were able to realize some significant cost savings, in a very short time."
The Savings Far Outweigh the Costs
"How much does it cost? I can't afford it."
Mike says this is what many wary operators think when considering the purchase of a paratransit software solution. This is understandable, says Mike. "Resources are limited. That's the big hang-up with technology in the first place." But based upon the results that Hope Network has encountered, Mike Hall is able to make the claim that the ROI of data collection, Automated Vehicle Location, scheduling and dispatching tools far outweighs the initial expense.
"If you can get past the investment in technology and look at the value that it can provide, you can find that the efficiency gains will more than pay for the up-front costs."
Mike Hall gives a detailed account of how he's using data collection to reduce costs in this Video Roundtable. Give it a watch and you just might find some other gems of advice. You can also watch Hope Network's video story here: