Limiting Paratransit Demand with Travel Training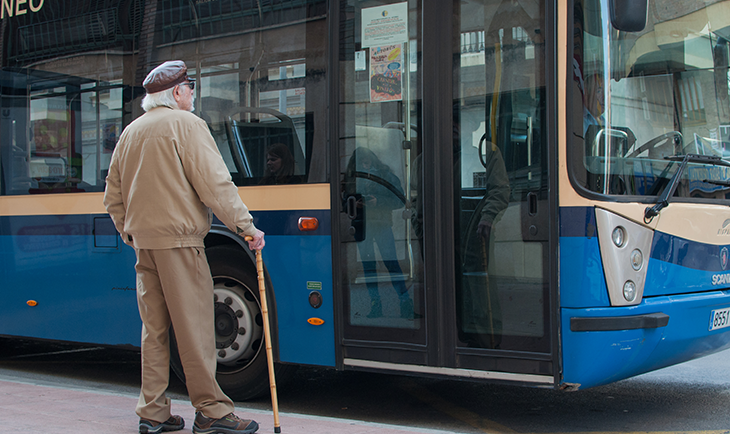 Though people with disabilities of all ages use paratransit, in many municipalities, seniors make up the largest portion of paratransit riders. America is on the cusp of a "Silver Tsunami," meaning the number of seniors is growing nationwide. As a result of the growing number of seniors, keeping up with the demand for paratransit services is a growing challenge for transit districts.
Demographics: The Silver Tsunami  
Laketran, in Lake County, Ohio is experiencing the effects of the Silver Tsunami. The agency's dial-a-ride service has experienced a 14% increase in ridership over the last three years. Automated scheduling software helps agencies like Laketran maximize capacity with more efficient routing. Though maximizing capacity is a great way to help meet demand, agencies should also consider how they can reduce the demand for their paratransit service. One of the simplest ways agencies can alleviate demand is to administer a bus pass program and promote fixed route transit to paratransit riders.
Promoting Fixed Route Transit to Paratransit Riders
Laketran administers two different programs to make fixed route transit more attractive to people that may otherwise use dial-a-ride services.
The agency's general "Travel Training" program promotes fixed route transit to people with different mobility needs, students, newcomers and others that may struggle to navigate the system on their own. Laketran also offers a targeted program for seniors called "Seniors on the Go". 
The programs connect area residents with outreach staff that give advice on how to use the transit system. Laketran also publishes brochures that explain the benefits of fixed route transit and encourage people to set up an appointment for Travel Training.
Tailoring Messaging Toward Seniors
Agencies that want to encourage seniors to take fixed route transit should consider focusing promotional materials and programs around their needs and concerns. Laketran's "Seniors on the Go" brochure offers information relevant to seniors, including statements about:
Safety
Drivers are experienced and have CPR and First Aid Training.
"Feel safe when you choose Laketran… Many of our bus drivers have been driving for over 10 years for us."
Accommodating Riders with Reduced Mobility
When a loved one or caregiver is not available to accompany them, seniors can feel secure knowing that the bus driver is able to assist with their physical needs.
"Drivers are well trained in maneuvering mobility devices and communicating with hearing or visually impaired customers."
Convenience
Laketran encourages seniors to take the bus by noting the accessibility and frequency of service. Paratransit rides, in contrast, require an advance booking.
"Local route buses run hourly with stops near shopping, dining and medical centers…Dial-a-Ride provides door-to-door service anywhere in Lake County with a reservation."
Independence
Laketran chose to include a quote from a rider about how taking the bus has enabled their independence. The quote also assures seniors that it is normal to have initial concerns about taking the bus on their own.
"I was nervous to try Laketran. After a home visit from Pat and trip on the bus with my son, I was ready to try it on my own. My family is shocked at how independent I have become, and sometimes I just show up unannounced!"
Customized Service & Support
For seniors that may not have family or caregivers to assist them with their travel plans, Laketran provides one-on-one travel planning support. If riders are fearful of taking the bus alone and do not have a friend or family member to accompany them, Laketran's outreach specialist can accompany the senior on their first bus ride.
Creating a Transit Promotion Program for Your Agency
With inspiration from Laketran, you can create a "Travel Training" or another promotional program to suit the needs of paratransit riders in your community. For example, if your population is younger than the national average with a large number of veterans, it may make sense to focus outreach on this group instead of seniors.
When considering where and how to distribute promotional materials, think about your audience. Younger demographics often seek information online, so advertising on your website and other locally-focused websites may help you reach this target audience.
To save on printing costs, only display brochures where your target demographics are likely to see them. Libraries, community centers, and shopping centers are great general-purpose places to advertise, but you'll need to make sure that your materials are displayed in a high-traffic area. To attract the attention of veterans, agencies can place materials in legion halls, veteran-owned businesses and non-profit organizations that cater to this group. Likewise, if you want seniors to find your materials, put them in seniors centers and retirement homes.