Meet Pat Dewis, TripSpark's Senior Manager of Product Development for Transit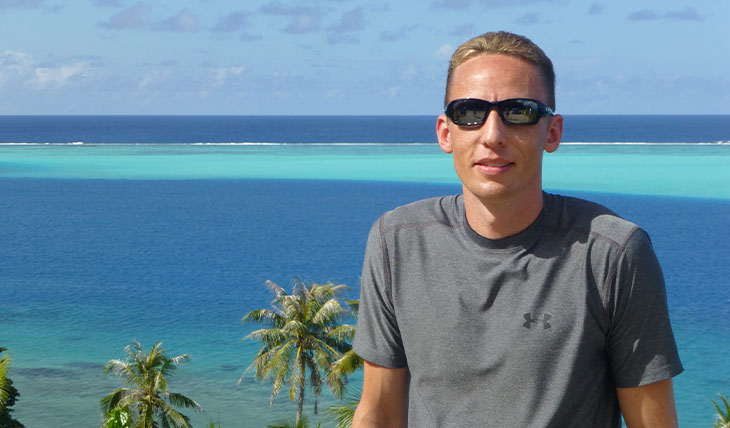 Meet Pat Dewis, our Senior Manager of Product Development for Transit. Pat was born and raised in Calgary, Alberta and still lives there with his wife. He loves to travel and has been all around the world to places like Tahiti, Thailand, Europe, and the Ukraine. In his spare time, Pat loves to keep up with technology and is always looking for ways to make his home smarter.
1. What do you like about working at TripSpark?
The best part of working at TripSpark is getting to interact and create software with such a talented group of people. I've worked with many of the developers for 10+ years and they have an incredible amount of business knowledge in the Transit industry. During that time, we've become a family and I love working with each and every one of them.
2. What are some challenges facing transit agencies that you want to fix?
Transit agencies are facing fierce competition from new transportation providers like Uber and Lyft. This competition has changed the expectations of riders who now demand a more convenient user-experience when riding public transit. I am passionate about creating technology solutions that help transit agencies provide excellent service to meet these new rider expectations.
3. What makes TripSpark software different from other transit software providers?
TripSpark provides complete end-to-end transportation solutions so agencies can buy from one company and be guaranteed to have excellent integration between products and a single point of contact for support. This is unique amongst vendors in the transit technology space as most provide certain pieces of the puzzle, but not a complete solution.
4. How has TripSpark's software helped agencies during the current pandemic?
Many transit agencies have switched to a more on-demand service model during the pandemic and TripSpark has been able to assist in this effort. Customers have been able to leverage their existing Novus or PASS software (TripSpark's demand-response solutions), along with Passenger Portal and Notifications to provide on-demand service with fixed route buses. Additionally, TripSpark has created new reports that have assisted customers with contact tracing to safeguard the health of drivers and passengers.
5. How do you think microtransit will change the landscape of transit as we know it?
I think microstransit is just one piece as transit shifts to a more on-demand service offering.  Riders have more transportation options than ever, and traditional transit will have to adapt to stay competitive. Microtransit is an effective way to move riders from outlying areas to fixed routes instead of adding more routes as cities grow and running infrequent service
6. Can you give us a little insight behind the development of the new microtransit app, Rides on Demand? 
Rides on Demand is an exciting new Mobility on Demand product that TripSpark has recently launched. It's an app for Android and iOS that allows transit agencies to run an Uber/Lyft style on-demand service where riders can book trips in real-time, watch their bus come to pick them up, and quickly get to their destination. Best of all, agencies that already have TripSpark Novus or PASS can add Rides on Demand to further leverage their existing software investment.
Get to know more of the TripSpark Transit Team:
Tanya Brusse – Senior Product Manager