6 Ways to Get to Know Naomi Schellenberg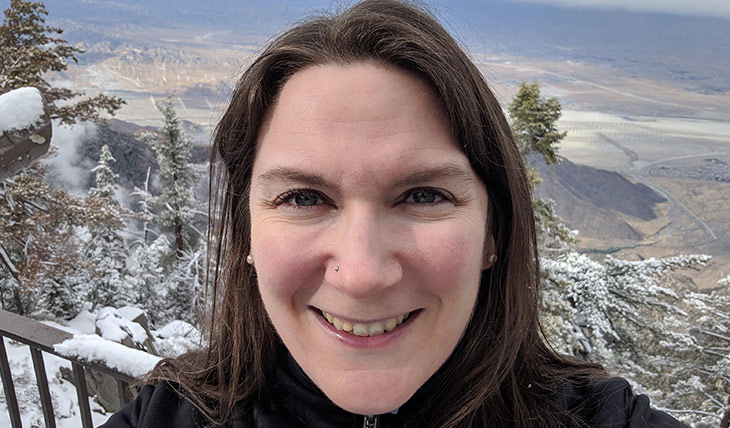 As the Director of Client Services for TripSpark Transit, Naomi knows what it takes to be a leader in the transit technology solutions field. Since 2002, Naomi has been committed to putting TripSpark Technologies on the transit tech map. From her early start with the company in technical implementation, spending hours in vehicle yards at customer sites programming and testing (and re-testing) TripSpark's Ranger Devices, her rise to Director of Client Services has been a passionate one.
Naomi's a natural leader, with a fierce drive toward continuous learning, and a dedication to mentoring young people interested in pursuing Science, Technology, Engineering and Mathematics (STEM) professions, especially in the technology industry, where the road is ever changing. Beyond her TripSpark Transit duties, Naomi spends her "free time" volunteering with the University of Calgary's Women in Science and Engineering (WISE) organization, mentoring engineering and computer science undergrads. For fun, Naomi unwinds by reading, hiking, camping, scuba diving and travelling (when she can). 
We recently had the pleasure to virtually sit down with Naomi, and here's what we learned:
1. Tell us about your role at TripSpark!
As the Director of Client Services for TripSpark Transit, my team works with our customers to implement and support our products. One of the many things I love about my role is the flexibility of working with internal and external teams and continuously learning about the different areas of our business. On a typical day, I'll meet with Deployment and Customer Care teams, provide guidance to customers and vendors, work closely with our Sales team developing quotes, consult with our Legal team on contracts, and collaborate with the Finance team on revenue forecasting and other financial activities.
2.  What motivates you?
Honestly, it is all about the people I work with. Interacting with agencies day in and out, our team continuously faces new challenges and must find solutions to complex issues. In addition, I am ever curious and love the satisfaction I get from learning something new each day and growing in this great field. 
3.  Can you tell us about a proud moment working for TripSpark?
That is easy to answer because it happens often. It would be one of the many times I have received positive feedback from customers about one of my team members going above and beyond their job to ensure a customer's satisfaction. It's a great feeling to get this type of feedback and I sincerely appreciate our customers going out of their way to make sure that a team member is recognized for their superb work!
4.  What distinguishes TripSpark from other transit software providers?
Our amazing Customer Care team gives TripSpark an advantage over our competitors. Building relationships with our customers starts with managing expectations and solving problems as they arise. Our Customer Care team is second to none in the industry because of their dedication to our customers and their ability to gain their trust with each interaction. We do not have the usual "front line" support reps. Our team comes with years of experience, often in working directly with our products in the industry.
5.  How has TripSpark's software helped agencies during the current pandemic?
As tough as the pandemic has been for everyone, it has given us the opportunity to improve our products and services for enhanced health and safety measures. Take TripSpark's Streets ITS software. It makes it easy for agencies to set up passenger volume alert notifications, manage schedule reductions, provide route alerts to riders, and dispatch additional fixed-route vehicles on the fly, to complete runs when buses have reached their new, lower pandemic capacity. 
6.  Given the current situation, what advice would you give to transit agencies?
I would advise agencies to engage with each other and talk about the collective challenges we are facing, especially during this global pandemic. Growth for our industry comes from collaboration and support for one another. As a leader in the Transit software industry, we have a duty to share our learnings and expertise within our industry. After all, we're in this together!
Learn more about the great work that Naomi and her team are doing at TripSpark Transit.