Partnerships for Progress – Developing Inter-Agency Synergies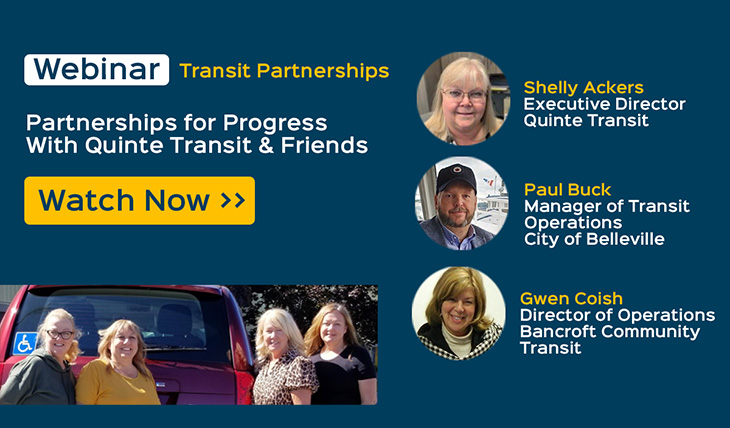 In this webinar, Paul Comfort, SVP & Chief Customer Officer of the Trapeze Group and Gardner Cole, our Client Care Team Lead had a great conversation with our partners – Shelly Ackers – Executive Director of Quinte Transit, Paul Buck – Transit Operations Manager at City of Belleville and Gwen Coish – Director of Operations at Bancroft Community Transit. 
Located in Ontario, Canada, all three agencies have been working closely with each other and we wanted to highlight their achievements primarily to showcase how agencies can develop deep synergies at various levels, regardless of differences in their sizes and requirements.
Background  
Acting as the hub for nearby cities of Quinte and Bancroft, Belleville's population had been rapidly growing over the last couple of years, fueled by factors like the presence of a regional hospital, Loyalist College and companies like Kelloggs, P&G and auto parts manufacturers in the area. With housing options in the city running scarce, Belleville was looking to expand its transit network beyond its city area.  
Quinte's transit services cover a widely spread-out population over 2,000 square kilometers. The journey from Quinte to Belleville is 25 kilometers, with minimal residential areas along the way. There was no public transportation in Quinte for a long time, so apart from the people who were qualified to take on-demand transportation, the transit system was a foreign concept to a large part of the population. This meant that people were not only unfamiliar with taking the bus, but also uncomfortable with switching between them during long distance journeys. 
Gwen echoed a similar situation where Bancroft Transit, located at the northern tip of the triangular zone of the three cities, serves a community spread over 3,000 square kilometers. It has traditionally used its on-demand services to provide its residents with improved connectivity to nearby cities like Belleville but was looking to improve affordability. In particular, for its specialized services that cater to dialysis patients travelling to the nearby hospital, a 188 kilometer journey one-way.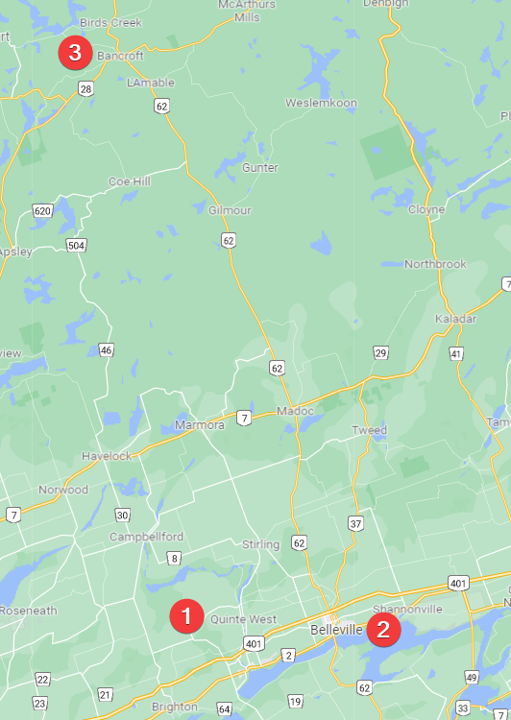 The Need for Partnership
Paul mentioned an interesting fact that since 2016, Belleville had seen an 8.6% increase in population, which has translated into a higher demand for additional transit services within Belleville and to nearby cities. Meanwhile, the residents of Quinte and Bancroft had their own special needs, which involved travelling to the college, companies and regional hospital in Belleville. From a transit perspective, for Quinte and Bancroft, finding ways to connect with each other would help them boost efficiencies and reduce costs for their riders. This prompted the three agencies to figure out a way to address this growing need for not only expanding their transit networks, but also making them sync perfectly with each other.
The Solution – 
Hub & Spoke Operations 
With institutions like the college, hospital and companies attracting the residents of Quinte and Bancroft on a regular basis, the scenario naturally put Belleville at the center of action and between the three of them, acted as the 'hub' for other two cities, facilitating services with minimal overlap and smooth handoff. 
Inter-Agency Cooperation 
A fantastic level of cooperation between the leaders of these teams has led to a cohesive transit network that weaves their cities together, provides much-needed specialized services to their riders and caters to their residents' transit needs. Another major factor that made these smooth operations possible was their common link – Tripspark's Novus CT, for coordinating their demand response services.
Seamless Software
All three cities had unique requirements because of their residential & commercial setup and passengers' varying needs, which Novus CT helped them customize and cater to. The vast amount of data that they had individually gathered helped them understand their passengers' unique inter-city needs and partner-up to better address riders' needs. 
Not only that, but the data also helped them take things one step further by setting up fixed route services between Quinte and Belleville's main hubs! Quite commonly, agencies have a hard time managing interoperability between different software, but Tripspark's comprehensive offerings, from in-vehicle technology to passenger facing apps, enabled them to easily setup and manage demand response as well as fixed route operations from a single software partner. 
Data-Backed Decisions
Data enablement was an important factor that came up during the panels' conversations. Along with maximizing route efficiency, Novus CT's 'Pass Fare Polygons' feature helped them identify ridership patterns, gain visibility of each other's vehicles, setup common points of interoperability & transfers and dynamically allocate their resources to appropriate service areas when needed. 
Using the same system also reduced their workload on the reporting side and provided them with consistent reporting in-line with NTD standards, for their individual & combined operations.
Proactive Customer Success
Last but not the least by any means, our Customer Success team played an important role in this partnership's success too! Gardner Cole, a key member of this team and the cities' primary point-of-contact was instrumental in enabling them on various aspects of setting up, navigating and optimizing their Tripspark systems to maximize its potential benefits for them.
An exercise of this scale is not only a time-intensive affair, but also requires a lot of hard work & trust between stakeholders to turn it into a reality.We were truly humbled to see our partners' faith in Tripspark's products and people, for supporting them in their journey towards a cohesive, inter-agency transit network.
If this sounds like something you're interested in or are considering implementing too, please get in touch with us. We would love to replicate this magic with you!