Passenger Portal: Payments Module | Product Highlight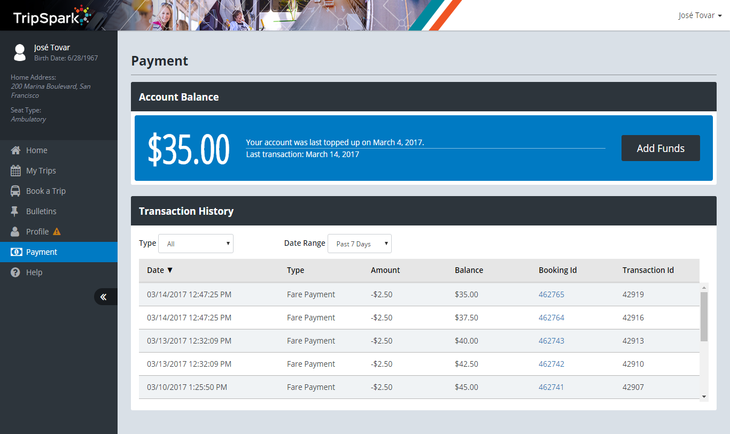 We live in an era where almost everything can be done electronically from home or on the go. It only makes sense that riders today should be able to manage their accounts wherever and whenever they wish. With our new Payments Module, riders can do just that. Passenger Portal's "Payment" page now allows clients to completely manage their accounts and pre-pay for fares.
Anytime & Anywhere
With an easy-to-use interface, passengers will be able to manage their accounts from the comfort of their own home. The "Payments" page offers passengers the ability to view their current account balance, add funds to their account, save or remove credit card information while adding funds, and view their transaction history.
In addition to this, transit agencies can require passengers to accept Terms and Conditions when adding funds to their account and email a passenger a receipt after adding funds to their account. Why wouldn't you want to provide your riders with the opportunity to pre-pay for fares anytime and anywhere?
Safe & Simple
Give your riders a secure way to manage their accounts that supports both USD$ and CAD$ payments and multiple credit cards:
Visa
MasterCard
American Express
JCB (US only)
Discover (US only)
Diners Club (US only)
Why Is It Important?
With the Payments Module, you can relieve call center traffic and cut queue times, while providing your riders with the ease of managing their accounts and pre-paying for fares whenever they wish. This is all done using a variety of safe and simple-to-use payment methods.
Improve the overall transit experience for your operation and your riders with the Payments addon to our Passenger Portal. Your passengers expect and will appreciate being able to manage and add funds to their accounts on the go, while your organization will appreciate a more efficient operation. Download our solution sheet to see how the Payment page works to provide benefits to you and your passengers.