Reducing the Impact of Detours on your Riders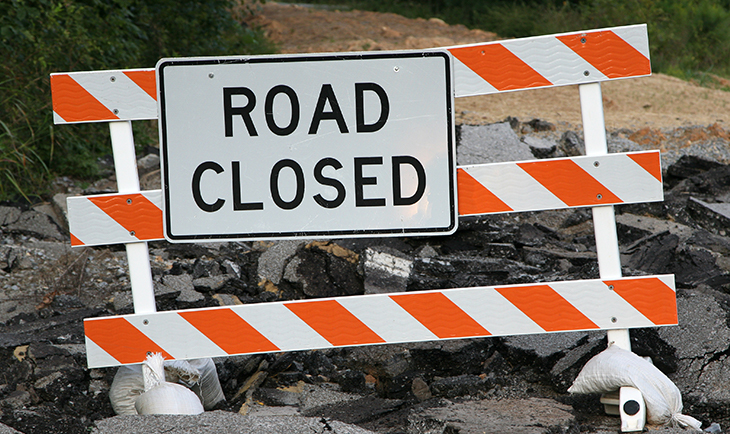 Reducing the Impact of Detours on your Riders
Without software that can help, it can be challenging to manage detours. Sharing detoured bus information with riders is typically an even greater challenge. But if you don't, it's almost certain your agency phones will begin ringing with inquiries.
Most passenger information systems do not adequately communicate temporary stop information and real time arrivals for detoured buses. This means when a service interruption is impacting their regular route, riders are often left wondering where their bus is (or even where their stop is)!
The best most agencies can do is to send email and social media news alerts warning riders of upcoming detours. But, if riders don't see the alert, they are left in the dark. They might arrive at their regular stop and see a notice to go to a nearby temporary stop. But, if the notice fell down or was removed, they wouldn't know where to go.
By giving riders access to real-time arrivals, and clearly defined detour and temporary stop information, agencies can help riders get to their destination with minimal stress. TripSpark MyRide is a passenger information system that offers real-time service interruption integration, allowing agencies to give riders the critical detour information they need.
Here's how you can reduce the impact of service interruptions on your riders with the MyRide passenger information system:
Help riders find the best available alternate route
When riders use location services on their web-enabled devices, they are able to see real-time arrival information for the buses that are closest to them. Any routes impacted by a detour are clearly indicated as such. If riders want to learn more about a detoured route, they simply tap to access more information and the real-time map view.
This example of the MyRide app from CityBus of Greater Lafayette shows real-time arrival information for temporary bus stops.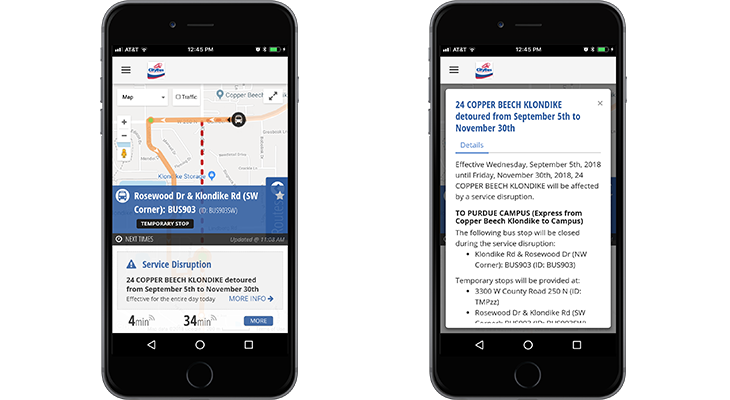 Help riders identify closed and temporary stops
In the real-time map view, users can easily see the exact location of closed stops (indicated in red) and temporary stops (indicated in green). Real-time next bus information is displayed for temporary stops, the same as for regular stops. Riders don't need to worry about tracking down their temporary stop. All they need to do, is open their MyRide map and use location services to help them navigate to the correct stop.
"Being able to see the detour and stop changes on the website helps me know how to catch the bus."
— Rider comment shared by Randy Anderson, System Administrator at CityBus of Greater Lafayette
Give riders access to more information
Knowing when and where their bus will arrive is of utmost importance to riders, but that's not all that matters. Riders also want to understand the cause of the interruption. It can be easier for a rider to accept a service interruption when they know there is a good reason for it. When it comes to getting a message across, sometimes a picture can be worth a thousand words. To help riders understand why a route has been detoured, you can show them a photo, or link to a video or news clipping explaining the interruption.
Help riders plan future trips
My tapping the "more info" button, riders can see the dates and times the detour will be active. This information will tell riders if they need to account for the detour when planning the same trip on a future date. It can never hurt to have this knowledge in advance! Because this information is automatically pushed to MyRide once the detour is scheduled, riders will always be able to know when a detour is active.
Give riders advance notice about specific detours that impact them
MyRide's News capability reduces the problem of information not getting into the right rider's hands. Riders can choose to subscribe to route-specific news alerts for their regular routes. Riders can also use MyRide's SMS text or IVR capabilities to receive next bus information for detoured buses. If a rider enters the ID for a temporary stop they will get next bus info for that stop. If they enter the ID for a closed stop, they'll learn that the stop is closed and have the opportunity to get more information.
Improve On-Time Performance
Unfortunately for riders, detours may lead to delays. This is because when a driver is running a new detour, they may be more likely to accidentally go off-route, negatively impacting arrivals. By integrating Service Interruptions Management with TripSpark's Ranger MDT, drivers receive audio and visual reminders that they are running a detoured bus. Drivers can also receive advance turn alerts for detoured routes, the same as for regular routes. When drivers receive automated navigation assistance, they are less likely to make errors that would cause them to go off-route and off schedule.  Improving on-time performance was one of the top reasons why CityBus chose to deploy Service Interruptions Management.
"With the advance turn alerts and reminders, Service Interruptions Management can prevent drivers from going off-route and missing stops in the portion of the route that has been detoured. This will help with schedule adherence because the drivers will not have to reroute back to the detour or circle back to pick up missed riders."
— Randy Anderson, System Administrator, CityBus
About Service Interruptions Management and MyRide
MyRide and Service Interruptions Management are components of TripSpark's complete Fixed Route ITS solution that work together to reduce rider frustration and streamline your operations. By giving riders access to all the detour information they need, the technology allows agencies to help riders plan and realize more positive transit experiences. Separately, MyRide and the Service Interruptions Management module offer riders and agencies many more benefits not covered in this blog. To learn more about what the components do and how they work, watch the MyRide video and the Service Interruption Management video.