The 5 Microtransit App Features Customers Love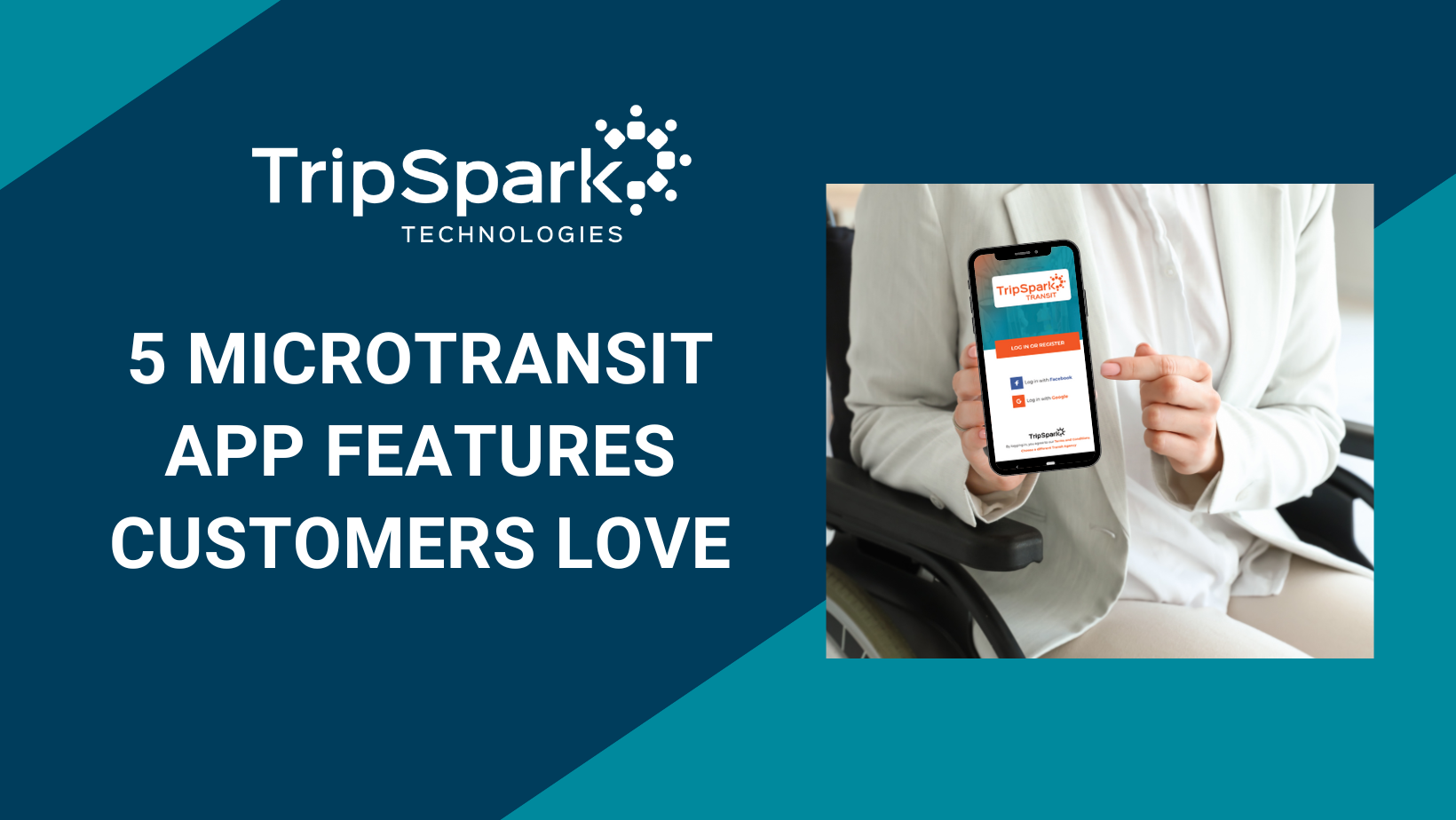 Is your transit agency ready to offer a flexible on-demand eligibility-based microtransit service to your customers? There's an app for that! In fact, no microtransit service can be successful without an easy-to-use app for your customers to book trips.
Which app features help customers realize that booking microtransit can be effortless? Let's find out.
Simplify Microtransit With These App Features
An exceptional on-demand trip starts with the booking experience. Your customers want to plan, book, and pay for trips in one place with a few clicks and little friction. Here are a few microtransit app features that give customers the confidence to book a trip independently and do it again tomorrow:
A microtransit app allows your customers to follow a simple self-registration process using an email address or by logging in with Google or other social media account. Once a rider profile has been created, customers can book on-demand microtransit or eligibility-based paratransit for themselves. It's as easy as selecting a location from a map or searching for a specific address. Riders can even book space for mobility devices, bicycles, or scooters.
A user-friendly app takes into consideration the different abilities of your customers, including those with physical or cognitive impairments. An app developed to align with WCAG 2.1AA standards is easy to navigate, enables customers to zoom in, provides alt text for images and videos, and is designed to ensure color contrast for easier viewing. When your microtransit app prioritizes digital accessibility, your agency is more inclusive and promotes equality for all your riders.
Taking public transit makes some customers anxious. They worry about missing the bus or waiting in the wrong spot for pick-up. The more information you can provide about trips, the more your customers will trust your agency. A microtransit app that offers real-time route schedules, walking directions to pick-up locations or the customer's final destination, and maps that show buses moving along their route will put their worries at ease so they can enjoy the ride.
Dynamic on-demand microtransit offers greater convenience to your customers. Instead of having to book trips in advance, they can use the app to book same-day trips at a low cost. They also have the flexibility to book, reschedule, or cancel future trips in the app. When saving time is important to your customers, they'll love the convenience of knowing when exactly their ride will arrive. No more waiting and wondering when the bus will come.
Empower Your Microtransit Customers
An exceptional microtransit trip for customers starts with the booking process. Empower your customers with an app that makes it easy to plan trips and book with a few clicks. User-friendly features like self-service options and real-time information help customers see how easy it is to use microtransit. You will not only attract more customers but also gain their trust in your on-demand services.
Got a microtransit or paratransit service? There's an app for that! We call it Rides on Demand and believe it can usher your agency into the mobility-on-demand era. Contact the TripSpark team and let's talk about your needs for serving microtransit customers better.