Transit Funding Roundup: US Department of Transportation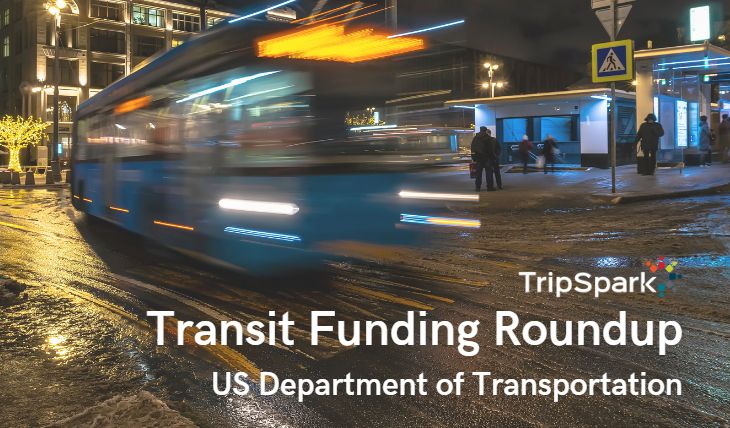 In 2023, it's a safe bet that your transit agency is either planning a transformation or already deep in the middle of one. With continued spotlights on sustainability, equity, accessibility, and multi-modal travel in the post-pandemic landscape, we're all focused on meeting these expectations efficiently.
The United States Department of Transportation (USDOT) is proactively encouraging organizations like yours to adapt and invest in the future of transit across the country, with funding opportunities for every service type and size of agency. There's a lot of information on the topic, so we've rounded it up in this blog post for you to have a single, easy place to start. Note: if your organization serves a rural area, keep reading to the end of this blog post for more information about the DOT's special initiative for agencies like yours.
Key Notices of Funding: U.S. Department of Transportation
No matter the size of your operations or the region you serve, bookmark the U.S. Department of Transportation's Key Notices of Funding Opportunity for 2023—and check back often! Right now, it'll give you a heads-up about important funding resources across the board, with dates added throughout the year as application deadlines firm up.
At the time of posting, here are open funding opportunities with confirmed deadlines. Make sure you get your applications in on time!
There are also exciting funding opportunities set to open up later this year that can transform and help you future-proof your operations for a multi-modal, equitable service. Below are a few to keep on your radar—some even have the option to sign up for email updates so you stay in the know.
We strongly recommend that you follow the steps in USDOT's handy online guide to preparing for the application process, called the Discretionary Grant Preparation Checklist.
Rural Opportunities to Use Transportation for Economic Success (ROUTES)
The DOT has also put together an initiative called Rural Opportunities to Use Transportation for Economic Success (R.O.U.T.E.S.). The goal is "to ensure rural transportation infrastructure's unique challenges are considered in order to meet priority transportation goals of safety, mobility, and economic competitiveness."
There's a handy applicant toolkit to provide "user-friendly information and resources to support rural applicants' understanding of USDOT discretionary grant programs and the funding process." The kit is available entirely online—be sure to jump ahead to the content that interests you using the hyperlinks on the lefthand side of the webpage (indicated in the following screenshot with a green box).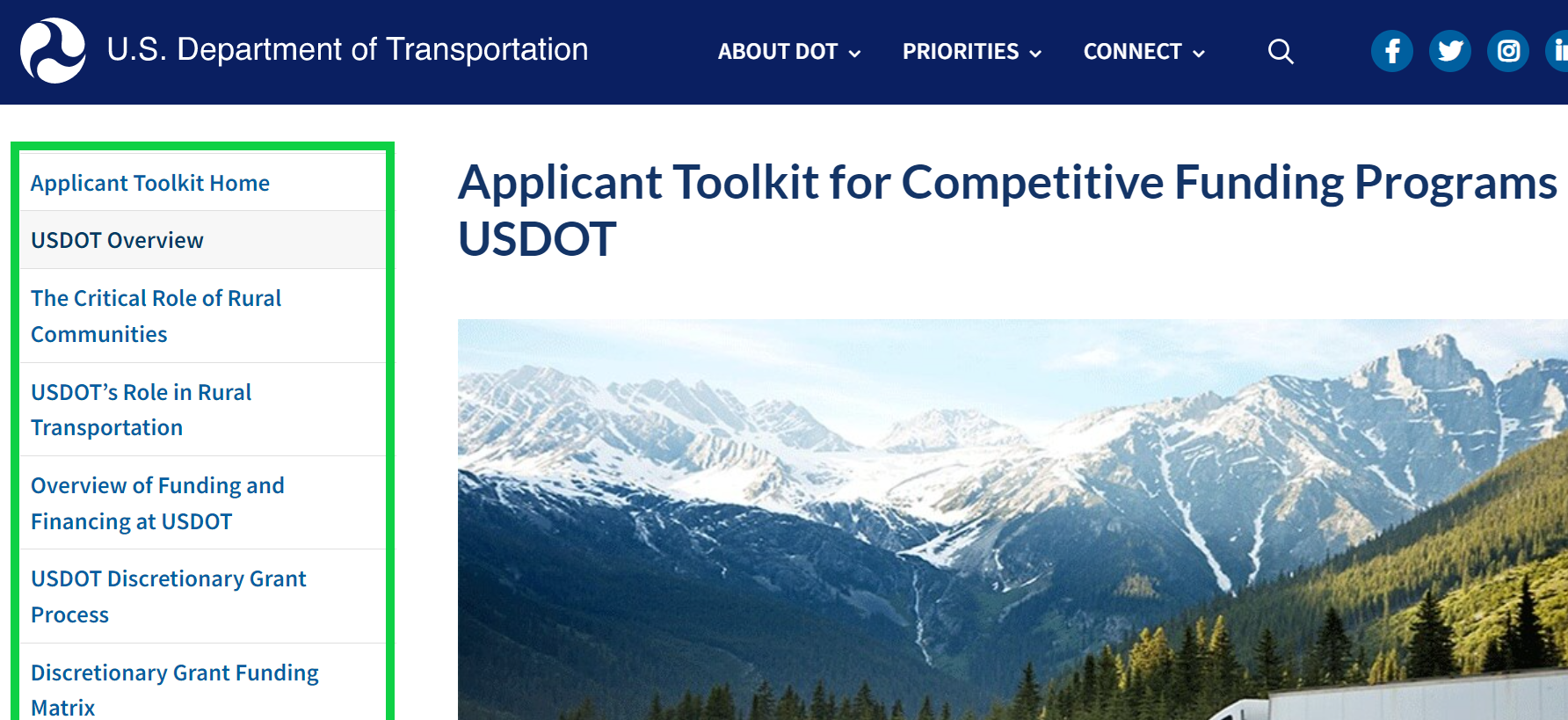 One highlight of the toolkit is its easy-to-follow breakdown of funding and financing opportunities with USDOT, covering discretionary and formula grant funding programs, public-private partnerships, and loan financing options.
Final Thoughts on the US Department of Transportation's 2023 Funding Opportunities
It's exciting to see the USDOT create step-by-step guides that make maximizing funding and financing opportunities at your organization easier. If you're not already well-versed in their online materials, start with concrete guidance from their general Discretionary Grant Preparation Checklist or more directly with their Rural Applicant Toolkit if you serve rural areas.
We hope to see you secure the funding you need to invest in the future of sustainable, equitable, and multi-modal travel!