Rides on Demand – TripSpark's New Microtransit App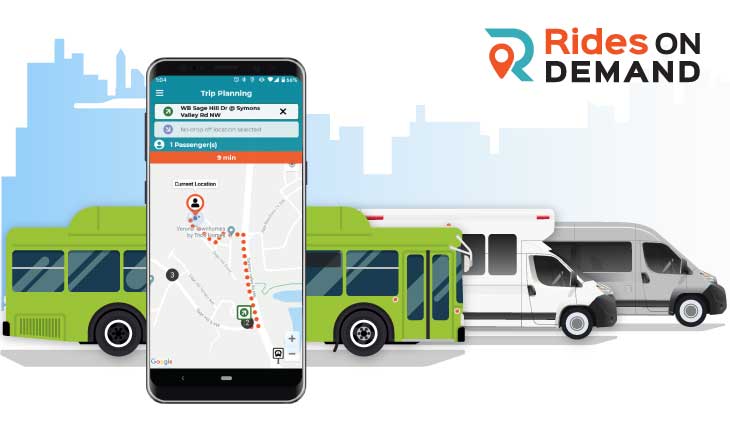 TripSpark's new Rides on Demand mobile app for Android and iOS has launched and is here to help your agency offer microtransit service, maximize your resources, and meet the needs and expectations of today's riders!
What is Rides on Demand?
It is a microtransit app that will enable your agency to offer flexible service that falls in between fixed route transportation and more individual transportation options. This exciting new addition integrates seamlessly with our existing demand-response platforms and will help agencies cope with the multitude of challenges facing them today – during a time when the transit industry is evolving rapidly, and riders' expectations are increasing. For instance, during the beginning of the COVID-19 pandemic, Lethbridge Transit had to adjust their service as a result of a significant change in ridership and social distancing requirements. Switching to a microtransit service model allowed them to keep riders safe and ensure only essential trips were being made.
Leveraging the automated scheduling, routing, and dispatching functions of TripSpark's Novus and PASS software, the app will allow you to provide flexible transit options. Essentially, your agency can decide to have dedicated transit-on-demand, or support mixed service, where paratransit and conventional riders travel together.  
What are some noteworthy benefits and features of Rides on Demand?
User-friendly: Riders can easily self-register and book rides by selecting a stop close to them on the map or by searching for a specific stop, address or point of interest
Economical: Rides on Demand gives your agency an alternative to modifying service coverage, frequency and/or hours for areas with low ridership, lowering operating costs
Real-time info: Users can be notified via SMS when their ride is approaching and can view the vehicle on a live map throughout their journey
Custom Ride Requests: Users can book rides for multiple riders as well as request additional space (for example: wheelchairs and bicycles)
Customization: Your agency can customize the app to reflect your branding and share service information with riders
Want to learn more about TripSpark's flexible microtransit solution? Check out our other resources below:
Questions?
If you would like to learn more about Rides on Demand or book a demo, simply click the Request Demo button below or connect with us.