TripSpark Lights Up the 2018 CTAA Expo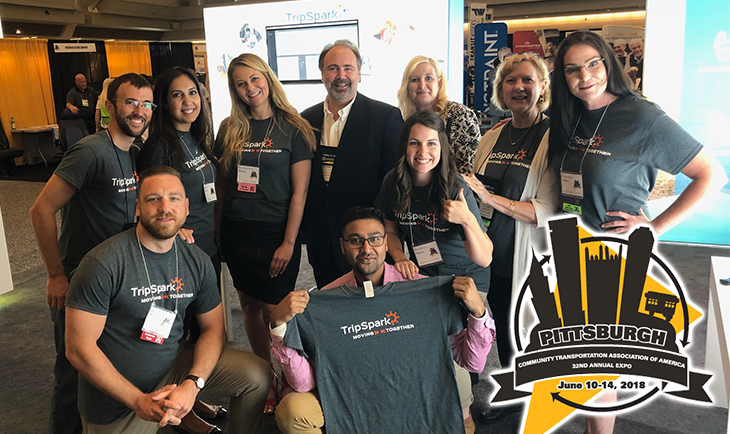 TripSpark Shares Bright New Ideas at CTAA Expo
The 2018 CTAA Expo was a great chance to meet and share ideas with a diverse group of community and medical transportation professionals. We had some great conversations with attendees, including many chats about our new app for NEMT brokers, Provider Mobile. We also got some great feedback on our bright new booth and new partnership-focused branding.
Our product specialists showed countless attendees how our people and products could help their agency or organization. To ensure attendees didn't have to wait long to speak with one of us, The TripSpark team was out in full force! Here's a photo of us wearing our spiffy new "Moving Together" t-shirts. Absent from this picture is Brendan, one of our Territory Managers, who was too busy helping Expo attendees to pose for a photo.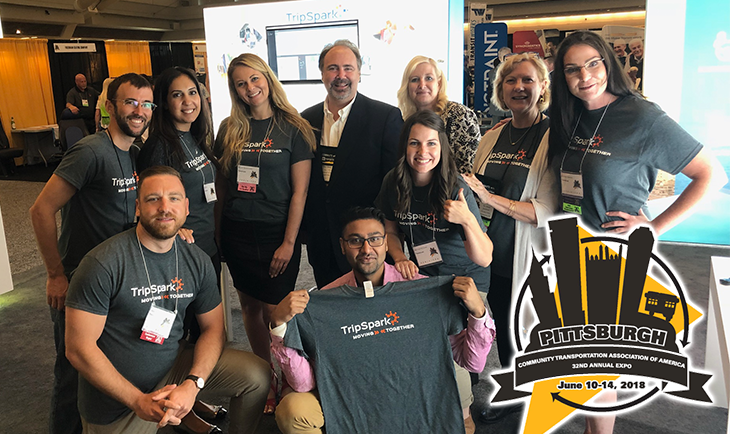 TripSpark's Bright New Branding 
TripSpark's new corporate brand, "Moving Together," is all about our partner approach to doing business and how this approach benefits our customers.  Our new brand was unveiled at the CTAA and the response was overwhelmingly positive. Maybe the free t-shirt giveaway had something to do with the positive feedback since plenty of lucky attendees got their hands on our Moving Together giveaway t-shirts!
In a place with plenty of vendors vying for attention, it was important for us to put a lot of effort into a unique booth design. The TripSpark booth stood out from the pack by featuring our "Moving Together" branding, new segment icons, a large hanging sign and LED lighting.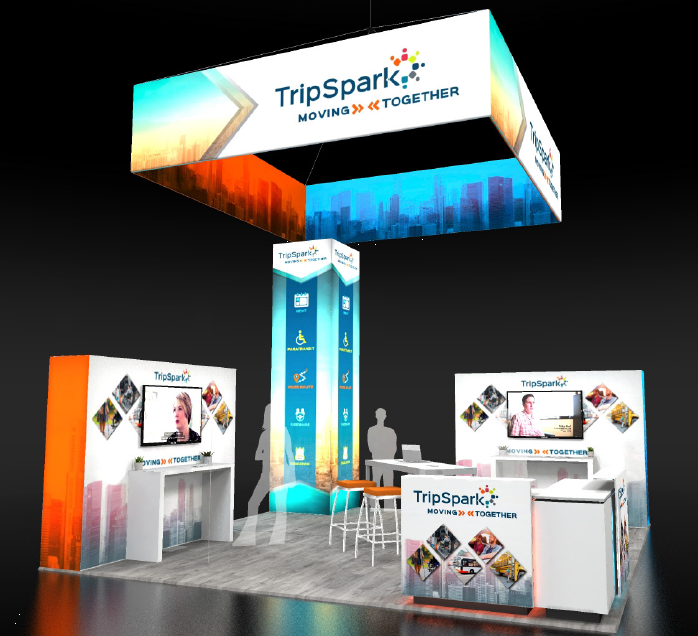 A Bright New Tool for NEMT: TripSpark's Provider Mobile App is a Hit!
Our latest development for NEMT, the Provider Mobile app, attracted a lot of attention at Expo. The TripSpark booth featured a display that included an explanation of how the driver communication app can benefit NEMT brokers, providers and drivers, and ensure quality care is always provided. Product experts led plenty of demos to show brokers and providers how Provider Mobile works to improve communication between all parties. 
Farewell for Now
The best thing about attending the CTAA Expo is connecting with and learning from others in the industry. We thoroughly enjoyed connecting with so many people transportation professionals at Expo 2018, and encourage all industry professionals to consider attending this annual event!