Voting Delays Jeopardize Agencies Seeking Transportation Funding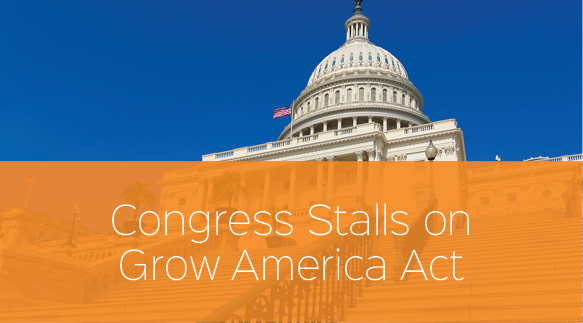 The nation's transportation infrastructure is going to have to wait, yet again. The recent news reporting that U.S. congress has extended the Highway Trust Fund until the end of July, 2015 is not the preferred outcome. Without the support of the provisions contained in the Grow America Act, there will be enormous setbacks when it comes to developing, maintaining and repairing our aging infrastructure and improving transit service. This persistent 5-year pattern of extensions and underinvestment is making it impossible for agencies to make plans, not knowing where the next piece of their transportation funding is going to come from.
Grow America Could Change Everything
Antiquated authorizations like MAP-21 and The Highway Trust Fund (HTF) don't appear to be working any longer. As gas prices continue to fall and vehicles become more fuel efficient, the HTF won't be fed by these once-strong sources of revenue. It certainly won't be able to provide for the estimated 100 Billion needed to address our nation's aging infrastructure. Now agencies simply can't move forward with projects, because they can't trust that federal dollars will be there when needed. The updated 2015 Grow America Act is a 6-year, $478 million solution to help modernize infrastructure. This could revolutionize the way that public transit agencies plan.
2015 Appears on Par With Federal Transportation Funding
It seems unlikely that this 5-year pattern will end quickly. There are already suggestions from the Hill that another extension is a likelihood. We are hopeful that a resolution can be found by the end of the calendar hear to avoid this in an election year because it seems clear that short term transportation funding isn't going to work. The tenuous nature of funding certainty is discouraging many agencies from taking on maintenance plans this summer, which will inevitably lead to more problems next year.
Moving Into the Modern Era
We are progressing into an era in which environmentally sound private and public transit is vastly becoming the norm. It seems that this "trend" is going to dry up previous sources of taxable resources in terms of gasoline and diesel consumption. We obviously need a better answer so that transit agencies can modernize their fleets with transportation software and hardware to improve service and keep up with the march of time.
We will continue to push out information relevant to federal transportation funding and other possible funding streams as available. We also recommend that you sign up for the FTA notifications and keep checking back on our blog site for additional information.
For more on Federal funding issues, watch our webinar and hear the experts explain the current landscape. Among the many areas covered, they provide insight and advice on where to find locate funding sources in the current environment.