What Does a Successful Microtransit Implementation Look Like?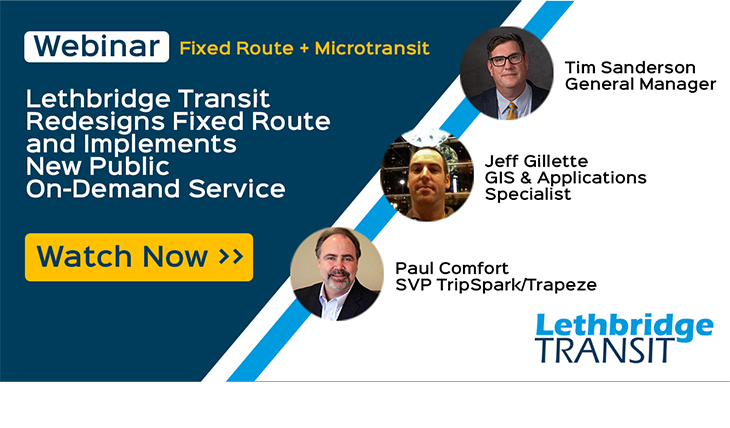 The City of Lethbridge Transit certainly knows what they're doing. A long-time, important agency partner of TripSpark Technologies, they were the first to implement TripSpark's new microtransit app, Rides on Demand. And it's already a success story.
A story deserving of its own webinar
In a recent TripSpark Transit webinar hosted by transportation expert Paul Comfort, Lethbridge Transit leaders, Tim Sanderson and Jeff Gillette, shared their amazing journey to fully redesigning their Fixed Route service, and adding microtransit to increase rider satisfaction, and manage their shrinking budget.
In their own words
According to Jeff Gillette, Lethbridge Transit's, GIS & Application Specialist "by March 2020, the emerging pandemic resulting in public health measures, drastically altered our ridership numbers and travel patterns…our boardings decreased by 90 percent at the start of the pandemic. At this point we needed a solution to keep running transit in a safe and reliable way, and on-demand transit became that solution"
Working with TripSpark's Senior Product Manager, Tanya Brusse, Lethbridge Transit devised an "ad hoc" on-demand solution using Novus, their existing paratransit and demand response back office software. The solution worked, and it accomplished their goal of being able to maintain reliable and safe public transit, until a more solid, long- term solution could be implemented.
"The TripSpark customer care team helped us modify Novus, import the buses, import the bus stops, they modified the Rangers for us, they even had Passenger Portal enabled for us, and created Notifications as well… the quick turnaround time implementing this project was only possible because we already had all the software and hardware components required, plus our drivers and office staff, including myself, were fully trained in NovusDR, the Rangers, and all the other accessories we had."
Jeff adds, "in short, we basically ran this service for four months. It wasn't quite a true on-demand service, but it enabled us to maintain reliable and safe public transit. Other options for on-demand solutions had a three-to-six-month timeline to implement, and that just was too much lag time for us, so fortunately with TripSpark's help, we were able to do our on-demand service".
Then came Rides on Demand
While Lethbridge Transit was in the midst of deploying their stop-gap, on-demand transit service, at the same time TripSpark and a few other transit agencies (Lethbridge Transit included), were collectively working on, and close to launching Rides on Demand (RoD). Simply, RoD is a microtransit smartphone app that works with TripSpark's on-demand software platforms, Novus, or PASS. RoD allows transit agencies to provide convenient ride sharing service using their agency vehicles, with people heading in the same general direction, travelling together.
When Rides on Demand was ready to roll out in August 2021, Lethbridge Transit was the first to try it out. Working with their existing Novus software, the deployment process was a breeze. Up and running in a matter of weeks, with zero disruptions to service, Lethbridge is thrilled with their new microtransit service, its ease of use for their operators and customers, and their measurable results.
"There was virtually no learning curve implementing Rides on Demand. We had a lot of trepidation from our bus operators saying, 'well how do I learn this, how do I do it?' but when the day came, it was like, 'just follow your Ranger just like you would on anything else', and it worked seamlessly"

                                                                                                                                                                                    – Tim Sanderson, General Manager, City of Lethbridge Transit
What's in it for transit agencies?
Every transit agency has their own unique challenges. For example, Lethbridge Transit was directed to cut their budget, but they didn't want to cut service to their residents. Other agencies are facing rapid urban sprawl. They're getting new neighborhoods, and they must provide service to those new neighborhoods, even if there isn't the ridership to justify having a fixed route service. And sometimes it's a matter of being able to extend service, being able to provide people with safe rides home at night. Regardless of the problem, the solution is often a microtransit option that fills the need. And as we've seen in the case of Lethbridge Transit, Rides on Demand has been able to tackle these challenges head on.
Partnership has its perks
The evolving partnership between TripSpark and Lethbridge Transit began in 2014, with the deployment of Streets for their CAD/AVL system. Then NovusDR was implemented for their paratransit service, but now serves a dual purpose with the adoption of Rides on Demand. With these, along with other amenities Lethbridge has embraced, like MyRide, Trip Planning, Passenger Portal, Notifications and so on, Jeff Gillette says that Lethbridge Transit is "well into the TripSpark ecosystem."
Tanya Brusse commends Lethbridge, and our other agency partners for their collaborative product innovation. When asked specifically about the catalyst for developing the RoD app, Tanya states "the catalyst was talking to our customers… that's where all our great ideas come from, for our products. In talking to them, discovering what challenges they're facing, and collaboratively coming up with solutions, we're able to develop and offer services for our partners, like we have for Lethbridge."
Tim Sanderson, Lethbridge Transit's General Manager, share's Tanya's views on collaboration too: "The implementation of Rides on Demand was collaborative and incredibly smooth, and we can't say enough about working with TripSpark. We got a product that really matched what our customers in Lethbridge needed, and really allowed us to tailor the solution to our community, into the way that we are going to structure demand response with our relatively unique operating environment."
The last word
Tim shares that he couldn't be happier with how things are going now, with their new Rides on Demand service. This is especially after considering the huge hurdles they faced with pandemic-related issues, and major budgetary cuts.
"City Council asked us to implement some form of demand response system…they also asked us to cut $350,000 from our budget, so this wasn't a service expansion, this was a service reduction. So, with Rides on Demand, with using this demand response model of transit, we were able to reduce our expenses, increase our efficiency, and increase our ridership all at the same time."