Why You Should Get to Know Chris Keuleman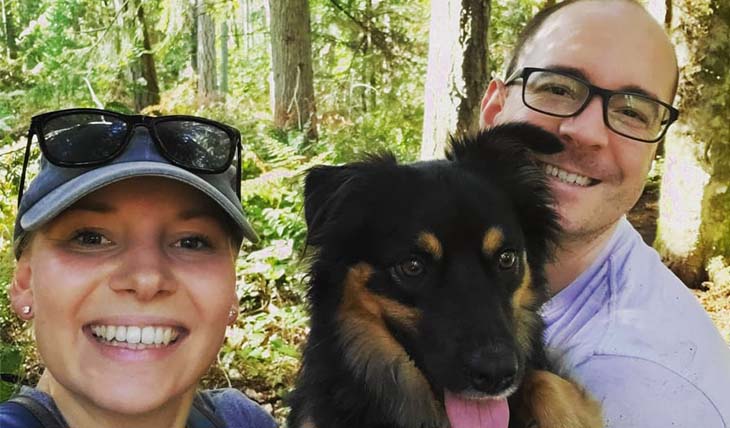 TripSpark Transit's new Director of Finance, Chris Keuleman is one fascinating 'numbers guy.' While Chris was born and raised in Toronto, Ontario he has travelled the world for his practice, and his pleasure. Join me on this journey to get to know Chris Keuleman.
From the court to the couch
Growing up, Chris kept active playing basketball, volleyball, and soccer. He even played the tuba in the school band. But at Dalhousie University in Halifax, Nova Scotia where he earned a Bachelor of Commerce degree, Chris and his housemates were best known for having the 'couch porch' house. With two couches on the front porch, two couches stacked on top of each other in the living room (a bit weird, right?), and another three couches in the rest of the house, there was no shortage of places for the mates and their friends to sit, work, and relax.
Expanding his horizons
Chris loves to travel, and he lives for a good adventure. Pre-pandemic, he, and his wife Juliane travelled to at least one new country per year for vacation. Impressively, Chris managed to squeeze in 30 countries before he turned 30. But Chris isn't only about international travel. He recently took an 11-day bike trip with a friend, from Calgary, Alberta to Vancouver, British Columbia.
Chris shared that he caught the travel bug while in university and decided to do an exchange to Yonsei University in Seoul, South Korea, for one semester. After that he took a solo tour of China, before meeting up with a friend to travel around India. With his sights set on travelling through Thailand, Malaysia, Singapore and New Zealand, Chris was disappointed to have to return home to Canada abruptly; "I was young and dumb and didn't realize you can't travel when your passport has less than 6 months left before it expires."
Chris's career path
Forced to put his travel plans on ice for a while, Chris began his career journey. First at KPMG as an auditor, then 3 years later he moved to a small Canadian foam Insulation company called Icynene. Chris then joined Trapeze as a Senior Financial Analyst after a friend referred him. After almost 3 years at Trapeze, he was promoted to the Director of Finance within Kevin Bade's Portfolio (now Modaxo Americas). Today, as TripSpark's Director of Finance, Chris fulfills the duties of his role remotely, from his home in Seattle, Washington, where he moved at the start of 2020.
Chris likes his dog days
When asked what he does for fun, Chris disclosed that ever since he and his family got their dog Cora (just before the onset of the pandemic, so she's not technically a "COVID pup"), they do a lot of doggie-focused stuff… walking, hiking, going to the dog park, arranging puppy playdates, and so on.
When not dogging around, Chris and Juliane enjoy exploring breweries or brewpubs wherever they are. In fact, Chris is quite the beer buff and has logged over 1,000 unique beers on Untappd, a beer and brewery rating social media app. However, he wants us to know "that many of those are tasters, and not full pints."
Music is in his soul, and on his shelves
It's no surprise that Chris is a music fanatic (remember he played tuba in the high school band), and he has been amassing CDs his whole life. At last count he had over 3,000. When asked why CDs in this digital age? Chris had a perfectly simple answer "no good reason other than that's what I grew up with, and once I start something I usually just keep going."
Before the pandemic, Chris used to hit a concert almost every other week. And he's thrilled to have been able to score tickets for the upcoming 2022 tour with Red Hot Chili Peppers – his favourite band. He's even going North America-wide, planning to catch their shows in both of his hometowns – Seattle, and Toronto.
The road to TripSpark
After gaining a few years of experience with Kevin Bade's Portfolio/Modaxo Americas, Chris realized that he wanted to be a part of a specific business unit, to make a more direct impact. He really enjoys leading a team and paying it forward when it comes to mentoring and coaching others; "I've been very fortunate in my working life to have had great managers, mentors, and coaches."
When TripSpark's finance team lost their two most senior leaders, Chris jumped in to help a little bit behind the scenes, and he really enjoyed working with the TripSpark finance team. Eventually Chris realized that he wanted to officially join the team and began his next journey to become TripSpark Transit's Director of Finance. When asked what makes TripSpark unique, Chris answered with ease, "The people. All my interactions with TripSpark folks have been awesome, and I think there's a great energy and attitude towards what we as a business are trying to accomplish."
Moving forward at work, and on the home front
Perpetually curious and growing, Chris enjoys understanding the "why" for everything he does. Whether it's mastering a particular financial process, perfecting business strategies, or succeeding at talent management, Chris in the most basic sense, likes "fixing things and making them better." On the home front, Chris likes to look forward too. He shared that after moving to Seattle, he and Juliane visited friends who live on a farm. It got him thinking that maybe the fresh air and wide-open spaces of farm life, might be the next great adventure for the Keuleman family.
Learn more about the great work that Chris and his team are doing at TripSpark Transit.