You're Invited to Ignite 2023: TripSpark's First User Conference Post-Pandemic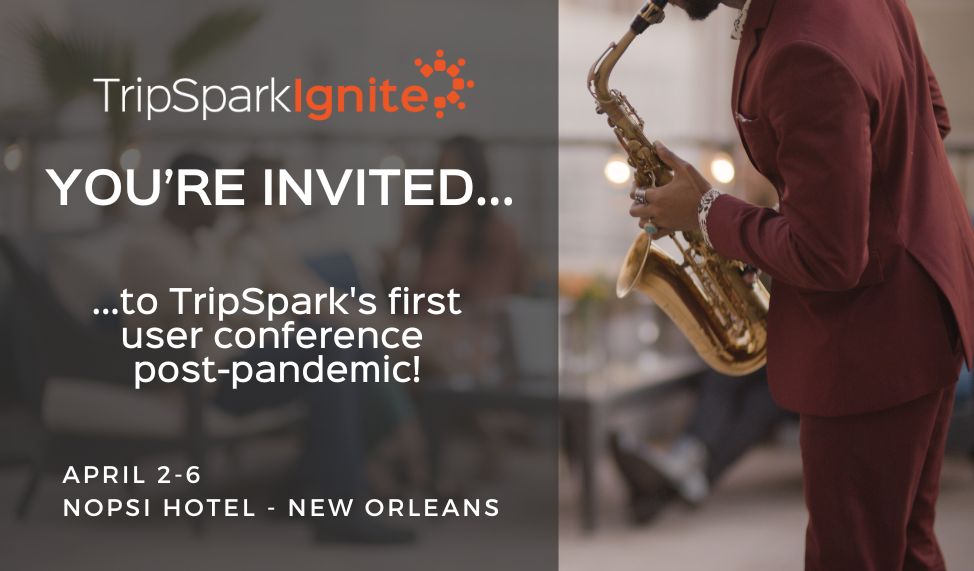 The world is a different place from the last time transit agencies gathered in person at TripSpark's Ignite user conference. We last met up in 2018 at the Westin Hilton Head Resort in South Carolina. All the attendees had an incredible time and have been waiting for the first post-pandemic edition ever since.
It's time – you're invited to Ignite 2023 this April 2nd-6th in the vibrant city of New Orleans! The theme is Re-connect, Re-charge, Re-Ignite. Just watch the promo video for a teaser.
New World, New Ignite
On the one hand, we're back to "normal" with Ignite 2023 in that we can celebrate each other's successes and build the future of transit together in person. On the other, we're facing a post-pandemic paradigm shift in how passengers and staff alike expect transit to work:
Passengers expect integrated booking platforms and full flexibility of choice in their mobility options
Technological innovations soared in recent years from in-vehicle to in-office to trip bookings
Hiring shortages emerged and remain top-of-mind across Canada and the USA
Passengers expect public transit to compete with the convenience of private providers while staying affordable
Zero-fare systems that were tested during the pandemic are here to stay at many agencies
Electric and hydrogen vehicles are being deployed in fleets across North America
These are just some of the challenges—and opportunities—that dedicated industry professionals at every level of a transit agency must face together to achieve success. Our new and improved Ignite user conference brings your expertise and questions together in one place to build the future of transit–and you belong in the room where it happens.
What to Expect at Ignite 2023
Join industry experts and network with peers at exciting sessions, including:
Keynotes from experts like Mike Bismeyer, Regional Sales Director for Proterra and member of numerous committees, including the APTA Diversity & Inclusion Council
On-Demand Best Practices with Karl Farnsworth of Kitsap (Washington)
Using Technology to Empower Riders with Rob Moery from Muncie (Indiana)
Introducing Electric/Hydrogen Vehicles into your Fleets with Mike Bismeyer
Public Engagement in Transit Planning with Nick Whitty and Dan Pasowisty (TripSpark)
Ignite 2023 is also the first time Routematch customers will be welcomed in person to your new home at TripSpark with dedicated topics and product sessions:
TripSpark Welcomes Routematch with your Routematch friend Tom Coogan and TripSpark leaders Rob DeSanti, Tanya Brusse, Leanne Lynch, and Dave Silva
Leveraging Cross-Platform Solutions with Tom Coogan and Tanya Brusse
Product Deep Dive: Transit Miner with Tom Coogan
Each day, our Solutions Centre will be open with both TripSpark and Routematch product experts to offer you demos on new functionality, hands-on training, and 1:1 support.
Look at our full agenda to see all Ignite events for end users and C-level decision-makers alike.
Re-Ignite Your Passion
After each day of exciting sessions, Ignite attendees can stroll into the vibrant French Quarter of New Orleans for jazz and jambalaya, plus celebrate with peers at Ignite's opening and closing events.
We invite you to register and recharge your passion and perspective on the future of transit. Discover how similar agencies are optimizing technologies that increase ridership, efficiency, and satisfaction among staff and passengers. Make lifelong friends from the world of public transport, and head home inspired for the future.
Register today for Ignite 2023 – more than 50% of tickets are already sold!