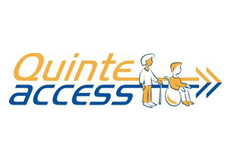 Increased customer demand impacting on-time and dependable service
TripSpark Paratransit software with automated scheduling and reporting functions
Riders access real-time passenger information and can plan desired trips end-to-end
Quinte Access Transportation is a non-profit transportation provider, serving a large rural population in Southern Ontario. Quinte operates a fixed route system and a paratransit system. Shelly Ackers, Quinte's administrator, helps lead a small but dedicated team of operators who service their appreciative.
It goes without saying that Canadian winters are harsh. So, to keep riders safe and healthy, it's important for Shelly to connect riders with their vehicles as quickly as possible. However, Quinte operates with a limited budget and needed an affordable solution to provide passenger information and transit service as efficiently possible.
With more seniors giving up their drivers licenses, Quinte has seen demand for public transportation grow. "Year after year, ridership has increased probably by 16-18%," says Shelly. This has made the non-profit organization responsible for providing on-time and dependable service while controlling operating costs. Keeping in contact with drivers (and knowing where their vehicles were located) is an important issue for Shelly and her team. This has recently become a safety issue due to the introduction of new governmentally mandated "hands free" rules about in-vehicle communication. Previously, Shelly would need to connect with drivers over cell phones, but with the new laws in place, this would no longer be possible.
Contact with drivers is essential for keeping their schedule running on time. Because Quinte is divided by two bridges, traffic congestion becomes a major issue during rush hour. If a vehicle is caught on the wrong side of the city at the wrong time of day they may be delayed, putting the schedule and riders' trips at risk of running late.
Shelly also wanted to address the safety concerns surrounding seniors having fast access to transit. Being forced to wait outside in the cold could lead to health-related concerns as well as slip-and-fall issues. It was important to provide these riders with dependable, real time trip information so they could have more control over their transit experience.
Fixed Route and Paratransit Solutions
Using TripSpark's paratransit software suite, Shelly was able to quickly transform her operation. Automated scheduling enabled Shelly to build more efficient routes and she was able to manage and draw from reliable data to produce more effective reports.
After introducing a fixed route solution, Shelly is now able to take advantage of the real-time data and Automated Vehicle Location services provided by the in-vehicle mobile data terminals (Rangers). Shelly has replaced her communication system with the Ranger units, so she can now send and receive text messages and coordinate trip data with drivers without using cellphones. Rangers also help drivers to speed up their service. Because driver sheets are entered quickly, riders don't have to wait as long to get going.
After the implementation of the MyRide mobile app, riders can access real-time passenger information on their home computers and mobile devices. Now riders can know when their bus is scheduled to arrive, alleviating the stress and discomfort of connecting with transit. They can also plan their trips from end-to-end and store favorite routes and destinations within the app. Riders are also alerted to traffic problems, or construction issues, warning them if a bus is going to be 10-15 minutes later than anticipated.
On the paratransit side, Shelly has implemented an automated notification system to provide outbound telephone calls, text messages and emails to riders. This added value service provides riders with reminders and updates about their planned trips. Riders are happier having advanced notice about approaching vehicles. Shelly points out, "it gives them that flexibility to control more of their ride." The AVL capabilities have given Shelly immediate insight into her schedule, which in turn can be used to pass information on to her riders. She can track vehicles in real- time on a map, so she knows exactly where each vehicle is. Shelly doesn't need to talk with drivers directly to get this information, which enables her operation to be fully compliant with the government's hands-free communication regulations.
The Savings to the Operation
Because Quinte Access Transportation is a non-profit organization, they look to cut costs wherever they can. The software solutions they have implemented have allowed them to cut back on administration costs. But the reporting capacity gives Shelly the opportunity to provide robust reports to funders and other important stakeholders. This allows them to access other funding opportunities that previously had gone untapped. "For a small agency, that's huge," exclaims Shelly.
We look to forward working with Quinte to continue to grow their operation. We're also excited to discover the full effect of their passenger information system and their automated notification system.
Quinte Access Transportation is a non-profit transportation provider. Year after year, our ridership has increased probably 16-18%. That brought us to our NOVUS program here that we currently use today. One of our biggest challenges was we serve a very large rural population. So part of the challenge was knowing where drivers were so we didn't miss pickups. So we decided to go with the Ranger add-on unit in our vehicles. So now our drivers receive their manifests electronically on their units. They complete their trips, they can record payments, and they can do no shows at the door. We can send out notifications to the drivers if we need to catch them at a certain location before they leave the area. So it makes for a much smoother system and a much easier transition for the passengers.
Before, we had to sit manually input all of those driver sheets back in when they came in. So we had to record fares. We had to record no shows. We had to do cancellations. People have that comfort level when they're riding the buses. They're like, "oh wow, look at that!" You know, and they see how this works. To them, it gives them this comfort level that things are being looked after. We can still grow the system, we can get more people on our vehicles, and we can generate more revenue without additional costs to them, and more vehicles out there and more staff doing it. So it's just perfect for everybody.
So the other aspect then is adding in Ripple (TripSpark Notifications). They could give us that quick phone call and let us know before the driver actually ends up right at their door as well. It kind of gives them that flexibility to control more of their ride, than just us showing up and them going "Oh, I didn't want to go". The same of the Streets program that we just purchased for our conventional transit. The "MyRide" on that will give people the opportunity to go and find out if there's traffic . . . we deal with two bridges in this town. But, now people can go on "oh, I know that bus is running 10 min late" or, "I know that bus is going to be 15 min" or construction—or that sort of thing.
So it does save us money as far as our admin costs. But what it does on the other side is it allows us to break some of that information down, so that when we do reports to municipalities, or there's other funding opportunities that are available we can pull that information out that is specific to that funding pot. For a small agency, that is huge!
Getting the automated software to do the scheduling, getting the Ripple in there, getting the Streets for our conventional – it's just been a great solution for us in our area to be able to provide that service. Trying to keep it cost-effective but still provide that quality and what people expect from us.