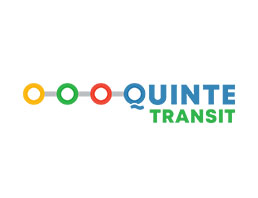 For years now we've explored how we can work together to coordinate some of our services so that we're not duplicating, but offering services even to each other, to help facilitate trips.
Executive Director, Quinte Transit
Identifying Opportunities with Transit Agencies, Bancroft & Belleville
Shelly Ackers, Quinte's Executive Director, is at the helm of her agency's innovation. Quinte West shares overlapping service areas and service offerings with neighbouring transit agencies, Belleville Transit and Bancroft Community Transit. Given the overlap, Shelly has proactively engaged the leaders of Belleville Transit and Bancroft Community Transit, to explore how they might work together to streamline services.
"For years now we've explored how we can work together to coordinate some of our services so that we're not duplicating, but offering services even to each other, to help facilitate some of these trips."
Increasing Operational Efficiency & Customer Satisfaction
Shelly meets regularly with Belleville Transit's Manager of Operations, Paul Buck, and Bancroft Transit's Director of Operations, Gwen Coish. Working together, they are moving their operations forward by combining some of their individual services. The result is the formation of more regional transportation services, facilitated through shared resources. It's a win-win-win situation for the three partnering transit agencies.
Shelly explains that collaboration between the three agencies goes a long way to providing "opportunities to service more people while, sharing resources." It also fulfils the collective mandate to "move as many customers as we can, by getting them to their vehicles in the first place."
Building on Their Success
Since implementing TripSpark's paratransit software suite, and introducing a fixed route solution about 4 years ago, Shelly has been pleased with the results of Quinte's operational growth. Despite the pandemic, they've experienced growth of their fleets of paratransit and fixed route vehicles, and they've doubled their number of routes.
In working closely with partners Belleville and Bancroft, Quinte Transit has experienced great efficiencies too. These efficiencies have saved each agency many hours, by not duplicating services. For example, by utilizing Belleville's main bus terminal, and Loyalist College as transfer points, Quinte has been able to increase their number of loops by 30%, while keeping turnaround times at a minimum. This enables Quinte to provide maximum service, to meet the growing demands of their riders.
Another perk of partnering is that Quinte customers can take advantage of a 1-fare platform. That is, they can seamlessly transfer from Quinte to Belleville buses, without any added cost. Also, in changing their service model by removing restrictions for their specialized services, to cover over 1,000 square kilometers of Prince Edward County, Quinte allows conventional riders to use the service in an on-demand way. Together the three agencies are successfully getting people across their communities more efficiently.
Considering New Technology
Shelly is always looking at new ways to reach her growing customer base across Quinte's vast, rural communities, and new technology seems to be the next logical solution. Lethbridge Transit's fixed route redesign and microtransit success story with TripSpark, has Shelly considering implementing Rides on Demand (RoD) next. Lethbridge was able to increase rider satisfaction and offer better service – despite budget cuts totaling $350,000 – and Shelly sees the value for Quinte as well.
Rides on Demand, a low-cost, easy-to-implement, smartphone app, is an add-on to their existing Novus platform, and will provide Quinte's riders with another cost-effective, on-demand travel option.
Shelly is also exploring a fare integration system, to allow for seamless payment options for all of Quinte's services.
The Future of Quinte Transit
Since Shelly Ackers started with Quinte Transit over 15 years ago, the agency, her role, and her partnerships, have grown exponentially to support population growth, and Quinte's changing customer needs. Shelly has an unwavering dedication to her community and her industry, and continually finds innovative solutions to support them. Download the case study for the full story.