Paratransit/Demand Response Agencies Untangle Their "Spaghetti Systems"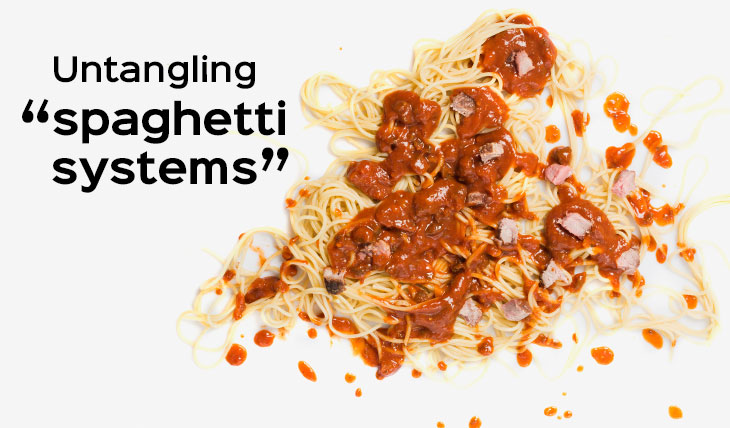 Have you heard the expression "less is more?" This is especially true if you consider the common problem facing paratransit/demand response agencies and their challenge to consolidate and streamline all functions of their operation. Smart agencies understand this concept well – as many are moving away from using multiple, disjointed platforms (aka "spaghetti systems") to run their operations and towards nice, neat, all-in-one bundled solutions.
Paratransit's purpose
Agencies offering paratransit/demand response services know that their riders are unique and important. With advanced flexibility for their scheduling and routing, agencies can accommodate the specific needs of their riders. Most importantly, this mode of transportation is often the only option for individuals who are unable to use fixed-route bus or rail systems serving their area. In a "pasta shell" (like in a nutshell, get it? Haha), paratransit/demand response can be a lifeline to those who depend on it to get to medical appointments, work, school, and even recreational outings.
All on one plate
TripSpark's paratransit/demand response software is designed to help agencies manage their unique needs and give them the ability to report on every aspect of their operation – and all in one place! Without a consolidated system, managing an entire operation can become messy, time-consuming, and often, error-filled.
Agencies need to be able to offer safe and dependable service for their riders. Demand response dispatch & scheduling software combines in-vehicle technology, passenger information, and reporting for demand response … now that's "spaghetti systems", all cleaned up! And the benefits of an all-in-one solution are especially savory:
For Agencies:
Improve on-time performance: intuitive software schedules accurately and efficiently to deliver every rider to their appointments on time. Dispatch can quickly adjust to issues as they develop
Optimize schedules and routes: single or batch scheduling happens in seconds rather than minutes. A unique and incredibly powerful algorithm can also automatically adjust on actual day of operation
Generate accurate reports: accessing accurate data allows you to customize and create accurate and dynamic reports. Quality reports provide transparency to your funding agencies and auditors
Gain complete operational insight: make informed decisions through analytics that allow you to track all your important information. From driver manifests, productivity reports, cancelations & no shows, and more
Reduce no shows and slack time: improved communication between dispatch, drivers, and riders, reduces no shows and late cancelations to keep vehicle utilization ratios higher
Communicate with drivers and riders: send and receive live updates to and from your riders and drivers for improved overall service. Updates are pushed to drivers and everything runs smoothly
Adjust system parameters: Agencies don't have to compromise – they can simply adjust system parameters to meet their unique requirements
For Riders:
Independence and convenience: Through a self-service passenger portal, riders can view, book, and manage their travel without having to call the agency
Reminders: Riders can receive reminders of upcoming trips, reducing "no shows"
One system – one vision
The most important goal for a paratransit/demand response agency is to be able to deliver safe and dependable service to their riders. To achieve this goal, agencies have learned the value of a "less is more" single-source solution that improves efficiency, helps the bottom line, and keeps their riders safe and happy.