Moving Together Webinar Recap: What You Need to Know About myDrive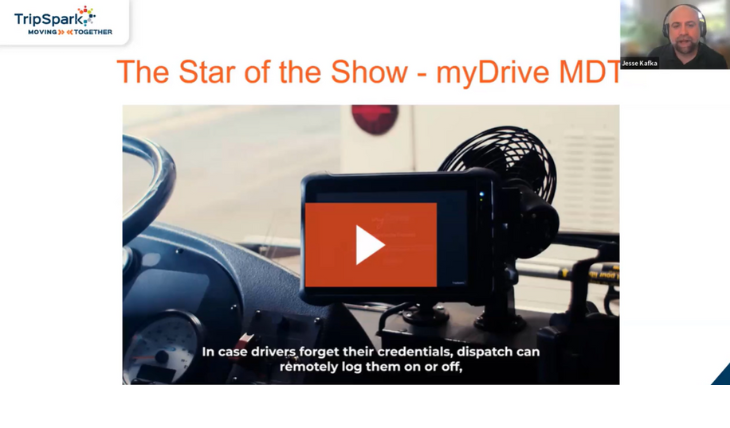 Jesse Kafka, Product Manager, shared a product video that highlighted how myDrive builds on the success of TripSpark's Ranger MDT, including:
A durable and intelligent MDT that provides years of value

New driver safety features

Ease of removing the MDT for maintenance or troubleshooting
Jesse also showed a testimonial video with our customers, Lethbridge Transit, where they discuss the advantages of using myDrive.
Jesse shared how myDrive supports different kinds of GPIO devices and in-vehicle peripherals. He also showed how the display is bigger and brighter with enlarged text to reduce wasted screen real estate, a feature request from Lethbridge Transit.
A software update for myDrive will be released by the end of 2023 and includes maps on screen, service interruption add-ons, GFI farebox integration, and much more!
Viewer Questions About myDrive
One viewer asked: Will myDrive be available for Routematch customers? Jesse confirmed that the next stage for myDrive is support for Novus and PASS customers. However, he's interested in learning what advantages myDrive will provide their agencies. Routematch Customers can reach out to Jesse with their feedback.
Another viewer asked: Why switch from Samsung Tablet to MDT? Jesse explained that depending on the type of solution you have, a ruggedized purpose-built for transit MDT can withstand daily use and the tough conditions endured in fixed route environments. If you're investing in a vehicle meant to provide service for years, why not invest in a hardware solution that will save you thousands of dollars in replacement fees?
The Next-Generation of MDTs
Want to start moving with myDrive? Contact the TripSpark team to get started today. Let's explore how the right combination of software, hardware, and passenger technologies can help you get better results.
Don't miss the next Moving Together Webinar on October 17th. Register for the entire webinar series now and stay informed about the latest product developments and industry trends.