Wrapping up the 2017 CTAA Expo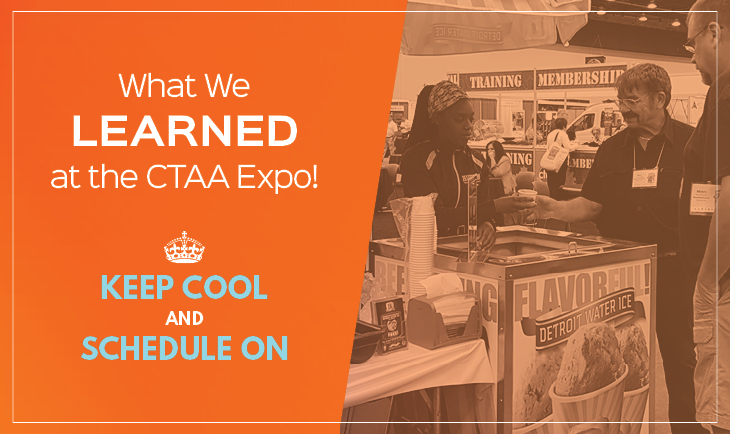 As another year at the CTAA Expo comes to a close, we want to take the time to share with you our experiences and what we learned. The theme at this year's CTAA Expo was Mobility Rising. One of our major takeaways was learning about the possibilities and technological advances in the transportation industry as we currently reside in a world dominated by mobile devices. Before we go any further, we just want to say…
Thank You!
We want to give a special thanks to everyone who came to "chill" with us and chat over an icy treat at booth #415. The reason we attend the CTAA Expo is to share stories with and learn from other industry professionals, and we definitely did. We also want to give a big thanks to Detroit Water Ice Factory for the delicious treats. They were a big hit! Last but certainly not least, we want to thank the Community Transportation Association of America for putting on a great show year after year. Thank you to everyone who made our 2017 CTAA experience a memorable one.
The Future of Public Transit Technology
One of the most significant things we learned was what the future holds for public transit technology. It's important to recognize that as we enter an era of Smartphones and mobile devices, more and more riders are adopting these technologies. What does this mean? As we're moving into an era of managing everything on the go or from a hand-held device, riders want this same experience with transit. TripSpark MyRide gives riders the opportunity to know when and where their buses are arriving. Having access to bus schedule information is so important because your riders will stay informed and can maintain their own daily schedules. Other solutions such as Notifications and Passenger Portal offer riders this same level of technology.
Keeping Cool for Your Riders
If you had the chance to speak with our representatives and product specialists, we hope you had all your transit questions answered. If you did not, don't hesitate to contact us anytime with questions or if you want to see a software demo – we would love to chat!
That's a wrap! We'll be attending several other tradeshows and conferences throughout the year so if you're ever in town, be sure to find our booth. If you want to see pictures and highlights from the Expo, check out CTAA's twitter feed @CTAAEXPO. Don't forget… keep cool and schedule on.
See you next year!