What a Trip! Celebrating Andrea L. Potter's Amazing Career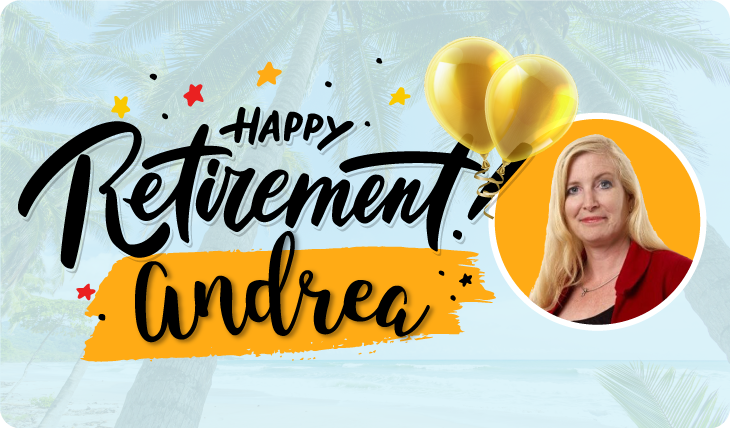 A trip down memory lane to celebrate Andrea's amazing journey to General Manager of TripSpark Technologies is just one small way to honor this fantastic leader as she plans her smooth ride into retirement.
When Andrea started with the company back in 1995, there were some pretty big things happening at the time. Here are just a few of them:
The Grateful Dead played their last concert
Alanis Morrissette's Jagged Little Pill was the album of the year
Amazon sold its first book
Toy Story, the first ever wholly computer-generated film, came out
And (drumroll)…  Andrea Potter joined Trapeze!
Andrea's Journey Begins
As part of the Trapeze Sales and Marketing team in 1995, Andrea worked her way up to Director of Sales for the "small" software company serving the Public Transportation market. Within a couple of years, she became Director of Customer Care and Relationship Management, and later, VP of Customer Care. Over the next few years, Andrea grew the Trapeze Customer Care Department into the best-in-class team that it is today, all while becoming a trusted and respected go-to resource for all areas of the company.
And TripSpark was Formed
In 2014, Mark Miller convinced Andrea to leave Trapeze to help test a new Volaris theory that "bigger is not better" and that a more focused team can provide a better experience for their customers. Never backing away from a challenge, Andrea blazed a new trail to establish TripSpark Technologies, to serve the mid-sized market within Public Transportation. Since then, Andrea has led her talented team to grow and brand the company. Under Andrea's leadership, TripSpark has actually become three businesses that serve three distinct segments: Mid Sized Transit, Non-Emergency Medical (NEMT) and K-12 Education.
The Thought Leader
During her tenure at Volaris, Andrea spent time sharing best practices with other Constellation businesses and speaking at company conferences including TSS and Perseus. She also started a Constellation Leaders work group including more than 40 Constellation business leaders from across the Greater Toronto area. This forum allowed her and other thought leaders to openly share their industry knowledge and best practices.
She's an Original
Kevin Bade, Portfolio Manager & Head of Americas at Modaxo, has nothing but great things to say about his working relationship with Andrea:
"Andrea has always put her focus on striving for excellence, improving the team, growing the business, and helping the customer. It has been my pleasure to work with her…. I am pleased to be one of the first ones to wish her the very best and the most enjoyment in her retirement."
Her colleagues have a few nice things to say about Andrea too:
"It has been my pleasure to work with and to get to know Andrea for the past 3 plus years.  Andrea has more drive and energy than any professional that I have ever worked with and always wants what's best for our organization and its people.  She has been a mentor and friend and I wish Andrea all the best in retirement."

– Richard Papa, General Manager, TripSpark Education Transportation
"Andrea has a tremendous work ethic and drive to be successful. When she was asked to create TripSpark in 2014 she did so with confidence and put her trust in a new leadership team to build the business. Her leadership has resulted in TripSpark forming 3 distinct business units with consistent revenue growth. I am honored to have been with her along the TripSpark journey from the start and wish her all the best in her retirement!"

– Steve Dewis, General Manager, TripSpark Medical Transportation (NEMT)
"Andrea has been inspirational in everything she does. Her focus on striving for excellence, growing the team, and serving the customer cannot be overlooked. It has been a pleasure working for and with Andrea at TripSpark over the last 4 years and I want to thank her for all her support and guidance and wish her the very best as she embarks on this new chapter in her life. To one of the hardest working people, I know – congratulations on your retirement! "

– Rosy Makkar-Sethi, Director, Human Resources
In Her Own Words
Andrea shared some of her own thoughts, memories, and wisdom about her time with the company too.
Her thoughts about time with the company…
"I have been incredibly privileged to have the opportunities presented to me over the years.  I've worked with Marketing, Sales, Delivery, Customer Care and with Development later in my career as General Manager.  I have loved how disciplined the business is and I'm proud of how we've been able to maximize value for our customers and our shareholders.  I personally have learned something new every single day – sometimes from a peer, sometimes from my manager, sometimes from staff and sometimes from customers. I was able to work not just with the Volaris companies, but I also had the opportunity to work with other CSI companies like Perseus, Jonas and TSS.   I've been given the opportunity to travel the world as well as meet colleagues and customers across the globe.   It has been a very engaging and fun place to be! "
On a personal note… 
"I was blessed to have been introduced to my husband, Jeff by a colleague I was travelling with to see SEPTA in Philadelphia, PA back in 1998. Jeff proposed at the Grand Canyon, after a Trapeze Users Conference.  Together we have two wonderful daughters, Paige, and Tessa – I even went into labour with my  first daughter during integration meetings of an early acquisition. This company has been intertwined with every part of my life for the last 25 years and I am so grateful for everything it has given me both personally and professionally." 
One of her major impacts to the business…
"Believing in the profound impact that superior customer care can have on a business's relationships and profitability, I am proud of my ability to drive Trapeze Customer Care to become a truly customer-centric and highly-profitable group. Starting with just 5 people and growing to nearly 100 when launching TripSpark in 2014, I was able to take a different approach to customer care to service our valued customers in the unique ways that they needed."
Andrea's thoughts on the future of TripSpark…
"To continue to grow the business profitability in response to the changing industries' needs, TripSpark must further invest in technology and the team. Acquiring several new complimentary companies will round out our product offering for our customers and allow us to forge into new markets."
Her plans…
"I'm going to truly relax for once in a few decades! I'm also hoping to travel the world hiking when we are able and to and spend quality time with my husband and children.  I'm excited to further invest in several volunteer opportunities in my community and in our church, to make positive impacts to others. And never say never – I am always open to the possibility of returning to Volaris or other businesses to help them grow in the future."
Safe Trip Andrea!
Andrea has touched the lives of everyone who's had the pleasure of working with her. And with a most memorable year including the global COVID-19 pandemic, being her last with TripSpark, Andrea's departure at the end of January 2021, marks a fresh new start. Andrea will be greatly missed as she takes time for herself, for her amazing family and to stop and smell the roses.
Trapeze, TripSpark, Modaxo, Volaris and CSI thank Andrea for all she has done for their business and wish her congratulations on her retirement and a safe trip into her future!